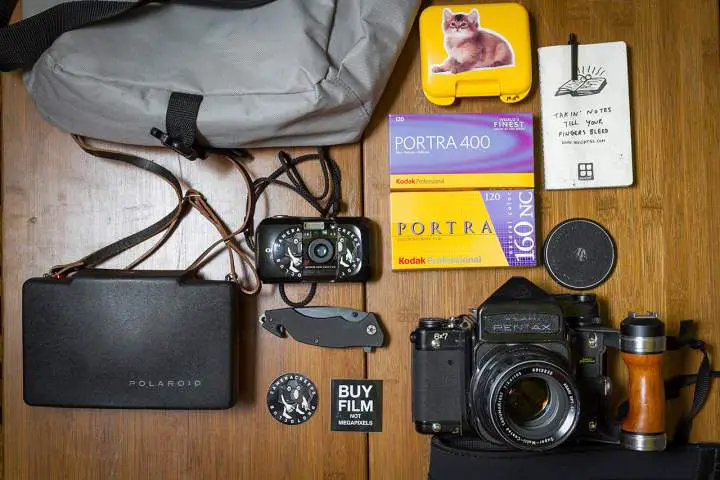 In your bag No: 1226, Syngen Bingham
Syngen shares with us a sweet bag, that is stuffed full of really cool gear. Certainly not a light bag, but a fun bag nonetheless. Come and check this one out.
Hello JCH, first time poster here! I am Syngen Bingham, a 22 year old currently living in Long Beach, CA. I'm a freelance photographer who just can't get away from shooting film. Although I do shoot most of my paid work in digital my true love is in film, but don't we all here love it! Anyways here is my Spring- early Summer bag…
– A cheap messager bag I got from my older brother, it doesn't look pretty but gets the job done!
– Pentax 6×7… Because you could always use a workout ;) and the photos are so crispy
– Polaroid automatic 100, for when you don't want to wait to develop your photos.
– Olympus Infinity Stylus 35mm Point & Shoot for all those random shots you need to get fast
– Film I always need to have Portra400 in 35mm and 120mm, I also have been shooting some expired Portra 160NC this stuff is F$%king GOOD!
– Purrfect Kitty film carry case for that 120 film
– A pen and pad for taking notes till your fingers fall off
– Knife to seem tough but occasionally cut things
– Stickers to slap from Grade Goods and Camera Creeps Club
Links to my work below if you want to check it out or want to hit me up to shoot!
– Website: http://www.syngenbingham.com
– Instagram: @syngenbingham
– Flickr: https://www.flickr.com/photos/reeferences/
– Tumblr: http://syngenbingham.tumblr.com
Cheers,
Syngen Bingham
Thanks for sharing your bag with us, Syngen. What is it with knives? In Japan you would be in huge trouble for one of those.
Check out the links and please make sure you come and comment.
Keep them coming folks, we need more submissions, so get your bag on Japancamerahunter.com.
Send me a hi resolution image of the bag. Optimum size is 1500 across. Please ensure there is a bag in the shot, unless you don't use one. The more you can write about yourself the better, make it appealing and tell us a story.
Oh and don't forget your contact details (twitter, flickr, tumbler et al). Send the bag shots here. Please understand that there is a long wait now as there is a backlog of submissions. Not all make the cut, so make sure yours is funny/interesting/quirky. And please make sure the shot is of good quality, as the ones that are not do not go up.
Cheers
Japancamerahunter