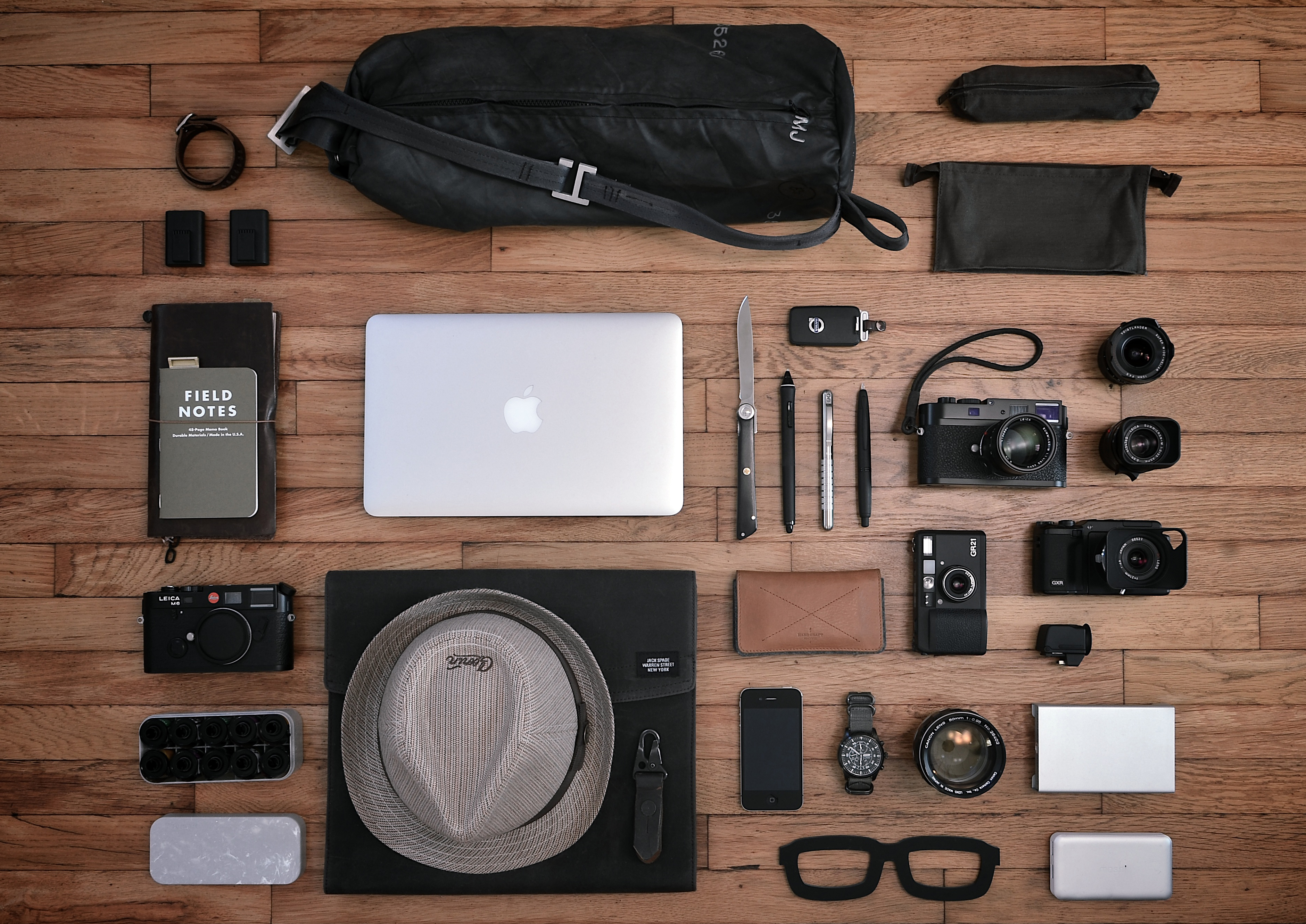 In your bag number 40, Darren AKA Sticboy
Hello again bag lovers. We have a very cool looking bag for you today. This one is so immaculately laid out that you would think the owner has OCD, but he is showing us how a good layout can look. This bag belongs to Darren Wong, from the USA. Over to you Darren:
Here's a shot about more of less of what I carry around with me on a daily and here in LA your car is your locker for anything extra – like the laptop and tools:
Currently my bag is the "Day Bag" from E13 Workshop (eonethree.com) and right now it's the perfect light-weight sling bag I've come across next to the Ari Incase Bag for lugging stuff around with me on the daily. It's super light and made out of reclaimed airbags with some pretty novel design details. Although it looks small in the shot it's actually pretty long and holds just about everything you see here excluding the laptop bag; Perfect as a small nomadic bike bag :)
Jack Spade waxed canvas document bag – holds my laptop, hdd, extra cables, extra sketchbooks and documents – Usually left in the office, car, or hotel room.
Hard Graft Wallet which fits my iPhone 4s, business cards, credit and cash
Leica M9-P in super stealthy black, armed with usually the 50 Summilux
Leica M6 is usually brought out in lieu of the M9 and is my go to film camera if I'm not shooting with some old nikons (I saved the nikons for another bag:) )
GR21 seriously rocks. Straight up magical at times, fuck that, most of the time!
GXR with the A12 M mount and EVF is the new kid on the block – Replaced my sold M8 as a cropped shooter and is currently fixed with the GR 21mm 3.5 lens!
Lenses include the Leica 50 lux, 35 cron, Voigtlander 15mm Heliar, GR 21mm screw mount w/ adapter, and of course the Canon 50mm 0.95 dream lens in coded M mount.
Traveller's Notebook / FieldNotes – Sketches, Business Cards, Notes, etc.
Pocket Knife is the best tool to have with you, both for utility and danger, haha.
Small Auxiliary Stuff – Wacom Pen, Titanium Embassy Pen, Pilot Capless Fountain, Volvo Keys, Muji Auxiliary Bags for cables and extra pens, x2 Leica Batteries, G-Drive for bombproof backups, Moshi Card Reader, Seiko with a nato strap, Billykirk leather cuff, Gordy's Camera straps, Goorin Bros. Hat, and of course Bellamy's Bikuri Fujifilm Case!
I'm a Industrial Designer as well as a UI/UX Designer working in the Los Angeles area currently for The Walt Disney Company as well as freelance. Although shooting is just an (expensive) hobby, at times I wish it could be more than that ;)
Websites: sticboy.com | zeroninefive.com
Twitter: @sticboy | @zeroninefive
Instagram: @sticboy
All: www.flavors.me/sticboy
Cheers to Darren for this awesome bag. I really like the layout of this. Even the knife (which would get you a nice spell in the police station in Japan). Thanks for sharing.
Keep them coming folks, we need more submissions, so get your bag on Japancamerahunter.com. Send me a hi resolution image of the bag (please make sure it is horizontal) and its contents, with some details about yourself and what you shoot. Oh and don't forget your contact details (twitter, flickr, tumbler et al). Send the bag shots here Send the bag shots here..
Cheers
Japancamerahunter