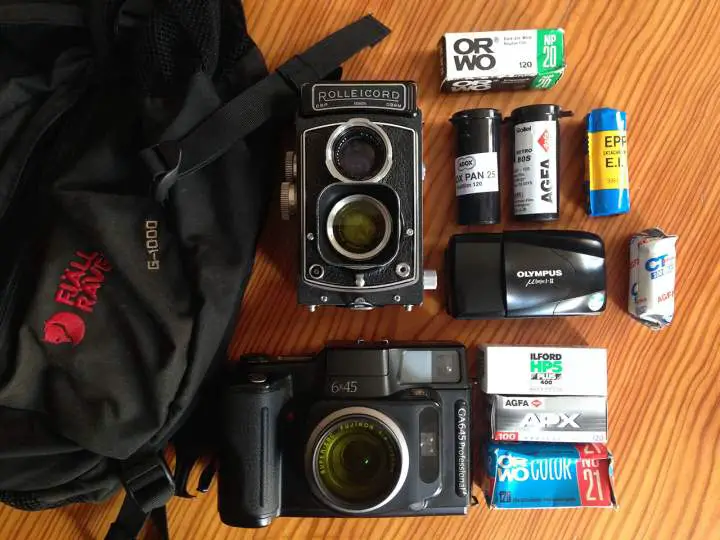 In your bag No: 1219, Felix Endres
It is always nice to see a returnee to JCH. Felix comes back to us after a year away with a new bag and a new look. Some great cameras and a great attitude. Check it out.
Hey again!
My bag has changed a bit so I thought, I'd delight y'all with my lovely gear (before I was featured here: https://www.japancamerahunter.com/2014/04/bag-852-felix-endres/).
I am very happy to say that I overcame my G.A.S. (gear acquisition syndrome) and have found the perfect gear for all my photographic needs.
Gone is the Minolta Dynax 600si, the Dynax 7, my Nikon F3, a lot of other SLRs, all of my 35mm autofocus gear and so on. I'd rather put the money towards my little daughter ;-)
Still on top of my all time favourite cameras is my trusty Fuji GA645, since buying it in November 2013 I have put over a hundred rolls through it, so far it has never let me down qualitywise, it still has its technical quirks, though. I use it mainly for black and white film, don't really care which. I have my favs but if it is black and white film, I'll shoot it sooner or later. Now that the weather gets brighter I have decided to put the yellow filter back on, especially for landscape shots. I got rid of the hood, you really don't need it and it just adds bulk.
Last year I bought my lovely Rolleicord III for a steal, I had to fix it up a little bit, make readjustments here and there and I fitted a Rick Oleson screen, the original one is way too dark. Complete with a Yashica yellow filter and an original metal F&H hood it takes great pictures. When I'm out shooting with it, I always take my little Gossen Digisix along. I wanted to include it in the shot but, shame on me, I couldn't find it in the mess of my desk. Next time ;-)
The little Olympus mju II I also got for next to nothing, It lives in my trouser pocket. Everywhere I go and I'm wearing pants, it's coming along. I use it to burn up my shrinking collection of old 35mm film. Nowadays I almost exclusively shoot medium format so I have a few old films remaining that I skipped when picture quality was important.
Everything or a selection of the cameras above are still being transported in my Fjäll Räven bum bag that my mum gave to me, sometimes I just put the Fuji in a big pocket in my cargo pants. Works, too.
I also still develop everything apart from E-6 myself, my favourite developers being Rodinal for my Agfa APX 100s, DD-X for T-Max films, D-76 for Ilfords and Caffenol for Orwos and everything really old.
I develop my remaining rolls of Orwocolor in C-41 at 30C°, that gives really great colors and every film turns out different.
You can catch a glimpse of my work over at flickr (https://www.flickr.com/photos/anfenglin), thanks for featuring me and have a great day!
Thanks for coming back to us, Felix. Love the current setup.
Check out the links and please make sure you come and comment.
Keep them coming folks, we need more submissions, so get your bag on Japancamerahunter.com.
Send me a hi resolution image of the bag. Optimum size is 1500 across. Please ensure there is a bag in the shot, unless you don't use one. The more you can write about yourself the better, make it appealing and tell us a story.
Oh and don't forget your contact details (twitter, flickr, tumbler et al). Send the bag shots here. Please understand that there is a long wait now as there is a backlog of submissions. Not all make the cut, so make sure yours is funny/interesting/quirky. And please make sure the shot is of good quality, as the ones that are not do not go up.
Cheers
Japancamerahunter