Baselworld 2013 – 2015
Fotografien von: Henry Balaszeskul
It all started with an order of the editor of a newspaper in southern Germany. There, I was able to complete a four-week internship as a photographer.
End of April there was to go the 2013 order to the opening of Baselworld. Baselworld Watch and Jewellery Show is the largest fair in the world and therefore an important reference point for all major brands.
With my specially printed press pass I tried my luck and got frighteningly easy for me to be accredited as a photographer. The arrogance and the occurrence of the visitors struck meet me formally. I had never seen so many people in suits and elegant shoes in such a small space. With my Leica I wandered through the large halls and was very impressed by the architecture of the stands. The major items such as by: Rolex, Chanel, Tissot, Omega and Tag Heuer were full houses.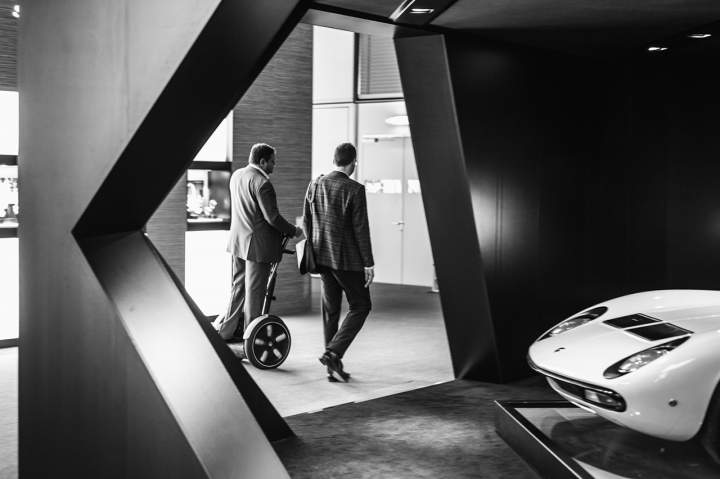 Back to the job, it was to make the opening to documentation and some sample images and recording, but quickly I decided to turn it into a larger project. Perceptual I wanted to focus on the visitors and the interaction with the architecture and of light and shadow in black and white. The watches and jewelry interested me very little. I have tried it, but these watches have no real benefit for me. After a week I had some interesting pictures, but it was too little for me to make a good choice together. In 2014 and this year I was back on behalf of the same newspaper there and again made my black and white images.
During this period I was good at observing the change in the fair often went this in my opinion in the wrong direction. After three years, has been created for me a satisfactory choice. It shows a visual interaction between the graphical shapes, light and shadow and the people.
Here you'll find me:
My Website: www.49mm.ch
Me on FB:  https://www.facebook.com/henry.obsoleszenz
Thanks for sharing your work with us, Henry. It is interesting to see how you use the light at the the show.
Come on, share with us what you have and get yourself featured.
Click on this link and send in your project/work: Get Featured. *I am looking for mainly projects, not individual images*
Oh, and click here to see a few of the photographers that have been on the site before https://www.japancamerahunter.com/?s=featured
Please make sure you come and comment, polite and constructive critique is welcome.
Thanks
JCH