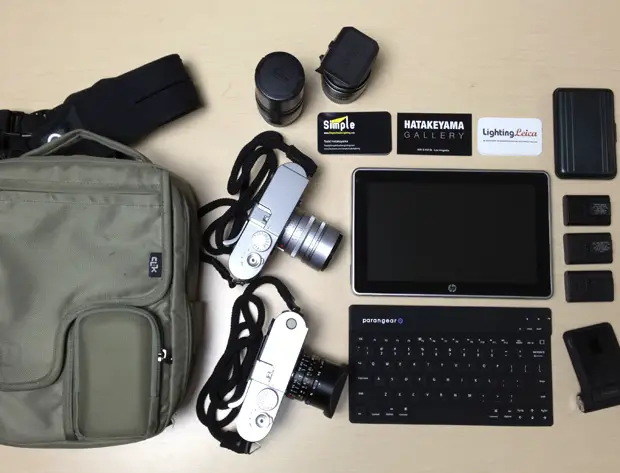 In your bag number 86, Todd Hatakeyama
So, this bag belongs to a chap that I met through Eric Kim, Mr. Todd Hatakeyama. Todd is a really nice guy and has helped me out a lot. He also is really passionate about photography. So, let's see what is in his bag…

My name is Todd Hatakeyama, and like many of you, I got into photography as a hobby and enjoyed it so much that it became my career. I travel frequently, usually at least once a month, and love to take photos of my trips. After shooting landscape and travel for years, I moved on to portraits, events, and weddings.
In 2009, I opened my own studio in Anaheim, California, to do photography full-time, sell lighting products, host workshops, and sponsor local photo clubs. In December of 2011, I opened a second location in Downtown Los Angeles that includes a product showroom and a 3000-square-foot studio and gallery space. I'm very excited to have my gallery included in the monthly Downtown Los Angeles Art Walk, in which we will feature different local artists each month.
Before putting together the travel setup you see here, I carried a messenger bag with a 13″ laptop and my camera gear. However, lugging this bag along with a suitcase or my smaller travel backpack still proved too bulky and difficult to manage. Now I'll have the smallest possible carry-on bag for the plane, and I won't have to leave a laptop in the hotel room when I go out shooting.
The Clik Elite Traveler is only 11.5 x 9.5 x 4.5″ (29.21 x 24.13 x 11.43cm) but holds a lot, as you can see. The only problem is the shoulder strap included with the bag is a bit weak due to its plastic connectors, and it makes a squeaking noise when there's a significant amount of weight in the bag, as with the 10.5 pounds in this setup. I solved this problem by replacing the shoulder strap with Custom SLR's laptop bag strap which has metal clasps and is extremely comfortable.
Clik Elite Traveler Shoulder Bag
Leica M9, M8
Leica 35mm Summilux, 50mm Summilux, 21mm Super-Elmar-M, 90mm Elmarit-M
HP Slate 500 tablet PC
Parangear bluetooth keyboard
Eclipse bluetooth touch mouse
3 spare Leica batteries
SD card case with 8 SD cards
3 sets of business cards
www.LightingLeica.com
www.HatakeyamaGallery.com
www.SimpleStudioLighting.com
Check out Todd's links. His gallery is brilliant and I cannot wait to go there. Thanks Todd for sharing your bag with us. See you soon.
Keep them coming folks, we need more submissions, so get your bag on Japancamerahunter.com. Send me a hi resolution image of the bag (please make sure it is horizontal) and its contents, with some details about yourself and what you shoot. Oh and don't forget your contact details (twitter, flickr, tumbler et al). Send the bag shots here.
Cheers
Japancamerahunter