In your bag 777, Jussi Helsten
Jussi has been on the site before…a long time ago (link). And now he is back, with a superb bag-shot for us. Check it out.

Hey there Bellamy and fellow photographers!
I've been previously featured as bag #117 and since then my gear has been changing quite few times. Right now it feels like this setup is working nicely.
Back in 2012 I did a year long photo-a-day project called HELSINKI365. It was exploration to the city of Helsinki and it's unique atmosphere to test myself and my passion for photography. Year 2012 was challenging but well worth it. After long preparation and planning, last November I started it again together with Helsinki Travel Marketing. Helsinki was selected Trip Advisor's Travelers' Choice 2013, so if you can't personally come to Finland, you can explore Helsinki through new photo every day until the end of October 2014 at www.helsinki365.com! This is my bag with gear used especially in this project to carry around almost every single day.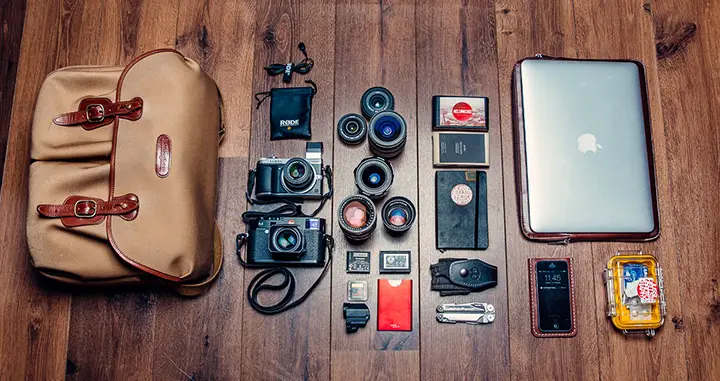 So, I still have that Billingham Hadley Large. It's by far the best camera bag I've ever had. I sold my M9P just before new M was released in Photokina 2012 and started saving for it. Meanwhile I got Fuji X-Pro1. It's a great camera, but far from the feel and quality of Leica. In May 2013 I finally got the M typ240 and I've been extremely happy with it. Switched the nylon strap to Finnish high quality leather strap (by Field Day www.fieldday.fi) but that's about it. iPhone5 case is by Field Day too.
Most of the time I shoot with 35mm Summilux ASPH. It's my deserted island lens. Wide enough and it's easy to zoom with my feet. Second choice would be Voigtländer 50mm Nokton, but usually its bit too tight for me. I had 50mm Summilux ASPH for a very short time, but felt there was no point having it, cause I use it so rarely. I just got my 90mm Summicron (from the 70's) back from Solms. It had some focus shift (already when I had M9P) and some dust between the glass elements, so Leica got it all fixed and it looks like new lens now. Great lens with loads of character. Voigtländer 21mm f1.8 Ultron for some special cases.
Latest addition to the bag is Panasonic GX7. Before I had Sony's RX100 II, but it was a bit too small for my huge hands. Sometimes a camera with autofocus and option to close-focus is nice to have around. For GX7 I've got Panasonic Lumix 20mm f1.7, Lumix 14mm f2.5 and Olympus M.ZUIKO 12-40mm f2.8.
Olympus viewfinder for M which I use with the 21mm Ultron. Business and credit cards. Inside waterproof Peli Case I keep extra batteries, extra SD-cards and headache bills. Small Moleskin and RØDE Lavalier mic for iPhone for making notes and recording longer conversations. Leatherman has been very handy thing many times. Macbook Air 13″ for working and photo editing on the go. Btw, I don't know if it's intentional, but the 13" Air fit in Hadley Large (between the cushion and fabric) like a glove.
That's it! Check the www.helsinki365.com site for photos done with this setup. Have a awesome year 2014!
Portfolio: www.jussihellsten.com
Facebook: www.facebook.com/jussihellstenphotography
Twitter: @jussihellsten
Ystävällisin terveisin,
Jussi Hellsten
Thanks for sharing your bag with us again Jussi. It is great to see how things have developed.
Check out the links and make sure you come and comment.
Keep them coming folks, we need more submissions, so get your bag on Japancamerahunter.com. Send me a hi resolution image of the bag (please make sure it is horizontal) and its contents, with some details about yourself and what you shoot. Oh and don't forget your contact details (twitter, flickr, tumbler et al). Send the bag shots here. Please understand that there is a long wait now as there is a backlog of submissions. Not all make the cut, so make sure yours is funny/interesting/quirky. And please make sure the shot is of good quality, as the ones that are not do not go up.
Cheers
Japancamerahunter