In your bag No: 638, Louis Witzansky
Todays setup is interesting, not just from the huge amount of gear, but also for the lack of a DSLR, especailly since it is a working photographers bag. Come and find out why Louis ditched his DSLR.

My name is Louis Witzansky, I'm from Copenhagen, Denmark working as a wedding photographer besides my dayjob. I live with my girlfriend who is often the victim when I am taking photos.
I have had quite a lot of cameras.
My first camera was a Olympus E-510, then a Nikon d90, Canon 50D, Canon 5D Mark II and at last a Canon 1DS Mark III.
All were upgrades to a bigger, better, faster, noisier and more brutal camera.
I used to have a lovely Nikon f100, but It fell out of a convertible along with my friend. (don't ask how)
I often look a Japan camera hunter, mostly the "in my bag stuff" and I see all these cool Leica kits and rangefinders, and get really jealous at them.
This used to be my kit. And it was a pretty nice kit:
Canon 1ds mark III
Canon 16-35mm f2.8 II L
Canon 24-70mm f2.8 L
Tamron SP 70-200 f2.8 VC
Canon 50mm f1.4
Canon 430 ex II
And then this happened..
I went to a Danish music festival (Roskilde festival) and only brought a analog Canon F-1N camera, because I just wanted some good pictures, and a bunch of beer, so no expensive camera for me.
After spending one week with this rather small, simple camera, I went home and picked up my 1DS.
I Hated it…
Trying to shoot just for fun, while walking down the street, going to the park or visiting my friends, I felt so stupid bringing that huge camera! (and so I never did bring it.)
Paid jobs is still only about 20% of the time I use my camera in a year and therefore I wanted something else.
A camera that was cool to look at, nice to carry around, not ridiculously big and "in your face ish"
I sold the 1DS body, bought a Fuji x-pro1 and fell in love!
Now I have completely redesigned my kit, both my wedding kit and my everyday kit.
Everything is now smaller, simplier, more compact.
I still cary a lot of gear, because I love that! (I'm not the minimalistic type)
My bag and shoulders love me for doing this "lightweight kit", I take more photos now, the x-pro1 makes me think more about my shots, as well as the Canon F-1N does so I am very happy.
My wedding kit is now this:
2 x Fuji X-Pro1 + grip and thumb rests
Canon F-1N
Fuji 35mm f1.4
Fuji 18mm f2.0
Canon FD 50mm f1.8
Makinon 28mm f2.8
Tokina 135mm f2.8
Canon FD to Fuji converter
Yongnuo RF-602 trigger
Yongnuo 560 III flash
Yongnuo batterypack
Sirui t-025x carbon tripod (weights nothing and only 30cm when folded)
52mm ND filters
55mm ND filters
Cheap doublestrap
Dsptch strap
batteries
reflector
Lightstand (small but still ok sturdy)
Foldable softbox
Raincover!
Pentax W90 waterproof compact (just for fun)
Still being an absolute gear freak, I carry around a lot of gear, but still, compared to my Canon setup, this is so compact and simple!
In my everyday bag I still like to have a lot of gear with me but for me this is a simple kit.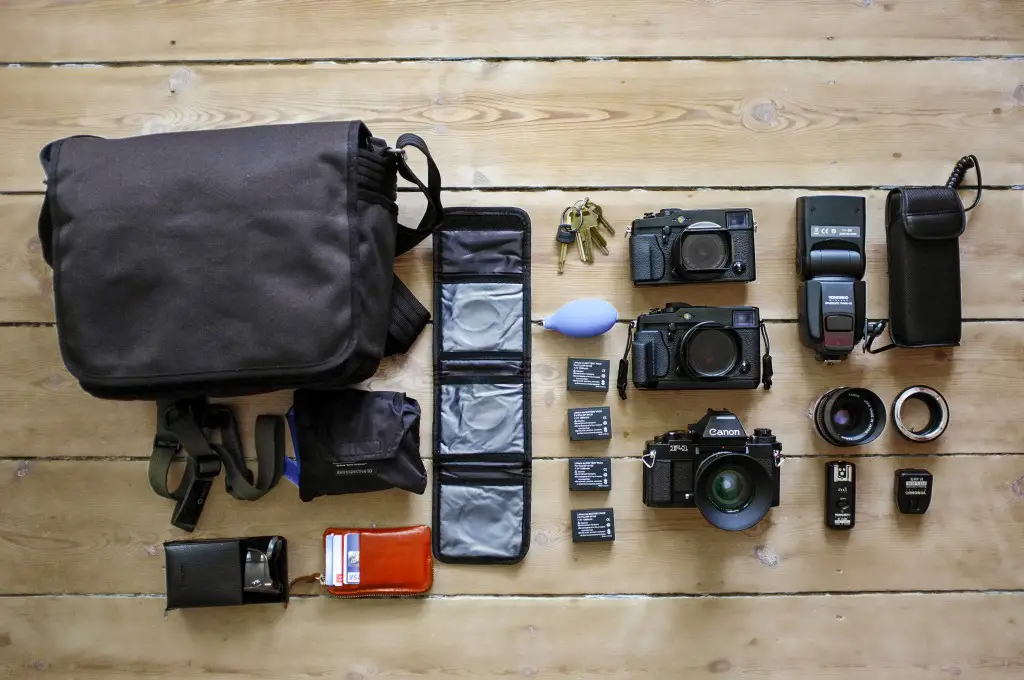 Think tank retrospective 10
At home I also have a Nikon L35 AW AF, and it is a really cool camera, waterproof and has a pretty good lens!
I also have a AKA Relle, a Konica Pop, and a Practica "something.. something.." built like a tank.
Hope you like my bag
I will be glad to answer any questions about myself, my kit or my ditching of dslr!
If you want you can check out my work here:
www.witzansky.com
www.louwit.blogspot.dk
www.500px.com/LouisWitzansky
Thanks for sharing your bag with us Louis. I would love to know how you lost your F100 from a convertible.
Check out the links and please make sure you come and comment.
Keep them coming folks, we need more submissions, so get your bag on Japancamerahunter.com. Send me a hi resolution image of the bag (please make sure it is horizontal) and its contents, with some details about yourself and what you shoot. Oh and don't forget your contact details (twitter, flickr, tumbler et al). Send the bag shots here. Please understand that there is a long wait now as there is a backlog of submissions. Not all make the cut, so make sure yours is funny/interesting/quirky. And please make sure the shot is of good quality, as the ones that are not do not go up.
Cheers
Japancamerahunter