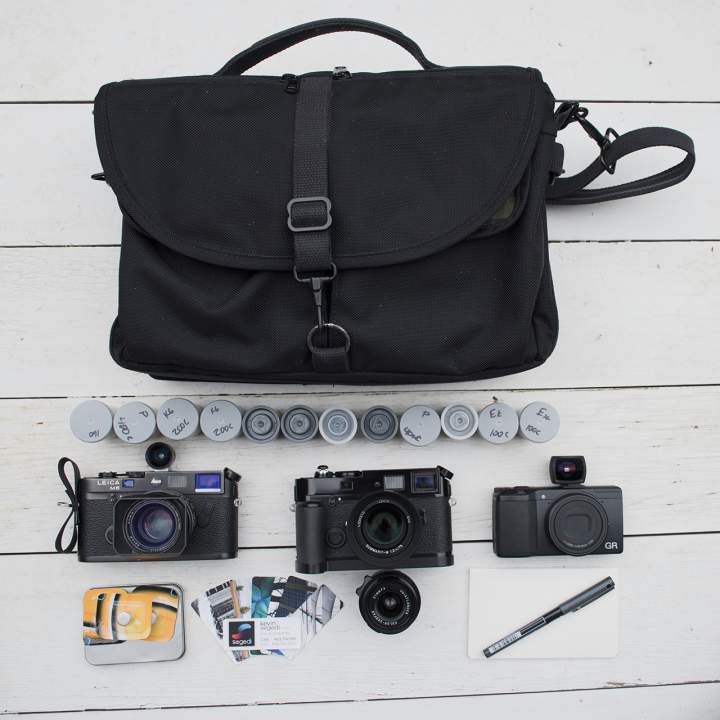 In your bag No: 1232, Kevin Segedi
Kevin shares with us the sort of bag you might see me carrying. Although my film would be in a more compact container, perhaps some kind of film case, lol. Check this one out.
Bellamy and Fans of JCH,
Greetings from Canada! Enjoy the photo. It's not the best, but I was outside in a pine tree pollen storm so was trying to work quickly.
The Bag: Domke F-803 Ballistic. It doesn't look like your average camera bag. I love it. Roomy but not big – my photo makes the thing look enormous – it's not. Got it used to boot.
When I'm not working as a Web/Tech/Marketing nerd, I am doing something photography related. While I go back and forth between digital and film, I've sold/traded off the digital Leicas and am shooting with a M6 and M7. Both are .85 viewfinder magnification and the M7 is a la carte. It's hard to beat the simplicity, ease of use, and control you get with manual machines.
I am rather promiscuous with my film choices. Sometimes I like slide, sometimes B&W, and often colour. Fuji, Kodak, Ilford, Agfa… whatever is in the camera works for me. The same with subject matter. Wherever I happen to be, that's what I'm photographing.
Things usually in the bag, or my hands, that are with me everywhere I go – except the shower.
Harem of film – ISO 100 – 1600, Colour, Slide, B&W – I write on the canister caps or bottoms with a Sharpie so I know what's inside. It's rather disorganized, but B&W goes into one of the small front pockets under the flap, colour in the other – I wonder who makes a nice 35mm film carrier?…. hmmm.
Leica M6 Classic .85 with black dot
Leicagoodies Sling (I need to get another, best twenty bucks ever spent)
Leica Summilux 35mm FLE – the lens that I regretted selling, so this is my second. I traded my M 240 for it and a little top-up cash.
Voigtlander 21/25mm metal viewfinder – The plastic versions work, but this one is better.
Leica M7 a la carte – no logo/script/engraving, just black paint. .85 VF, 35/135, 50 and 90mm framelines, MP-style film advance.
Leica Summarit-M 75mm f/2.4 – the new one. Had the old, but didn't like its long minimum focusing distance. The new one, with .7m is very nice. The irony is I thought I'd never use this focal length and neither camera has the 75mm framelines. I cheat by using the box formed by the ends of the 50mm framelines and creating an imaginary box. 75mm is my ideal portrait telephoto – I could never get along with 90mm so we broke up.
Match Technical Bip – nice to have on the M7 since it has a different release feel due to AE
Photo-Equip ML-grip – I used to have fancy cases for my M bodies. But, they add too much thickness. The Sling on the M6 and this grip are great for improving grip without adding weight and bulk to the body.
Voigtlander 21mm f/4 – this is another second purchase after I foolishly sold the first one. Great lens, and adds almost no weight to the bag.
Ricoh GR with OVF – what more can I say, it's great. Small size, easy to use but you can customize the heck out of it. Stunning photo machine.
Extra batteries on a tin of migraine meds (I'll take a dead battery over a dead head any day)
Business cards – to hand out to strangers whom I photograph and generally look important
Pen and Miro notebook – I get email addresses so I can send photos to aforementioned strangers. Also to jot down location info during scouting or artist names if I see their work.
Not in the bag, but sometimes are:
Leica 50mm Summilux
Leica 24mm Elmarit
If you wish – see what I've been up to or send me a note:
website: http://segedi.com
flickr: https://www.flickr.com/photos/segedi
twitter: https://twitter.com/segediphoto/
tumblr: http://segedi.tumblr.com/
behance: https://www.behance.net/segedi
Thanks for being awesome.
– Kevin Segedi
Thanks for the bag shot, Kevin. I am a big fan of the 803 bag, it looks great.
Check out the links and please make sure you come and comment.
Keep them coming folks, we need more submissions, so get your bag on Japancamerahunter.com.
Send me a hi resolution image of the bag. Optimum size is 1500 across. Please ensure there is a bag in the shot, unless you don't use one. The more you can write about yourself the better, make it appealing and tell us a story.
Oh and don't forget your contact details (twitter, flickr, tumbler et al). Send the bag shots here. Please understand that there is a long wait now as there is a backlog of submissions. Not all make the cut, so make sure yours is funny/interesting/quirky. And please make sure the shot is of good quality, as the ones that are not do not go up.
Cheers
Japancamerahunter