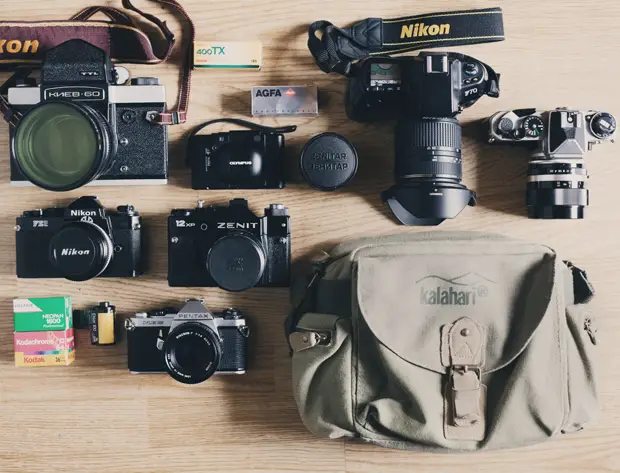 In your bag number 220, Philipp Oldenbüttel
From America and back to Europe, todays bag is coming to you from Germany. And what a really lovely bag it is. There is a whole ton of interesting gear in this one. Lets have a peek.

Hi fellow phototech nerds, i am Philipp and i am a student of media science at a university in Germany. I just took a photo of my gear and figured i could share it with you and Bellamy.
I got into photography a while ago – i think it was 2007 – when I went on vacation to Spain with my ex-girlfriend.
I took a crappy camera with me and i thought to get a better one right after the trip. I then started to look into DSLR Photography and I had a lot of fun.
After getting more experienced i decided to give film photography a try and i loved it instantly.
Not that film photography is anything better than digital photography, but the whole workflow of processing my images on my own, and the restriction of the frames per roll seemed to fit my approach on taking pictures deliberately very well.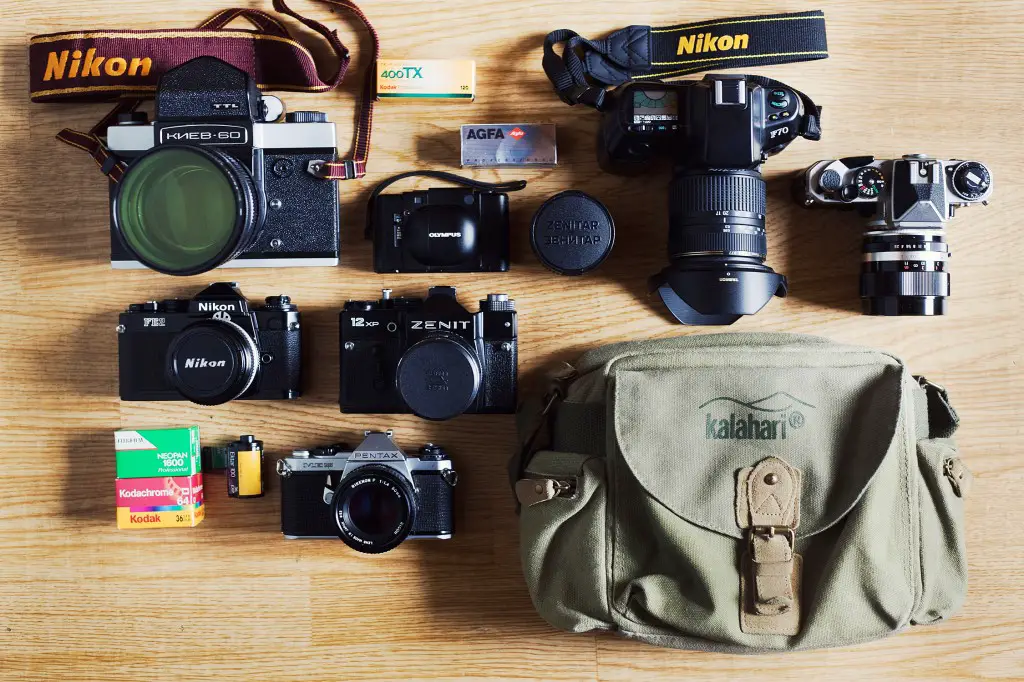 Last year I discovered medium format and i was blown away by the special effects i can create with my old Russian KIEV 60 (The Hulk) and TRI-X!
I am loving these old Russian cameras anyhow. Currently i am using the usual Arsat/Volna 80/2.8, and the heavy KALEINAR 3B 150/2.8 which you can see on the photo.
Another Russian camera I own is the ZENIT 12XP, armed with the very sharp HELIOS 44M. It is fully mechanical and it is black (I love that).
My working horses are the Nikon FE2 (black – did i mention i love that?) and Nikon FE with my 35/2.8 AI-S, Tamron 28/2.8 and Zenitar 16mm fisheye.
Apparently I am a Nikon guy but headed for Canon on the digital side cuz it was the cheapest full frame I could get and almost all lenses are adaptable on Canon bodys.
My Nikon F70 is always loaded with Ektar and paired with my Tamron 17-35. In the lower left corner you can see my low light expert: The Pentax ME Super with a Rikenon 50/1.4 (sharp and quiet).
Right in the center you can spot my Olympus XA, a very neat, tiny and nice feeling rangefinder camera that i use for snapshots. Unfortunately you can't see my Yashica Electro 35CC, another rangefinder with a georgeous 35/1.8 lens. I sent it for repairs to Berlin in February and it isn't ready yet :(
When I go out I throw at least one of these beautys in my Kalahari bag and start shooting. Tri-X is the film i love most. It is just awesome. But i love shooting very old film as well (20 year expired Afgapan 400 for instance).
On the private side i love listening to indie and electronic music. I am addicted to the world wide web. I love science and secular humanism and – though it seems to suggest itself – I am no Hipster ;)
Feel free to browse my photostream on flickr: http://www.flickr.com/photos/gently/ or visit my portfolio on 500px.com http://500px.com/philipp
Thanks for sharing your bag and your links with us Philipp, it is nice to see someone who is finding their way through different kinds of photography. A fantastic bag too.
Check out the links and make sure you comment.
Keep them coming folks, we need more submissions, so get your bag on Japancamerahunter.com. Send me a hi resolution image of the bag (please make sure it is horizontal) and its contents, with some details about yourself and what you shoot. Oh and don't forget your contact details (twitter, flickr, tumbler et al). Send the bag shots here.
Cheers
Japancamerahunter