The MS-Optical Perar 35mm F/3.5 Super Triplet MK II
The 35mm Perar was Miyazaki sans first Perar release, and JCH is very happy to be able to offer you the chance to own one of these beauties now. There are extremely limited numbers avaialble, so come and get one before they are all gone.

This exceptional lens was the original Triplet manufactured by Miyazaki san of MS Optical in Japan. Due to popular demand there has been a limited batch of these manufactured again. I will only have 10 lenses available and when they sell out there will be no more.
The 35mm Triplet was the lens that really put MS on the map with the collectors. This, the MK II features a native M-mount and a few improvements over the original len. As usual all lenses are manufactured to extremely high standards by Miyazaki san in his own workshop just outside of Tokyo.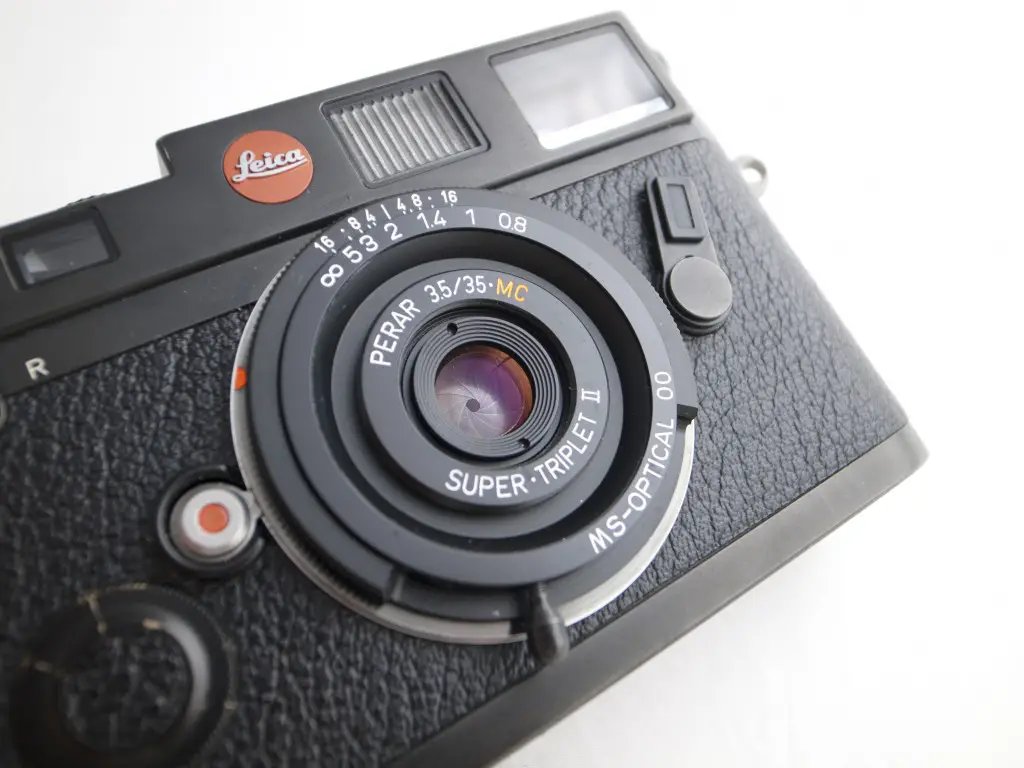 For those of you in the know, there has been a very special lens maker in Japan who has been producing all sorts of fantastic handmade lenses for Leica mount cameras, this lens maker is Mr. Miyazaki and his company is MS-Optical. In recent time he became famous with collectors for his original 35mm and 50mm lenses and for his lens conversions. MS-Optical's other lenses are still available in limited numbers too: 28mm Perar and 50mm Apoqualia.
This lens is the first of the Perar lenses to be made by MS and has gained a cult status with shooters and collectors.
Triplet Formula lens with high optical stability
Ultra compact and lightweight, only 75grams (55 grams with the hood)
Collapsible design
Triplet design with 3 elements in 3 groups for refined sharpness
Premium multicoated lens with a 97% light transmission rate
10 blade aperture diaphragm with smooth selection for a clean bokeh effect
Minimum focal distance of 0.8m
High quality Tantalum glass, as used in the 28mm Triplet
Excellent colour rendition
Lens features a screw on hood
The lens is a native M-mount, so there is no need for an adapter. The lenses are not 6 bit encoded, as it is designed for general M-mount fittings as opposed to the Leica directly. This lens has been developed with the digital camera in mind and the sharpness will reflect that.


The lenses are available now, there is a waiting time for the lens, as the lenses are still made to order.
The lens is priced at 58,000 yen plus shipping (dependent on country)
Please note that I cannot select what serial number you get, it is the luck of the draw. And it is strictly first come first served. These lenses are going to sell very fast. You can get one here. 
Cheers
Japancamerahunter