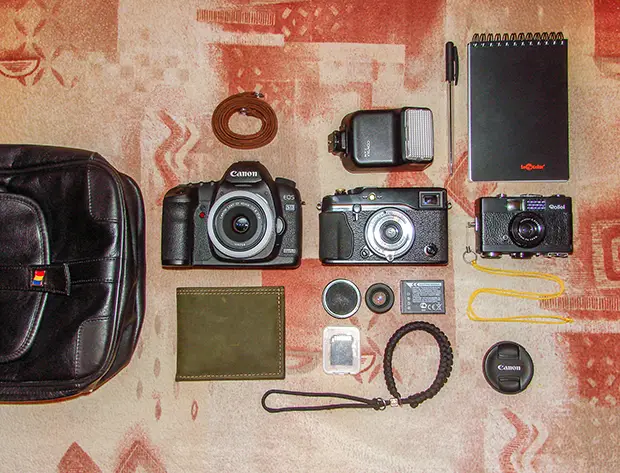 In your bag 1137, Florin Ghebosu
Another returnee, though this time from not all that long ago. Florin has changed his gear and shares it with us.

Hello again Bellamy, I'm back from Romania with my bag. This time, as you can see, I'm using almost the same focal length.
I have the 5d mark ii with 40mm f2.8 panchake, and yes it's white because it was made for the white version of canon eos 100, and I like it more like this.
The same Fuji x-pro1, but this time with the 35mm f3.5 Summaron Ernst Leitz Gmbh Wetzlar, and the Rollei 35b, a great and small film camera with Zeiss Triotar 40mm f3.5 lens.
I shoot now only street photography and stock. And I'm very happy with my bag now.
Hope you like it
My links are :
www.ghebosuflorin.info
orionvision.tumblr.com
www.flickr.com/photos/45092710@N04/
Thanks for coming back to us, Florin. Nice to see that Rollei in the bag.
Check it out and make sure you come and comment.
Keep them coming folks, we need more submissions, so get your bag on Japancamerahunter.com. Send me a hi resolution image of the bag. Optimum size is 620×473. Please ensure there is a bag in the shot, unless you don't use one. The more you can write about yourself the better, make it appealing and tell us a story. Oh and don't forget your contact details (twitter, flickr, tumbler et al). Send the bag shots here. Please understand that there is a long wait now as there is a backlog of submissions. Not all make the cut, so make sure yours is funny/interesting/quirky. And please make sure the shot is of good quality, as the ones that are not do not go up.
Cheers
Japancamerahunter