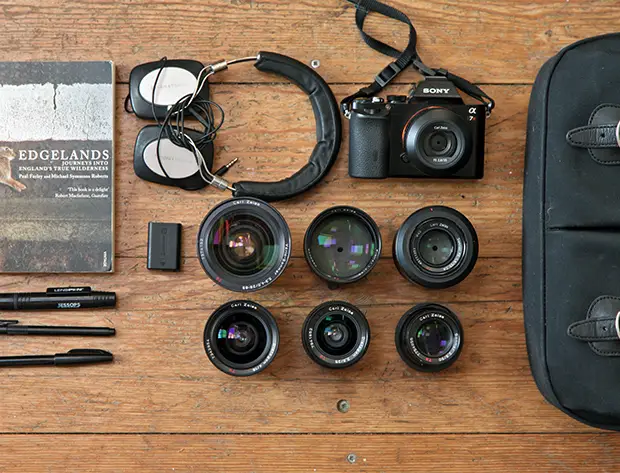 In your bag 1038, Barry Reid
Barry really likes Contax lenses, and who can blame him? So here are his Contax laden bags. Check it out.

I really enjoy the blog it's great to see what other photographers are carrying. I like the book reviews and occasional classic gear round-ups too. I'm showing you two bags for the price of one here.
First up is my everyday bag; This consists of my A7r and 3-4 lenses from the selection 7 in the first photo. As you can see I'm a big fan of the Zeiss look with T* coatings all round in bag 1. This was established while using Contax/Yashica fit lenses in my Eos DSLR days.
The FE primes and the Sony NEX/Alpha mirrorless bodies being an amazing platform for adapted lenses led me to jump ship and get the A7r. I haven't looked back and the portability of the Sony compared to an Eos 5D or 1Ds has made photography a pleasure again.
The lens on the camera is the Sony 35/2.8 then, moving along the top row we have a C/Y fit 28-85 & 85/1.4 then comes the Zeiss FE 55/1.8 which is an astoundingly clear and sharp lens.
The Bottom row is a C/Y fit 18mm & 25mm and the outfit is rounded out with a Contax G fit 90/2.8 which I picked up very cheaply and use with the surprisingly fast Mk3 TechArt AF adapter.
The bag is completed by a spare battery or two, lens pen, B&W P5 headphones for the commute and whatever book I happen to be reading.
There are always a couple of pens in the bag in this instance the one below the LensPen is a discontinued Pentel MF50 which i have stockpiled a few boxes of… being an Architect I can be quite geeky about pens too!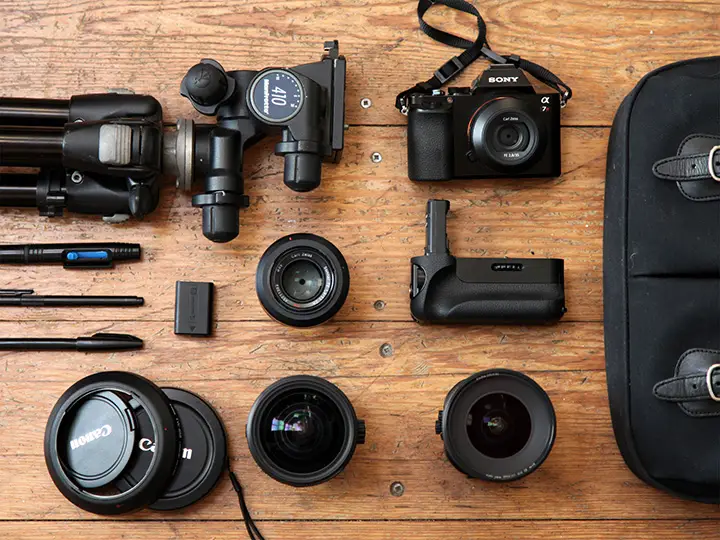 As an Architect I have another bag; I've dabble in Architectural Photography (PS thanks for the Corb & Herve review a while back – I bought that one after reading the review). That bag consists of the Sony FE primes along with my shift lenses, the Canon TS-E 17/4L (left) & 24/3.5L Mark II (right) attached via a Metabones smart Adapter III.
In this instance I will generally pop the accessory grip onto the A7r, not only does it double up the battery which is idea for a long session of live view focussing but it also gets the lens clear of the tripod mount and allows full shift.
On occasion I will carry a EF1.4x extender too as it gives a near 35mm equivalent when used with the 24mm lens. In use, I love that the EVF on the sony has the option of an electronic level – it makes using shift lenses hand held a great deal easier, however for ultimate precision I feel that a Tripod with a geared head is still essential. I have a Manfrotto 055 tripod and a 410 geared head.
My work from my daily commutes can be seen online at www.contaxian.com or www. my architectural work is on www.barryreid.com.
Thanks for sharing your gear with us Barry. That is a real dedication to Contax.
Check out the links and make sure you come and comment.
Keep them coming folks, we need more submissions, so get your bag on Japancamerahunter.com. Send me a hi resolution image of the bag (please make sure it is horizontal, 720px across is optimal) and its contents, with some details about yourself and what you shoot. Oh and don't forget your contact details (twitter, flickr, tumbler et al). Send the bag shots here. Please understand that there is a long wait now as there is a backlog of submissions. Not all make the cut, so make sure yours is funny/interesting/quirky. And please make sure the shot is of good quality, as the ones that are not do not go up.
Cheers
Japancamerahunter