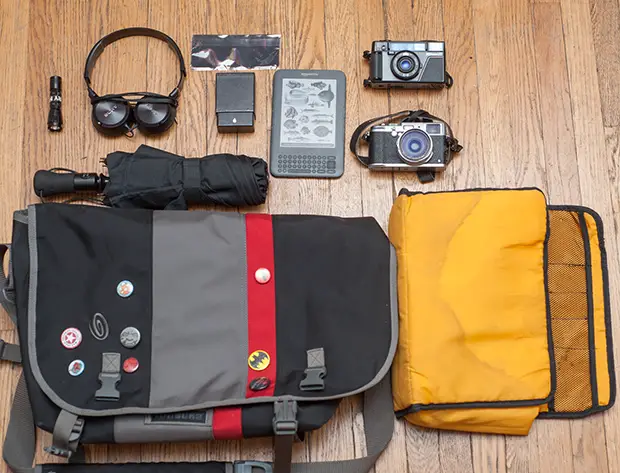 In your bag 1037, Moe Martinez
Moe shoots the streets of Chicago with this setup. And I wish I could go there again and shoot the streets too. Check it out.

Hey, My name is Moe Martinez a sometimes street photographer from Chicago, Illinois. My everyday bag pretty much consists of these items all the time, with the film camera rotating among others that I have.
1. An led flashlight… you should always have one.
2. Headphones – Sony MDRZX300AP/B .. these are pretty good and comfortable
3. Microfiber for my eyes and the cameras.
4. business cards from moo
5. kindle for the train ride.
6. umbrella, its been kind of wet lately.
— and now the cameras —
7. Nikon L35 AF – this is the first roll I've put through this camera, and I am hoping its good because I love how this little camera feels in hand. Testing it with Neopan 400.
8. Fuji X100s – this little gem has thankfully replaced my DSLR as my carry around camera, and I am just delighted.
— the bag —
A large Timbuk2 Laptop messenger bag, I used to have to carry a large laptop but seldom do now, but still love this bag.
the insert is a well worn thing I bought on amazon, it gives me some peace of mind, and has saved me from coffee as you can see from the stain!
————-
I am a web developer by day, but moonlight as a photographer as well. Since buying the little Fuji X100s I have been trying to shoot more street scenes, especially now that I work in downtown Chicago, and it's been a joy to have something so light and so delightful to shoot with. I love my SLR but it is just too bulky for walking around.
Thank you for this site, it is a fun dream land I can visit everyday. If you want to check out my work or send me a message, you can do so at the following places:
website: http://moemartinez.com
instagram: http://instagram.com/sfmoe
twitter: http://twitter.com/sfmoe
thanks Bellamy!
Thanks for the bag shot Moe. That is what I love about designers, their bags are always well laid out.
Check out the links and make sure you come and comment.
Keep them coming folks, we need more submissions, so get your bag on Japancamerahunter.com. Send me a hi resolution image of the bag (please make sure it is horizontal, 720px across is optimal) and its contents, with some details about yourself and what you shoot. Oh and don't forget your contact details (twitter, flickr, tumbler et al). Send the bag shots here. Please understand that there is a long wait now as there is a backlog of submissions. Not all make the cut, so make sure yours is funny/interesting/quirky. And please make sure the shot is of good quality, as the ones that are not do not go up.
Cheers
Japancamerahunter