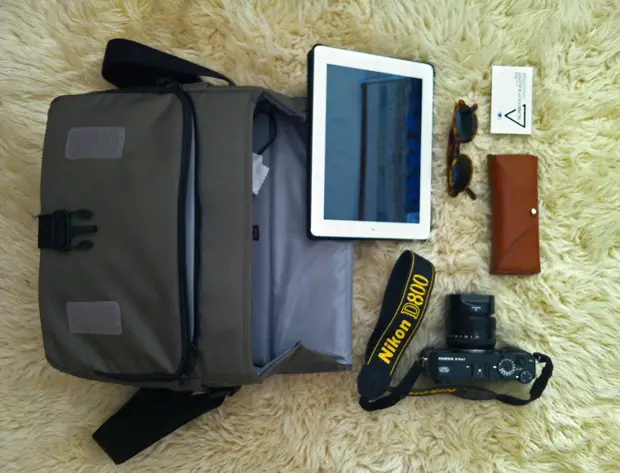 In your bag 398, Niccolò C. M. Bianchi
Today we have a double bag setup from Scotland, via Italy. Niccolò shares with us both of his bags with a nice mix of digital and film cameras. Come and have a look.

My name is Niccolò C. M. Bianchi and I take photos as a hobby. I graduated in medical biotecnology in Italy last year and i'm having a masters degree in scotland now, but i always try to find time to dedicate to photography. I mainly prefer portraits and street photography.
In this backpack I usually keep the Nikon D800, with the AF-S Nikkor 50mm ƒ/1.8, but also the Nikon FM2 film camera, since I can use its lenses (Nikkor 50mm ƒ/1.2 AI, Nikkor 105mm ƒ/2.5 AI and Leitz Wetzlar Super Angulon R 21mm ƒ/4) on the D800. I just bought the Yashica Electro 35 G and i have to buy batteries. I'll use the XP2 film on it, to test if it works. I think that these three films (PANF+, XP2 and Ektar) are my favourite ones, but also FP4 is good. In the backpack i also keep the SB-700 flash, a Lastolite diffuser and some model release printsheets.
This back is more of the "street photography" one. Less noticeable, but still too much for me, than the backpack. Here I keep my Fujifilm X-Pro1 with the 21mm, 35mm and 60mm lenses, sunglasses that I can never use in Scotland actually. The iPad is pretty useful for photography as well as just for being more geeky. I also keeps some cards I made be print in order to be able to show where my pics might end up if anyone in the street makes questions.
(I'm sorry for this pic being a bit blurry)
Anyway, these are my contacts:
• http://www.flickr.com/photos/ncmb_photographies
• http://www.facebook.com/NCMB.photographies
(Don't bother the "photographIES": at the beginning i wanted to mean both digital and analog photography, but then I got annoyed by the grammar mistake. Changed the page titles, but it's harder to change the domain)
• http://twitter.com/NCMBianchi
I want to thank Bellamy Hunt for this page, mostly because he made me aware of the existence of MS Optical!
Thx
Thanks for sharing your bags with us Niccolò, it is great to see the difference in the two bags that you shoot with.
Check out the links and make sure you come and comment.
Keep them coming folks, we need more submissions, so get your bag on Japancamerahunter.com. Send me a hi resolution image of the bag (please make sure it is horizontal) and its contents, with some details about yourself and what you shoot. Oh and don't forget your contact details (twitter, flickr, tumbler et al). Send the bag shots here.
Cheers
Japancamerahunter