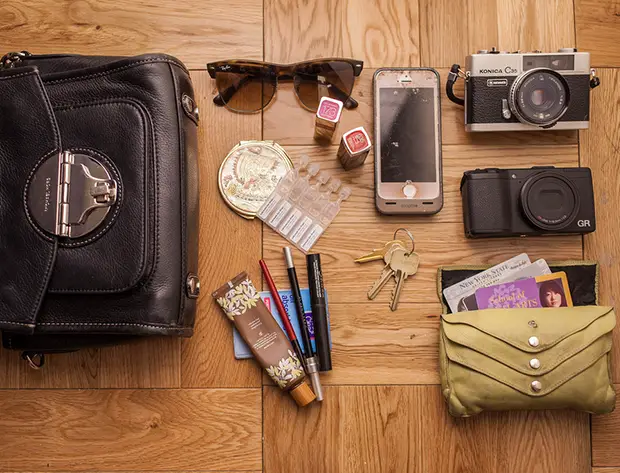 In your bag 927, Charlotte Bae-Jaramillo
A very fashionable New York bag for you all today. Come and check this one out.

My name is Charlotte Bae-Jaramillo. You recently posted my husband's bag picture, Raphael. I thought since he did it, it would be a good idea for me to share what I have.
I am a visual effects artist in New York. I light in computer graphics, primarily. Here is my bag, which is an extension of my body which I take with me everywhere, everyday. It is a Michael Kors black leather bag that I received as a graduation gift. Inside:
-my makeup and a japanese made hand mirror.
-ray ban sunglasses for when the illumination of the city is over gamma 2.2 (nerd joke)
-teardrops, because i wear hard contacts and my eyes tend to get dry a lot from staring at computer screens more than 8 hours a day.
-two shades of lipstick, it is very hard to find colors that complement your complexion. these are two colors i've found that i liked. one for day and one for night.
-my battle-scarred iphone that my puppy enjoys chewing on.
-konica c35, a simple point and shoot rangefinder that i can shoot discreetly in a fast paced city. currently loaded with fuji provia 100. i've found positive film works really well with this camera.
-ricoh gr, my black and white bundle of pleasure (besides my doggie). this camera renders images so closely to black and white film, that gives me the most satisfaction in a digital camera. it's economical, it's light, and hassle free. and i can remain secretive when shooting on the street.
-apartment keys (2nd pair, lost the original already)
-my wallet, a gift i received, made in spain. it contains no cash, but has a collection of expired IDs.
Thank you for taking a look! For some of my work, you can check out:
https://www.flickr.com/photos/charlottesybae
http://cargocollective.com/charlottebae
some of my latest VFX work:
http://vimeo.com/92240076
Thanks for sharing your bag with us, Charlotte. Love the simplicity of the classic and modern compact.
Check out the links and make sure you come and comment.
Keep them coming folks, we need more submissions, so get your bag on Japancamerahunter.com. Send me a hi resolution image of the bag (please make sure it is horizontal) and its contents, with some details about yourself and what you shoot. Oh and don't forget your contact details (twitter, flickr, tumbler et al). Send the bag shots here. Please understand that there is a long wait now as there is a backlog of submissions. Not all make the cut, so make sure yours is funny/interesting/quirky. And please make sure the shot is of good quality, as the ones that are not do not go up.
Cheers
Japancamerahunter