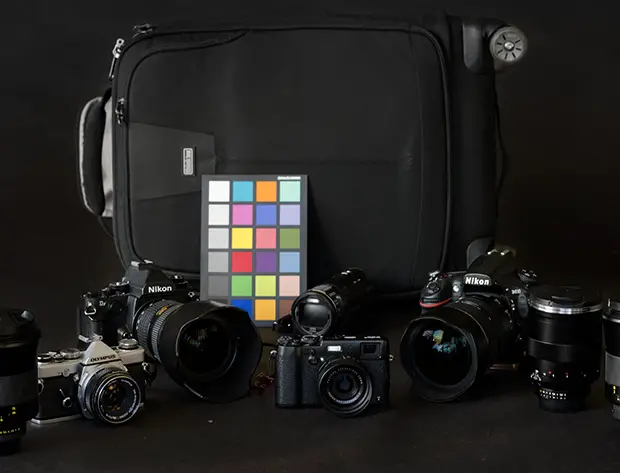 In your bag 1113, Matt Granger
The artist formerly known as….Matt Granger is back again, with a very fancy bag indeed. He has been on the site before, and now shares the bag he is bringing to Tokyo.

As a professional photographer and teacher that travels a lot for work- I have a lot of bags – and most of them are full. I pack different kits depending on the kind of work I will be doing.
This is my kit for my trip to Tokyo mid February. It is a mix of gear I will use for my 3 workshops on street photography, nude portraiture and lighting, as well as personal shooting. Let's run through the gear.
I will be taking 3 digital cameras, a film camera and a camcorder.
The Nikon D810 is peerless for low ISO image quality and my preferred camera when shooting for publication. When shooting in controlled situations I shoot this with the ridiculously high quality Zeiss Otus 55mm and 85mm lenses, and their 135mm APO. All manual focus lenses – and all the best of the best IMO.
I will also take along my Nikon 24-70mm and the new Tamron 15-30mm with VC. My review of the new Tamron goes live on 3rd February – but sneak peak – it is astonishing. Image quality to rival the 14-24mm and perhaps the best in lens VC I have tested.
I will also take along my Nikon Df for lower light work and the Fuji x100t for casual walk around and street shooting.
For personal shooting I still like to take along a film rig on most trips – this time I am taking my dads old Olympus OM-1. This was one of the first cameras I began using as a kid that really got me hooked.
In fact, whilst in Tokyo I am looking to pick up a Hasselblad 500 series, thinking maybe the 503c/m – with a view to maybe getting a digital back to match one day.
Finally I am packing a panasonic camcorder for VLOGs and a Spyder Checkr24 for colour calibration – mostly just in tricky light when the shots are for publication.
On this trip I will take the ThinkTANK Photo Roller Derby bag. This will fit all this gear easily, along with audio gear, a few flashes laptop, chargers, filters etc. And I will actually have another much larger bags with a dozen more flashes, triggers, stands and modifiers for the trio of workshops.
You can see my workshops, meetups and travel plans at www.mattgranger.com/workshops
FB is www.facebook.com/mattgranger
Thanks Bellamy!
Thanks for sharing your bag with us, Matt. Cool to see a film camera in amongst the digital stuff.
Check out the links and make sure you come and comment.
Keep them coming folks, we need more submissions, so get your bag on Japancamerahunter.com. Send me a hi resolution image of the bag. Optimum size is 620×473. Please ensure there is a bag in the shot, unless you don't use one. The more you can write about yourself the better, make it appealing and tell us a story. Oh and don't forget your contact details (twitter, flickr, tumbler et al). Send the bag shots here. Please understand that there is a long wait now as there is a backlog of submissions. Not all make the cut, so make sure yours is funny/interesting/quirky. And please make sure the shot is of good quality, as the ones that are not do not go up.
Cheers
Japancamerahunter