In Your Bag: 1716 – Wally Cassidy
My name is Wally Cassidy living in Limerick Ireland but originally from Dublin. Back in 1989, in my punk rock days, I was sitting in the park with my then girlfriend drinking cider with a gang of other Dublin punks when a documentary photographer, Podge O'Farrell asked if he could take my photo. I agreed no problem and thought nothing of it till a few weeks later he came back to the park with 10 x 8 black and white prints. He told me that he developed and printed them himself in his council flat, that's when the spark happened. 
Within six months I had my first camera, a battered old Zenit with no light meter, Podge also gave me his old darkroom equipment, no stopping me now. At that time Podge was documenting the skinhead scene so I started photographing the local punks and gigs. Nearly every weekend during 1989 to 1993 I was shooting events such as protests, horse fairs or gigs and all that time I only ever used one camera and one lens, mainly 28mm, occasionally a 35mm but never higher. Nothing wrong with my legs so why waste money on a zoom? 
I put down the camera for over 25 years to work on building sites, the only things I photographed were the fish I caught on the lake at the weekends. Then along comes social media, met a few friends from the good old days of punk rock and shared some of my images from the 90's, next thing I know I have a book!
So I picked up the camera again and for the last ten years I have been documenting Limerick City with a well used M6.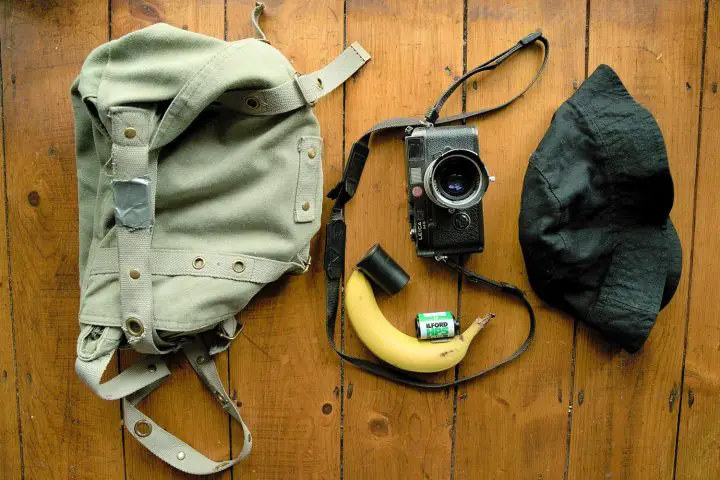 My bag: from a charity shop, cheap but strong cloth material, so i don't look like a photographer. 
Camera: Leica M6, never serviced, faulty light meter, never lets me down. 
Film: usually HP5 or Tri-X when I can afford it. 
Hat: to keep the sun off the bald head and a peak to see who is coming towards you, always important. woolly hat in the winter.  
Banana: keep energy levels up. 
https://www.instagram.com/wallycassidy/  
thanks 
Wally Cassidy
Keep them coming folks, we need more submissions, so get your bag on Japancamerahunter.com
Send me a high resolution image of the bag. Optimum size is 1500px across. Please ensure there is a bag in the shot, unless you don't use one. The more you can write about yourself the better, make it appealing and tell us a story. Snapshots of your gear with a camera phone and no words will not be featured.
Oh and don't forget your contact details (twitter, flickr, tumbler et al). Send the bag shots here. Not all make the cut, so make sure yours is funny/interesting/quirky. And please make sure the shot is of good quality, you are a photographer after all. 
Cheers
JCH