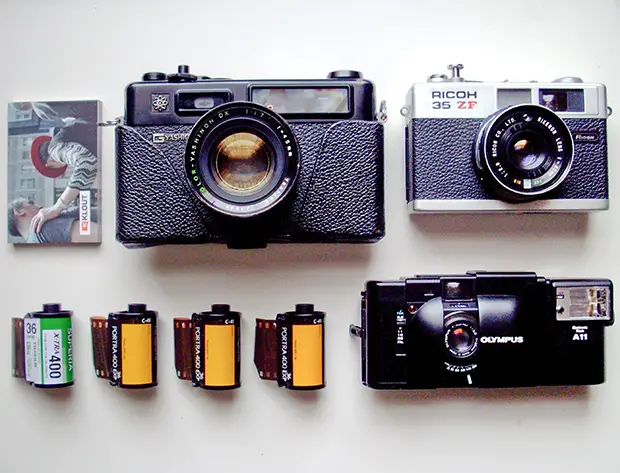 In your bag No: 677, Marc Fairhurst
After the massive bags from Thorsten, it is about time for something a bit more manageable. And this setup from Marc could not be more simple. Check it out.

My name's Marc Fairhurst, I'm 38, from Liverpool and currently residing in London. I started photography nearly two years ago and I turned to film photography a couple of months ago. I started out with a Nikon D7000, covering protests and events in London, supplying to an agency. Back then I shot everything in manual as I didn't have a clue what anything meant, and that self-training has helped the transition to film, although the film camera's I use now are aperture priority, which I like.
In my bag: Yashica Electro 35 GTN, Ricoh 35 ZF and an Olympus XA. During my first year of digital photography I was getting to know settings and how each have an affect on one another, and shot for the agency. My last shot was snapped up by The Financial Times a few weeks ago. Now I focus mainly on street photography, with the Olympus XA being my number one camera for that. Being the size that the camera is, it can easily fit into my jacket pocket and I normally take a couple of extra rolls with me just in case. I also take along some business cards in case someone approaches me and asks who I am and what I'm doing. The cards were made for this purpose only. I also have a printout from the Met Police in London, their policy on photographing in public, which many security guards and Community Police Officers often forget or don't know about, which allows me to photograph anyone in public spaces. I don't take anything else. Just some smokes and music.
My reasons for turning to film photography was to slow things down. I'd stopped going out and shooting digital and the Nikon was collecting dust on the shelf, so I swapped it for a car. I then got the Yashica. The entire process has gone from one of coming home after six hours with 2000+ shots, that I'd spend an entire evening editing and sending off to the agency. Now, I come home with around twenty shots, maybe a little more, and there's nothing I can do with them. The entire process has to stop there. I eventually send the rolls out for processing and about a week later the negs come back to me, and I can then scan them. The time it takes allows me distance myself from what I shot, and can look at them when scanned with fresh eyes, as if I'm looking at the scene again for the first time.
Will I ever go back to digital? Probably not, at least, not for anything I now wish to show on my website. The anticipation of what I shot, how I composed a scene and if my judgements were correct, is an anticipation I didn't feel as much with digital photography, and I'm not going to give that feeling up in a hurry.
Website: http://www.marcfairhurst.com/
Flickr:http://www.flickr.com/photos/fairhurst_photos/
Twitter: https://twitter.com/marc_fairhurst
Facebook: https://www.facebook.com/pages/Marc-Fairhurst-Photography/203691366392618
Blog: http://marcfairhurst.wordpress.com/
Thanks! :)
Thanks for sharing your gear and your philosophy on photography with us Marc, it is very cool to hear about how you changed your style.
Check out the links and please come and comment.
Keep them coming folks, we need more submissions, so get your bag on Japancamerahunter.com. Send me a hi resolution image of the bag (please make sure it is horizontal) and its contents, with some details about yourself and what you shoot. Oh and don't forget your contact details (twitter, flickr, tumbler et al). Send the bag shots here. Please understand that there is a long wait now as there is a backlog of submissions. Not all make the cut, so make sure yours is funny/interesting/quirky. And please make sure the shot is of good quality, as the ones that are not do not go up.
Cheers
Japancamerahunter