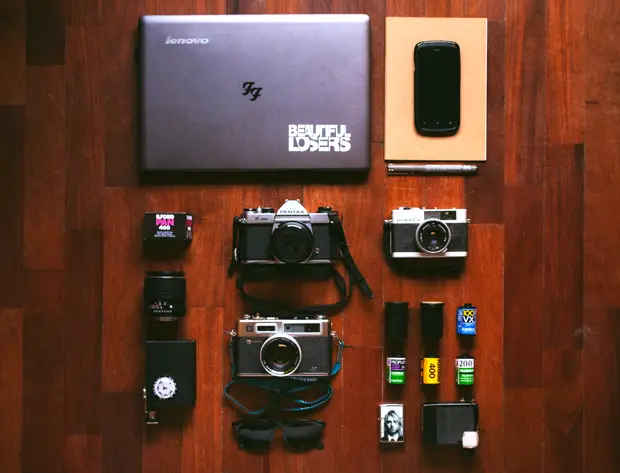 In your bag No: 602, Fernando Callo
Wow, today we have a bag all the way from South America, Peru to be precise. I love the fact that we get to see bags from all over the world. Fernando has a great selection for us. Come and check it out.

My name is Fernando Callo and I'm from Peru. I'm currently studying Graphic Design and I've been shooting since 2010 and shooting film since 2011. Now I only shoot film with some old cameras and I specialize in portrait, landscape and a bit of street photography. I also like to write and I'm currently developing a short film.
In my bag are:
-Pentax K1000 with SMC Pentax-M 50mm 1:2 and SMC Pentax-M 135mm 1:3.5
-Konica C35 V (This is exclusively for street photography)
-Yashica Electro 35 GS (This is my "leaks" camera)
-Yashica Pro-50 DX flash and Vivitar 102 flash
-Ilford PAN 400, Kodak TMAX 100, Konica 100 VX, Fujifilm ProPlus II 200, Kodak Gold 400, Fujifilm Superia 200
-Lenovo u400 (portfolio, documents, photoshop, lightroom, etc)
-HTC One S (lightmeter, videocam, music, internet, etc)
-Notebook, Multiliner Artline, Vintage Sunglasses and Kurt Cobain lighter
-The bag it depends on the place
You can find me on my website, facebook, flickr and instagram
Thanks for your time!
Thanks for sharing your bag with us Fernando. I love the Kurt lighter, very cool.
Check out the links and make sure you come and comment.
Keep them coming folks, we need more submissions, so get your bag on Japancamerahunter.com. Send me a hi resolution image of the bag (please make sure it is horizontal) and its contents, with some details about yourself and what you shoot. Oh and don't forget your contact details (twitter, flickr, tumbler et al). Send the bag shots here.
Cheers
Japancamerahunter