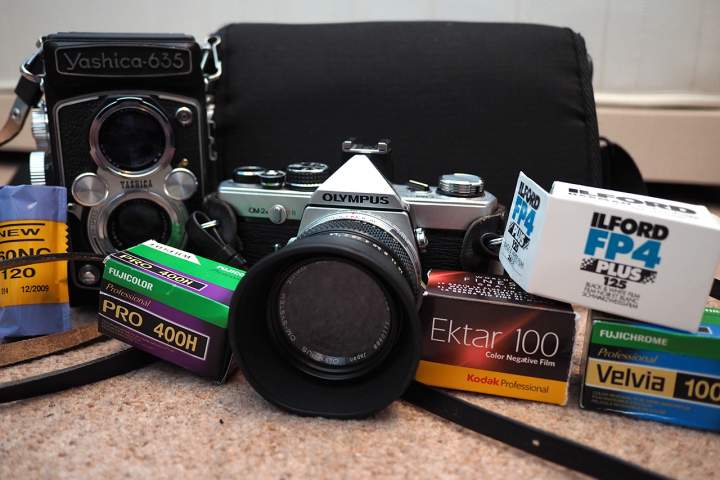 In your bag No: 1423, Tom Allen
Tom is a young man who shoots film thanks to an attic find. Lots of film and somewhere in the shot you might be able to see a bag too. Check it out.
Hello JapanCameraHunter!
I've been following this website for a while and have really enjoyed nosing in on people and looking at what they shoot with, so thought I'd give it a go too.
I'm a 16 year old photographer in Suffolk, my preferred shooting choice is nature, wildlife and landscape photography because I love exploring new places, finding new things and am very privileged to live in a place where the countryside is a 10 minute walk away.
Having said this though I love experimenting with new styles and themes, so have tried out a lot of different things in my relatively short but very enjoyable photographic journey so far, such as street, architecture, abstract, portraiture etc. The way I got into photography was through my family, many of whom are interested in photography.
The only big piece of equipment I've ever bought for myself is my Olympus OM-D, which as a 16 year old took me a lot of saving… I got into film photography because my Dad gave me his Olympus OM-2 to have some fun with one day and then I fell in love with it. Despite spending a lot of time in an attic, it's in amazing condition and is a real joy to use. Since then my Grandfather's camera bag has been passed down to me and I use his lenses and accessories. The fact that these things belonged to him mean a great deal to me, and no matter what 'better cameras' are available to me, I would never give up my OM.
As you might be able see from the picture, The OM has the Zuiko 50mm f/1.4, and my Grandfather had the 28mm f/2.8 and 135mm f/3.5 to go along with it.
Additionally I have a 120mm Yashica 635. It's no hasselblad, but in all honesty, given the choice, I'd still go with this. I really enjoy shooting with the Yashica but unfortunately, with the rising prices of film, especially 120mm, shooting on it has to be a rarer experience than the OM due to financial reasons.
I've never found the bag I use particularly interesting as it's just the Olympus OM-D shoulder bag, and if I need something bigger I just use an ordinary backpack. Film wise, as I've said, I love to experiment, which is why you can see this strange combination of a variety of films that I've tried, and most of the time liked, however some I've lost my liking for because of the developing cost. My definite favourites would have to be the Fujifilm 400H (although a little too pricey for me) and the Ektar 100, which is the more affordable choice. If you haven't tried these already and are looking for a colour negative film I'd definitely recommend them!
I consider myself very lucky that I have been able to have these photographic experiences and in the future would love to travel, with camera in hand.
Feel free to take a look at my accounts on Flickr and Instagram
Flickr: https://www.flickr.com/photos/126203744@N03/
Instagram: @tomallen174
Thank you very much for reading! :-)
Thanks for sharing your bag with us, Tom. Nice to see that Olympus getting a new lease of life.
Check out the links and please come and comment.
Keep them coming folks, we need more submissions, so get your bag on Japancamerahunter.com
Send me a high resolution image of the bag. Optimum size is 1500px across. Please ensure there is a bag in the shot, unless you don't use one. The more you can write about yourself the better, make it appealing and tell us a story. Snapshots of your gear with a camera phone and no words will not be featured.
Oh and don't forget your contact details (twitter, flickr, tumbler et al). Send the bag shots here. Please understand that there is a long wait now as there is a backlog of submissions. Not all make the cut, so make sure yours is funny/interesting/quirky. And please make sure the shot is of good quality, as the ones that are not do not go up.
Cheers
Japancamerahunter