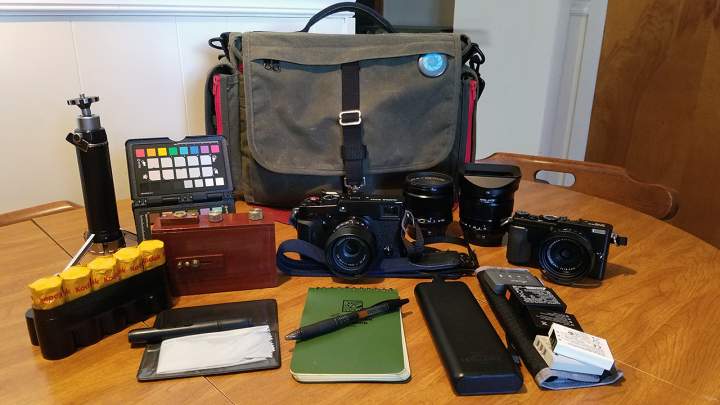 In your bag No: 1458, Harper Hodges
Today we have a very contrasting bag. Some very new cameras and lenses, and then one of the simplest and earliest forms of photography. Vive la difference.
I've been a long time reader of the site and especially enjoy the whats in your bag section, as it offers some pretty unique photographic setups.
I've been into photography since the end of high school, and now 10 years later I work at a camera shop and have my degree in photography.  I shoot primarily for fun but have dabbled in wedding, real estate, and portrait photography.
I learned most techniques via film in school though like many others I moved on to digital for the convenience and lower upkeep.  It wasnt until a semester abroad centered in Florence, Italy that I found myself re-energized by the old analog process and now work that into my daily carry.  So here is my current loadout:
First off, the bag: Domke Herald, rugged military.
I've always been a fan of the Domke bags for their size and durability, and their retro vibe jives well with the cameras I used most.  Lots of pockets, most of which are expandable, and the fabric molds to me, not the other way around.
Fuji XPro 2 w/ Fuji 35mm f2 WR
This camera has completely replaced my digital SLR as my main carry.  The quality keeps my processes relevant and the retro styling makes me feel like I'm shooting film in school again.  Win win.
Fuji 16mm f1.4 WR and Fuji 56mm f1.2 
I use these lenses to round out the focal length spectrum.  I've been more and more interested in street photography the past few years, and these lenses in addition to the tiny 35mm work well.
Fuji X70
I use this an alternative to my phone for quick "point and shoot" type shoots, and its small and quiet enough that I can keep it discrete wherever I am.
Zero Image 6×6 wooden pinhole camera
Pinhole imagery was a surprisingly large focus of my semester overseas.  It offers a unique perspective and forces a different mindset.  You have such limited control over your resulting image that you have to trust instinct and be flexible in the darkroom.
The rest of whats in the bag include cleaning supplies, a notebook and pen for quick notes, a tote that holds several spare batteries and an old but reliable battery tester, a power bank for keeping my phone charged on long treks, a collapsible table-top tripod, a color-checker passport for precise color correction, and a JCH 120 film case.  Additionally, I've tricked out the lenses and XPro 2 with fuji's metal hoods and LensMate's soft release/thumbs up combo, as well as domke neck straps for both Fujis.
As I said, I primarily do this for fun, and have been pretty late to the party regarding social media and digital portfolios, but if/when I ever pursue those I'll be sure to submit again.
Harper Hodges
Thanks for sharing your bag with us, Harper. Do you have a website showing your work?
Keep them coming folks, we need more submissions, so get your bag on Japancamerahunter.com
Send me a high resolution image of the bag. Optimum size is 1500px across. Please ensure there is a bag in the shot, unless you don't use one. The more you can write about yourself the better, make it appealing and tell us a story. Snapshots of your gear with a camera phone and no words will not be featured.
Oh and don't forget your contact details (twitter, flickr, tumbler et al). Send the bag shots here. Please understand that there is a long wait now as there is a backlog of submissions. Not all make the cut, so make sure yours is funny/interesting/quirky. And please make sure the shot is of good quality, as the ones that are not do not go up.
Cheers
Japancamerahunter