In your bag 1118, Leif & Sonja
We have another couples bag today. A trend I am quite happy with. Leif and Sonja share their work and their passion for photography, and now they are kind enough to share it with us too. Check it out.

sonja and I really like your page, especially the "in your bag?" category.
We're working together as a photographer duo within the beauty, fashion and advertising field, actually based in Berlin.
Jobwise, we normally rent medium format cameras such as the wonderful phase one with schneider kreuznach lenses or leica s with the great leica s lenses. We're also using our own equipment containing nikon d800 with a lens range from 20-200mm on a daily basis.
therefore the bags, we'd like to contribute, are my "travel light-bag" and sonja's "wanderlust bag", used for sparetime/inspiration//research/pleasure.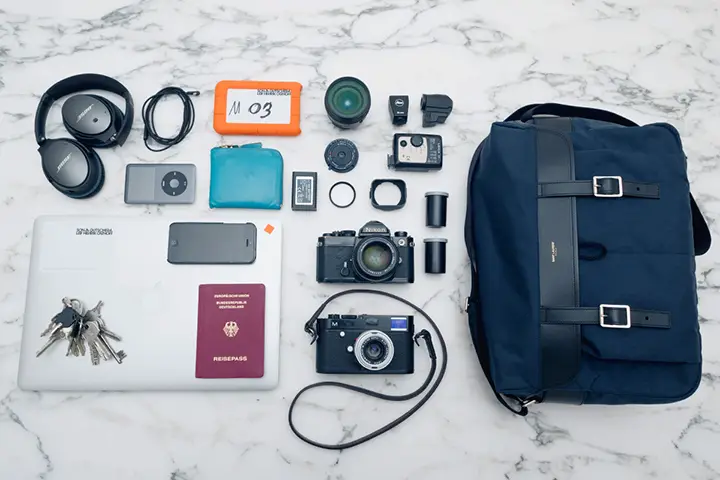 LEIF
– saint laurent paris hunting messenger bag blue/black with loewepro trekker inlay
– bose noise canceling qc 25 headphoes; undoubtedly perfect for traveling
– ipod classic 160gb, the last click-wheel version. a modern classic, reminding me of my first walkman. : )
– macbook pro 15" retina, it still needs too much space… most of the times i leave it at the rented flat or hotel room.
– iphone 5
– international travel passport
– key
– comme des garçons blue leather purse.
– lacie rugged hd
backup, backup, backup…
– nikon fm + nikon nikkor 50mm 1.4 ais … the first camera i remember my parents owned.
one of my most precious cameras and in action again. some older films want to be exposed.
– nikon 20mm 2.8 af-d lovely focal length and compact
– leica messsucher M (240) with artisan camera strap
somehow a "hybrid" camera, you have to slow down again and nearly analogue even when it comes down to the look and feel of the raw material.
i really like the modern way of it, using live view and the very nice video performance
– leica summicon 35mm 2 asph. silver
now that's the perfect "twist" for the black body.
it's heavier and feels good on the camera because of it is completely made out of brass.
– ms optical 24mm 4 super triplet
i'm a huge fan of the 28mm super trippelt and we're testing the 24mm variant. thanks again bellamy!!
– leica cf flash
not built anymore, but a perfect flash for travelling in terms of weight, measurement, operation, performance and flashing duration
– leica evf
a little bit bulky, but perfect for videos
– leica optical viewfinder 24mm
perfect for the 24mm ms optical, if you're working with focus zones and spare liveview completely
– b+w closeup lens for the summicron
very important if you want to outsmart the closest focusing distance of 0.7 meters
– spare battery
– film cans
what´s also in the bag, but cannot be seen in the picture:
– charger, usb cabel, film, batteries….and so on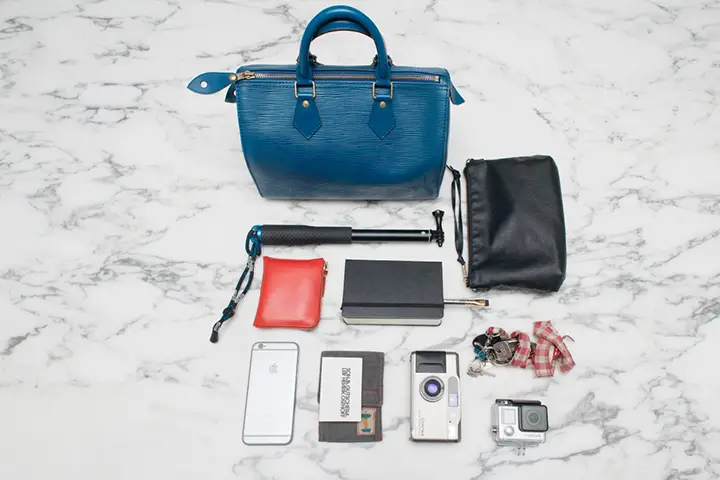 SONJA
– authentic louis vuitton blue epi leather speedy 25 from the early 90's.
a very beautiful and rare classic bag, which has been discontinued and is harder to find throughout europe.
normally, I'm not really into "girly" bags, but it's a wonderful twist and you cannot believe what spacesaver this is.
– comme des garçons red leather purse. a lovely present.
– contax t2 35mm
it was a really precious present and i still love using it once in a while, when i'm looking for something inspirational. very easy to handle, good flash automatic, focus could be faster, but it's fun. ; )
– go pro hero 4 black edition
ohhhhh, we waited so long for the gp pro 4 because of it's new features. 4k, 12mp pics, 120fps hd. … we're experimenting a lot on gifs and moving images, i love!!! using and testing it!
definitely will be in my daily bag, too!!
– sp pov go pro pole 19", really nice to have, but i want to have a nice 3-axis gimbal
– moleskine calender 2015. many people are using their phones or online calendar. but i somehow have problem getting used to it. maybe because i still love writing letters and having a real pencil in my hand.
– apple iPhone 6
ok. might be overdosed by apple, but i like the slo-mo and video features very much.
– business cards and little bag
the little bag was made from a good friend of ours. it might look a little odd to some, but i like it the way it is and it is perfect for our cards. still something analogue without the question whether i have to call someone first, so they can save my number without remembering anything. …
– keys
– black bag with girl stuff. really boring, but useful and cannot be missed. ; )
well, that's it for now and we hope you like it. ; )
… all the best….
sonja & leif
blog: http://blog.gutschera-osthoff.com/
web: http://www.gutschera-osthoff.com/
fb: http://www.facebook.com/GutscheraOsthoffPhotography
tumblr: http://sonja-and-leif.tumblr.com/
Thanks for sharing your bags with us. I love to see two people sharing a passion like this.
Check it out and make sure you come and comment.
Keep them coming folks, we need more submissions, so get your bag on Japancamerahunter.com. Send me a hi resolution image of the bag. Optimum size is 620×473. Please ensure there is a bag in the shot, unless you don't use one. The more you can write about yourself the better, make it appealing and tell us a story. Oh and don't forget your contact details (twitter, flickr, tumbler et al). Send the bag shots here. Please understand that there is a long wait now as there is a backlog of submissions. Not all make the cut, so make sure yours is funny/interesting/quirky. And please make sure the shot is of good quality, as the ones that are not do not go up.
Cheers
Japancamerahunter