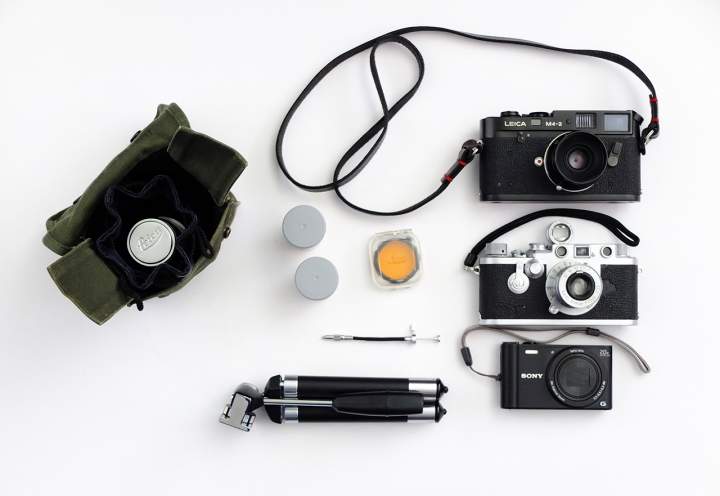 In your bag No: 1222, Frank
Frank only goes by one name. And doesn't give much away. But he does have pretty much the most well used bag I have ever seen. This bag must have been on some serious travels. Check it out this simple and well thought out setup.
My bag is not the most exotic you'll ever see but I'd like to enter it in the contest for longest continous service. It's a miitary issue first aid belt bag that I got in 1970.
Originally, it held a Takumar 105mm lens for my Pentax, a 2X teleconverter, two rolls of TRI-X film, an orange filter, a cable release and a plastic bag to cover the camera in inclement weather. Its strong point was the large loop on the back that allowed it to be worn on my belt instead of carried on a strap.
I never liked to be encumbered with a bag that I had to keep up with and seemed to always be in the way. A larger bag was always a temptation to carry everything I had "just in case." It seems that everyone goes through a little of that, especially early on. My Ponder and Best pocket tripod is a veteran of the 1960's and goes along in my travel bag. It works fine for lightweight cameras.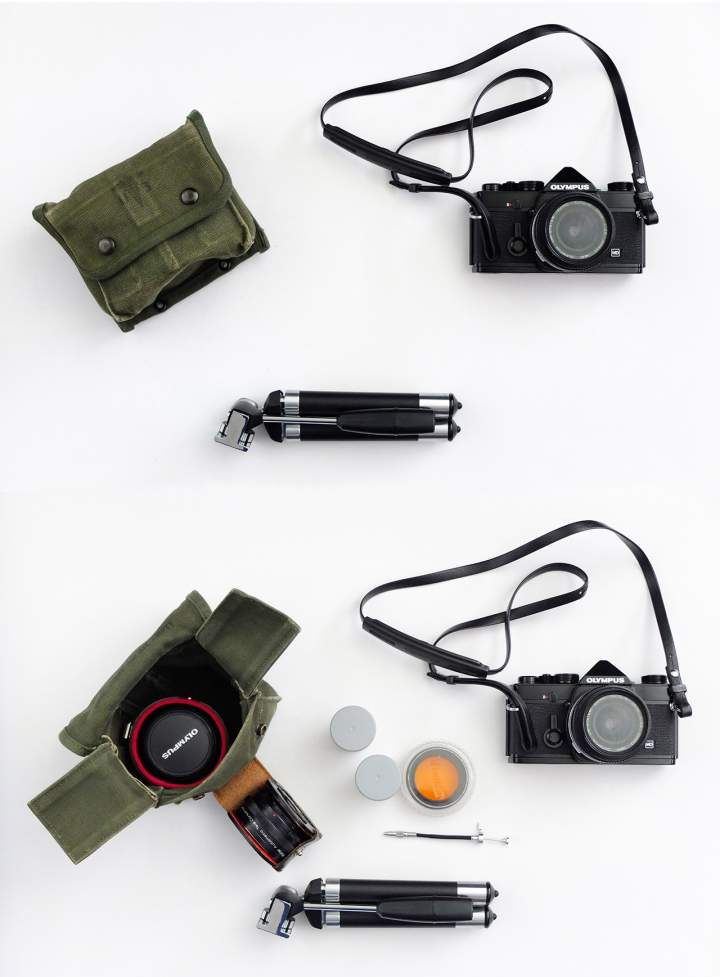 Eventually, I moved to the Olympus system and pretty much carried the same range of gear for that too. Now, a Leica M4-2 or IIIf (depending on my mood) with 35 and 90mm lenses will do just about all and I carry my little Sony digital in the bag as my "everything else" camera. The bag is a bit worn but by no means worn out and will probably serve for as long as I will need a bag. It's traveled hundreds of thousand of miles with me (I'm a pilot), is as unobtrusive as any bag I could use and cost nothing. Who could ask for more?
I never fail to enjoy what I read on your site. I don't have a website or blog but you can view about forty years of my work here.
Frank
http://www.blurb.com/books/4572148-i-remember
Thanks for sharing your bag with us, Frank. These military bags were really built to last a lifetime. This one is fantastic, I hope you get many more years of use from it.
Check out the links and please make sure you come and comment.
Keep them coming folks, we need more submissions, so get your bag on Japancamerahunter.com.
Send me a hi resolution image of the bag. Optimum size is 1500 across. Please ensure there is a bag in the shot, unless you don't use one. The more you can write about yourself the better, make it appealing and tell us a story.
Oh and don't forget your contact details (twitter, flickr, tumbler et al). Send the bag shots here. Please understand that there is a long wait now as there is a backlog of submissions. Not all make the cut, so make sure yours is funny/interesting/quirky. And please make sure the shot is of good quality, as the ones that are not do not go up.
Cheers
Japancamerahunter