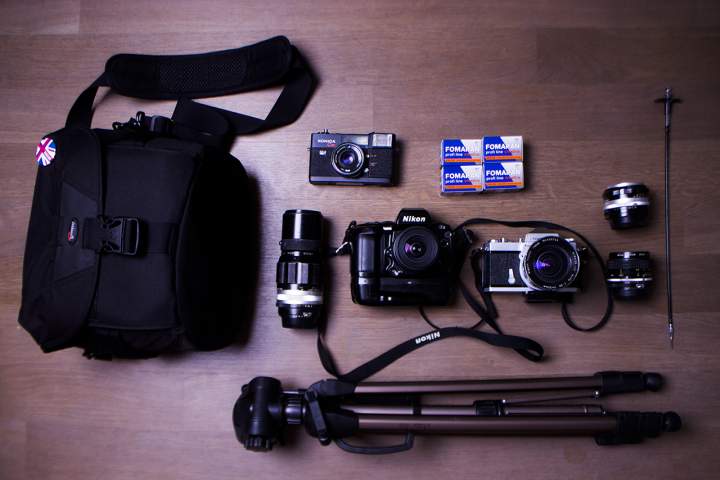 In your bag No: 1446, Jan Kroček
Back to it with a fantastic bag for 2017. Jan works in the Fomapan factory as well, which is way cool. Let's get it started and here is to a great 2017.
Hello, my name is Jan Kroček, and i'm a bindery worker from Czech Republic. (yes, we make Fomapan)
I studied photography high school, but taking pictures is just my hobby now.
My other hobbies are graphic design, drawing, painting.
Let's look on the gear:
Konica C35EF 
Great camera for fast "lazy snapshots" and amazing "Terry Richardson-like" shadow effect when used with flash on.
Currently loaded with expired Ilford FP4+ 125
Nikon N90s w/ MB-10 + Nikkor 35-80mm f/4-5.6 AF-D:
I've got this camera because of nice viewfinder, great fast metering and – last, but not least – ability of metering with Ai/Ai-S lenses. It also have an extremely fast (but loud) autofocus. The kit lens on it made also about 25 years ago performs very well. I've also wanted the version with grip because of unavailability of special batteries for classic N90 here.
Nikkormat FTN + Nikkor-UD 20mm f/3.5 Ai'd:
My most favourite manual focus camera with widest lens I own. Got it in perfect condition for a bargain. Easy to operate, fun to shoot, almost undestroyable, but i'm taking care of this one, never felt on the ground or something.
Currently loaded with (also shown in the picture) Fomapan Classic 200.
Nikkor-S 50mm f/1.4 Non-Ai:
Great portrait lens, a bit soft when used wide open, but makes interesting swirly bokeh.
Micro-Nikkor 55/3.5 Ai:
Compact light lens for closeup use, sharp as a knife even wide open.
Nikkor-Q.C 200/4 Ai'd:
Amazing telephoto lens, but not so good for closeups, so i'm using it mostly for "landscape crops" when shooting in nature.
Tripod – Hama Star 62
Cable release – Hama professional
Not shown:
filter Haida ND1000, variable no name ND2-400
Yashica 35GT that i'm not really using so much right now because of the Konica
separate bag for tripod (yes, it's not really in one bag) 
flash Nikon SB-24
Check out my portfolio (only czech language already):
Instagram:
500px:
Sincerely
Jan Kroček
Thanks for sharing your bag with us, Jan. It must be fascinating working in the film factory, I am envious.
Keep them coming folks, we need more submissions, so get your bag on Japancamerahunter.com
Send me a high resolution image of the bag. Optimum size is 1500px across. Please ensure there is a bag in the shot, unless you don't use one. The more you can write about yourself the better, make it appealing and tell us a story. Snapshots of your gear with a camera phone and no words will not be featured.
Oh and don't forget your contact details (twitter, flickr, tumbler et al). Send the bag shots here. Please understand that there is a long wait now as there is a backlog of submissions. Not all make the cut, so make sure yours is funny/interesting/quirky. And please make sure the shot is of good quality, as the ones that are not do not go up.
Cheers
Japancamerahunter