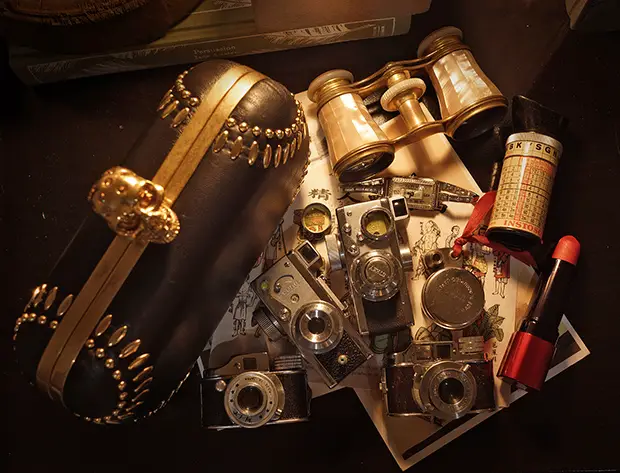 In your bag 924, Aislinn Chuahiock
This has got to be one of the coolest bags I have ever featured. the sub mini spy bag. Massively awesome. Check it out.

Wish I was a spy.
SUBMINIATURE CAMERAS… not sure how these was used back then back am thinking it's a League has a strictly enforced NFF Policy (No-Fat-Fingers).
Steky IIIB and IIIA (1950's) – Made in Japan after WW2, uses 16mm film. Badass little thing measures approximately 66 x 40 x 42 mm and boasts of interchangeable lenses.
Sakura Seiki Petal Camera – Made in Occupied Japan, late 1940's (the red ribbon is original). Takes 6-exposures and is the size of a silver dollar. A pain in the ass to load film onto (Cut 25mm circles on a 35mm film in the dark) and has a fixed f5.6 aperture. Probably NOT selfie-friendly but looks sweet around my neck though.
Toko Tone – Made in Japan, early 1950's. Looks like you shrunk your 35mm camera… "What is this?!! A camera for ants?!!!"…. Measures a cute 55x34x38mm, weighs 92g, takes 17.5mm film, and substantially better built than most Hit-Cameras though.
Hit Camera – the cheapest in the bunch. For emergencies. Pretty sure it works like crap.
ON THE PERIMETER
Alexander McQueen clutch – gotta dress the part. This bag probably weighs in at 1.5lbs on it's own.
Antique mother-of-pearl and brass opera binoculars… you know… to stalk with style.
Antique 1920's Bulova Watch – Ticking away like a boss. I bought this beautiful silver watch in an Antiques show. Not only was it gorgeous, it came with an intricately engraved back with intials "AGC"… my initials… how mindblowingly creepy cool was that?!
Drem Intoscope Extinction Light Meter – made in Austria in the 1930's. User experience was  like a kaleidoscope had an affair with a deranged Cryptex…. No wonder it's extinct. Anyways, kidding aside, this is a lovely perplexing tool that shows you the evolution of the light meter.
And lipstick – the deadliest weapon of them all.
PS: I am going to admit that I bought these cameras for collection purposes and have superficial knowledge on them. I hadn't thought of using them. One, I have no access to films for these. But I'd love to get someone's advice should anyone have had the pleasure of tinkering with these cameras.
AISLINN CHUAHIOCK
Twitter: aisbaby
Instagram: aisslinnn
Flickr: www.flickr.com/photos/aischuahiock
Wow. Just wow. The cameras, the binoculars, the McQueen. Wow.
Check out the links and make sure you come and comment.
Keep them coming folks, we need more submissions, so get your bag on Japancamerahunter.com. Send me a hi resolution image of the bag (please make sure it is horizontal) and its contents, with some details about yourself and what you shoot. Oh and don't forget your contact details (twitter, flickr, tumbler et al). Send the bag shots here. Please understand that there is a long wait now as there is a backlog of submissions. Not all make the cut, so make sure yours is funny/interesting/quirky. And please make sure the shot is of good quality, as the ones that are not do not go up.
Cheers
Japancamerahunter