IN YOUR BAG: 1733 – Neal Gause
For this installment of our 'In your Bag' series, we have Neal Gause. Neal Gause has had one in your bag feature and a heartfelt one that he did posthumously for his father. We are happy have him back on the site. Here is his full disclosure:
Full disclosure: I'm a Japan Camera Hunter (JCH) site lurker.  I find the articles, especially the "In Your Bag" features interesting.  Which is funny because while I have a lot of camera bags I never carry one when I'm out-and-about shooting.  Anything I think I'll need is carried in my pockets.  I use the bags to store my cameras at home or when traveling.
I'm amazed that (mostly young) people still wander the earth shooting film.  I appreciate that JCH publishes the 'What is in Your Bag' articles.  I'm retired but my career allowed me to live in Asia and Europe for many years.  I have traveled in Africa, the Pacific and South America.  I now live in the United States and mostly photograph birds (which, I guess, is still wandering around taking photographs).
The Bag
My Nikon FM (with the Nikkor 35mm f/1.4 Ai lens always attached) was my constant companion for thirty plus years until I succumbed to the inevitable—digital—Nikon D3.  I probably took over 90 percent of my photos, up until the D3 acquisition, with Kodachrome 64 (of course I'm now shooting Fujichrome Velvia 50, (RIP Kodachrome) with my Nikon FM/35mm lens combo.
So, basically I did a thirty year 'one camera, one lens' exercise.  Not difficult to stick with one camera when film is all there is for making photographs.  Reviewers don't give the manual focus Nikkor 35mm f/1.4 Ai (F mount) a lot of love because it probably isn't the best for digital camera use.  The lens exhibits vignetting and coma wide open and has close range focusing barrel distortion issues that are partially corrected via the incorporation of Nikon's Close Range floating optical Correction (CRC) element.  Or so I'm told.  Still the lens has a following—especially with photographers active during the 70 and 80s—I guess you had to be there.
Photography
My photography is just documenting what I see walking around.  The background book page, in the above photograph, shows a little bit of the stuff I photograph.  I find it strange that my photographs are abstract because I hate abstract photos.  So no people, no street photography—I'm not that clever or quick to be good at that kind of photography.
Nikons
I store my FM in a Bellingham (25th) Anniversary bag along with a MD-11 motor drive, and my manual lenses: 24mm, 28mm, 50mm, 55mm, and a 105mm (all Nikkors).  Even through I'm mostly a one camera, one lens kind of guy I had a mild (manageable?) GAS problem in the mid 70s early 80's thus the lenses. But the 35mm lens still never comes off the FM! I have a pair of Nikon F3s for lens swapping.
The problem with the Nikon F3 is the aperture priority feature. The FM is pure manual, but with the F3 I would get lazy and rely too much on the camera for selecting the exposure.  I would think about the picture I wanted to take with the FM and setting manual exposure became intuitive.  I really don't know what is wrong with me because automatic cameras have the ability to turn off my brain—point and shoot, pray and spray—you get the idea.
The digital camera age has been hell—although, as my eyesight declines, I'm beginning to appreciate the automatic focus function.  The F3 is heavier than the FM so during the 80s and 90s not my 'every day carry' camera.  Funny the F3's weight is not so much a problem now because digital FX cameras are such cows.  My F3s are early models with the DE-2 prism and pristine.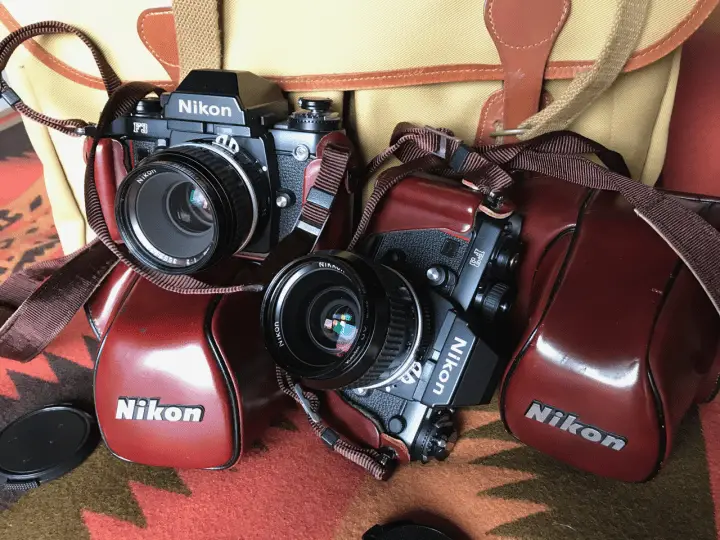 Canon Canonet QL17
Lastly, the cult classic Canon Canonet QL17 G-III (Taiwan manufactured).  My father recommended getting the Canonet—get the black one he said.  So I did as told.  This became my 'drunk' camera.  When out on the town I wanted to have a camera handy.  I didn't like taking my FM into, you know, the night.  So I needed a camera that could take some abuse, wasn't too dear, and could be reliably operable in dark places while drunk.
A handy feature of the Canonet is that the Canolite D flash (it came with the camera as a set) is calibrated to the camera focus distance setting.  All that is necessary to take properly exposed shots in a very dark place was to estimate the subject distance, set the focus, and shoot.  The camera/flash did the rest.  I shot black and white Tri-X and color negative film in the Canonet. Also, in the below photograph, is a Canon Canonet QL17 (Japan manufacture) that I inherited.  (Well, I say I inherited it but it is probably my sister's QL17 that somehow found its way into one of my smaller Bellinghams—lets just keep this between ourselves.)
Finally, in the below photo is an Olympus XA fixed 35 mm f/2.8 lens camera with the removable A11 electronic flash.  The XA is a nice camera which I purchased to use as a smaller, lighter drunk camera.  Never bonded because of the small controls (remember I'm probably drunk while operating it) and my fear it might be broken if I carried it around in my pocket.  I keep it in the bag with the Canonets.  It is a classic after all.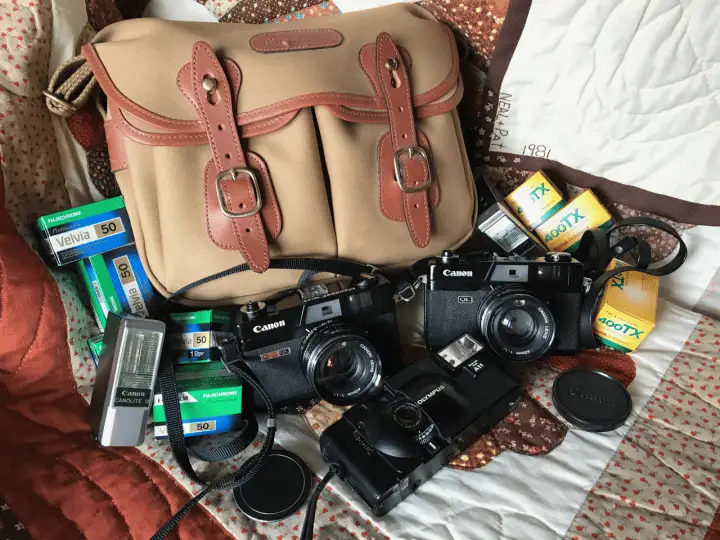 So that's it, thirty plus years shooting film with just an FM, two F3s and a Canonet QL17 G-III camera.  Film photographers unite and Happy Trails!
––––––––––––––––––––––––––––––––––––
Keep them coming folks, we need more submissions, so get your bag on Japancamerahunter.com
Send me a high resolution image of the bag. Optimum size is 1500px across. Please ensure there is a bag in the shot, unless you don't use one. The more you can write about yourself the better, make it appealing and tell us a story. Snapshots of your gear with a camera phone and no words will not be featured.
Oh and don't forget your contact details (Instagram, Twitter, Flickr, Grainery et al). Send the bag shots here. Not all make the cut, so make sure yours is funny/interesting/quirky. And please make sure the shot is of good quality, you are a photographer after all. 
Cheers
-JF