In your bag 473, Benicio Murray
Well well, todays bag has a big pussy in it….And what a gorgeous one it is. Oh yeah, the bag. Benicio brings us a cracking bag too. A lovely mix of old and new. Check it out.

Hi Bellamy and JCH readers,
My name is Benicio Murray, I've been enjoying the 'In Your Bag' series for a while now and thought it was time to send in mine.
I'm a tradesman for 40hrs a week, a martial artist for 10 hrs a week and a photographer for 168 hrs a week.
Photography is slowly taking over my life!
I live in Brisbane, the capital of Queensland, Australia and I consider myself a travel photographer which really means I do a bit of everything with landscapes and portraits the two I'm probably best at.
My bag is a Datsusara Hemp Emissary Bag which i modified to carry my gear safely (more info here: http://benicio.com.au/2013/02/diy-camera-bag-insert/ ) It's big enough to fit all my gear and a laptop when I'm traveling and it's tough enough to handle the beating it gets when I'm out and about.
My main camera is the Canon 5d mk2 which I'm using less and less in favor of the Contax G2 with a 28mm lens which I managed to pick up on ebay (*JCH* boo) for a steal last year. I had to quickly learn how to develop film after I got the camera as developing costs are insane here in Aus.
I just love the yin and yang of shooting film and digital. One is all about pixel peeping and getting the most technically perfect shot possible, where the other is about switching off the analytical brain and just flowing with what's happening, trying to capture the emotion of a scene rather than being obsessed about dynamic range and razor sharp images. Anyway, enough talking shit from me, onto the rest of the gear…
Kodak 400TX and Ilford HP5+ are the films I shoot with.
The Jobi Gorillapod is a great tripod to travel with and both cameras can fit on it nicely.
The 50mm 1.4 and the 24-105 lenses are my most used on the 5D mk2 but I'll often switch in a macro lens for when I'm at work out in the country surrounded by bugs and spiders and other icky things that look cool right up close.
The Canon 580EX flash is used with cheap radio receivers for off camera work and I'm fiddling around with using it on the Contax too which will be sweet when I figure it out.
Spare battery and memory cards and a 10 stop filter for long exposure shots.
iPhone for music and jotting down peoples details and emails as I always like to send a copy of the photos to the people I shoot.
Pen, marker, business cards, bottle of water (so important!) cleaning cloths and air blower can always be found in the bottom of my bag.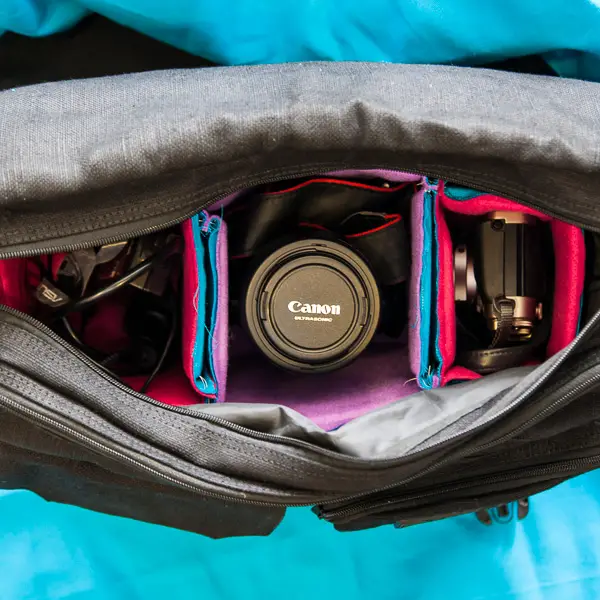 You can find me at all the usual places. I enjoy connecting with other photographers so hit me up and say hi.
G+: https://plus.google.com/u/0/111467571863784432386
FB: https://www.facebook.com/Benicio76
Flickr: http://www.flickr.com/photos/beniciomurray/
It took me ages to get my fat pussy to sit still long enough to get this shot so I hope its suitable!
Haha, brilliant, you let the cat into the bag. What a great setup. The G2 is such a great camera, everyone I know who has one loves it. Thanks for sharing.
Check out the links and make sure you come and comment.
Keep them coming folks, we need more submissions, so get your bag on Japancamerahunter.com. Send me a hi resolution image of the bag (please make sure it is horizontal) and its contents, with some details about yourself and what you shoot. Oh and don't forget your contact details (twitter, flickr, tumbler et al). Send the bag shots here.
Cheers
Japancamerahunter