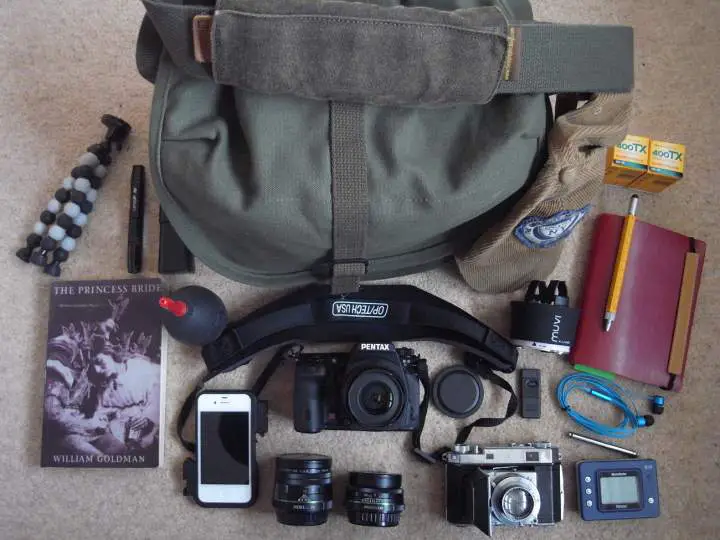 In your bag No: 1214, John Walsh
It is nice to see a bag from Blighty from time to time. And John's bag is a lovely example. A great bag, filled with interesting gear, especially that wonderful Retina. Come and check it out.
My name is John Walsh from England. As you can see from my bag I am one of those odd people who use a Pentax dslr, especially here in the UK where we are definitely in the minority.
I have an affinity with the brand because my Dad showed me how to use his Pentax K1000 film camera when I was doing a project for school (back in the 80's – so showing my age now) and I was hooked.
I don't really have a style; I just enjoy picking up a camera and using it, film or digital. I have recently started to try to develop my own B&W film, and following the ORWO article on your great site, I got hold of some from the UK distributer, and I am filling my own cassettes.
In my bag, a Domke F4AF in olive green, I have my Pentax K5iis fitted with a 15mm Pentax Limited prime. I also carry with me two other primes, the 21mm and the 35mm macro. My film camera of choice at the moment is a Kodak Retina 11a type 150 circa 1939-41. This sports a 50mm f2 Schneider-Kreuznach lens, and has some Kodak tri-X in it. I picked this up fully working at the Photographica camera fair in London, the rangefinder patch is a little faint, but it is about 75 years old !!.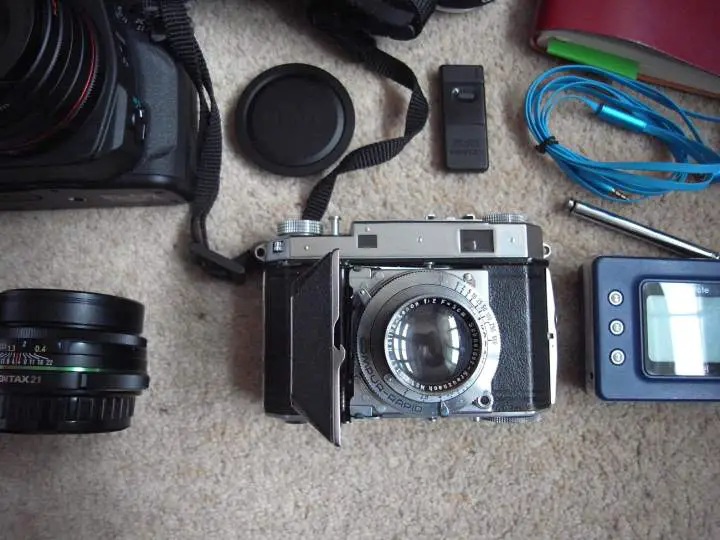 Amongst the other paraphernalia in my bag I have an old iPhone just for snaps, a time lapse thingy, a little red book for notes with pen my daughter gave me that is a pen, ruler, spirit level and screwdriver, my current book, a digital radio and of course some spare film.
I'm afraid I don't yet have a personal website, but I do belong to my local camera club here www.reflexphoto.co.uk where you will see a few of my images.
Thanks, John
Ps Amateur Photography Magazine here in the UK is now doing an 'In Your Bag' feature, asking Pros what they carry !!
Thanks for sharing your bag with us, John. Love seeing that Retina being put through its paces.
Check out the links and please make sure you come and comment.
Keep them coming folks, we need more submissions, so get your bag on Japancamerahunter.com.
Send me a hi resolution image of the bag. Optimum size is 1500 across. Please ensure there is a bag in the shot, unless you don't use one. The more you can write about yourself the better, make it appealing and tell us a story.
Oh and don't forget your contact details (twitter, flickr, tumbler et al). Send the bag shots here. Please understand that there is a long wait now as there is a backlog of submissions. Not all make the cut, so make sure yours is funny/interesting/quirky. And please make sure the shot is of good quality, as the ones that are not do not go up.
Cheers
Japancamerahunter