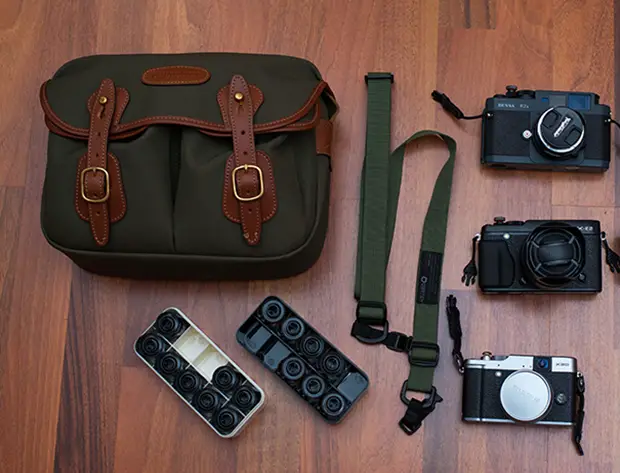 In your bag 1084, Roger Carulla Bové
Roger is no stranger to the site, but this time he is back brandishing 3 bags and some baby bottles too. Check it out.

Hi Bellamy!
I've been already here in some older post  but there are some updates I thought worth sharing. As a summary: still a Catalan-Finnish guy, still in Finland, still working on software.
I'll get to the gear in a moment (you gearheads…) but the most significant change has been de development of film. I started developing B&W at home! I borrowed a Paterson tank, ordered some R09 One Shot (the old Rodinal I think) and got to it! All the latest uploads to my Flickr stream in B&W and film were developed and scanned at home.
It's very satisfying to see the drying developed negative and realize that I didn't screw it up during the process!
Now to the gear. Gone are all the Nikkor AI/AIs lenses, gone is the FM2 and gone is the FG. Instead what came in (among other stuff) was a rangefinder (what have I done !?!?) thanks to Joaquin (who has also been featured in your site.
The gear is classified by strap actually. I got two DSPTCH straps and a bunch of release buckles. The Nikkors mount the heavy sling, and the others the standard sling. Brilliant stuff! And they're long, which helps when you're tall (1.92m, or 6'4″).
The bags:
– Billingham Hadley Small: big enough to carry… whatever I want, up to the D800 and two lenses
– Lowepro Sport AW 200: I can fit a big camera and two lenses or a couple of the smaller ones, and still have plenty of space for important stuff (see below).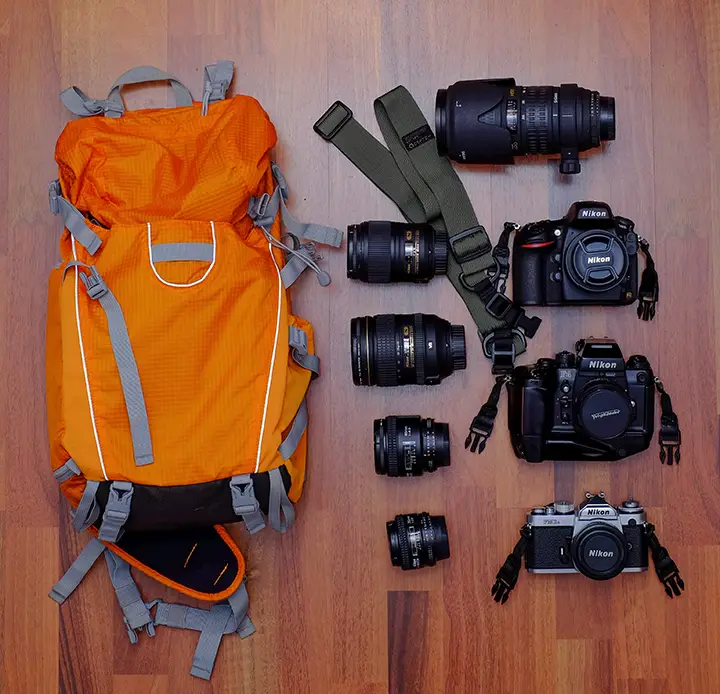 The Nikkor stuff (Heavy strap):
– D800 + 50mm f/1.8 G: can't say enough how much I like it
– F4s + Voigtlander 58mm f/1.4 Nokton. With a K-focusing screen the F4 has truly become the ultimate film beast
– FM3a: does everything the FE2 and FM2 do, and more.
– Zooms: 24-120mm f/4 VR (all round); Sigma 70-200mm f/2.8 (gift from my father!)
– Primes: (besides the aforementioned) 60mm f/2.8 Micro; 85mm f/1.8 AFD, 35mm f/2 AFD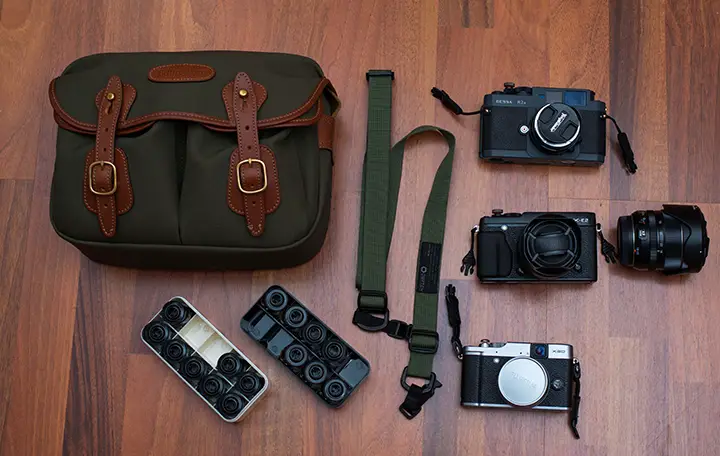 The other stuff (standard strap):
– Voigtlander Bessa R2A + Voigtlander 35mm f/1.4 Nokton
– Fuji X-E2 + 35mm f/1.4
– Fuji X20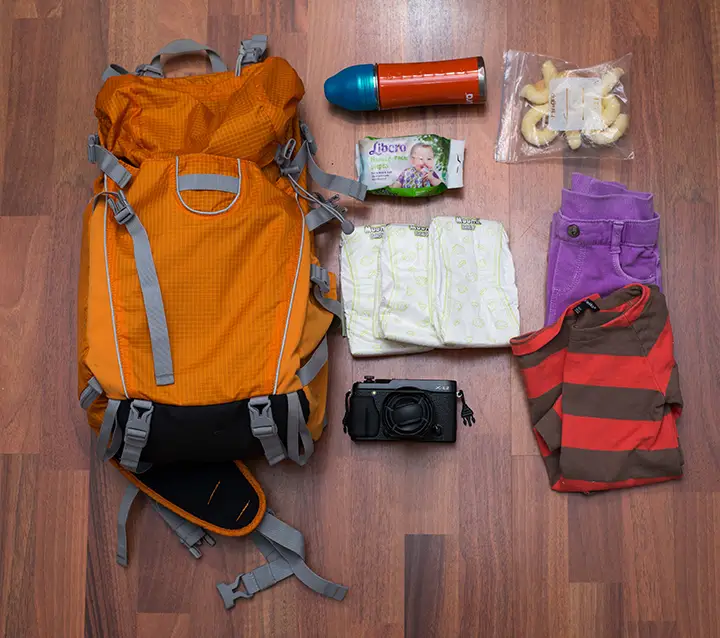 What I do carry more often than a bunch of cameras because I have an awesome 1 year and 4 months old daughter:
– Diapers
– Wet wipes
– Snacks
– A bottle of water
– Change of clothes
– A camera, maybe
This section is truly awesome!
And you can find my pictures in my Flickr stream, and I haven't yet found a style of my own:
https://www.flickr.com/photos/rutxer/
Roger Carulla Bové
Thanks for sharing your bag with us again, Roger. Nice to see you still manage to stuff a camera in the bag with the nappies.
Check out the links and make sure you come and comment.
Keep them coming folks, we need more submissions, so get your bag on Japancamerahunter.com. Send me a hi resolution image of the bag (please make sure it is horizontal) and its contents, with some details about yourself and what you shoot. Oh and don't forget your contact details (twitter, flickr, tumbler et al). Send the bag shots here. Please understand that there is a long wait now as there is a backlog of submissions. Not all make the cut, so make sure yours is funny/interesting/quirky. And please make sure the shot is of good quality, as the ones that are not do not go up.
Cheers
Japancamerahunter