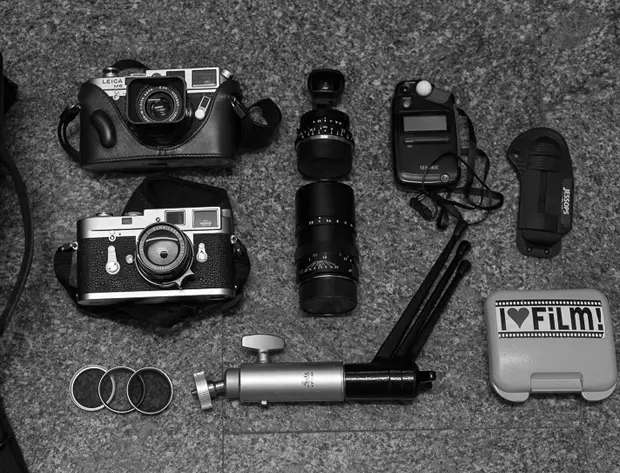 In your bag 475, Joaquín Sierra
Joaquín has something in his bag that is very special, a camera that has seen a great many things, and we have seen many of them. Come and see what I am talking about.

Hello, Bellamy and friends
I am Joaquín Sierra, from Spain. I´m 41 years old, I work as Engineering Manager at a Biotechnology company, and photography is my main hobby.
I always have a camera with me, althoug I don´t have plenty of time to shoot due to work and family. From time to time I manage to go for a shooting with my friends.
I shoot everything, from street photography to landscapes, travel or family photos.
Love to death to shoot film with my Leicas (someone has a M9 to spare?), my photography really improves with simpler cameras. In the past I used to carry heavy backpacks with big SLRs/DSLRs and big lenses, but with age comes some wisdom.
Usually I try to keep it simple, taking only one camera with a 35mm lens, but if I carry all, this is my gear :
– Domke J-803 bag, black ballistic nylon. I always liked Domkes, specially my trusty rugged wear F3X, but this one is more convenient for daily use.
– Leica M6. This camera is very, very special, as belonged to famous Magnum photographer Alex Webb. It´s signed by him at the bottom plate, and it´s quite nice to shoot it knowing it was used by him to make some of his great photos. Unfortunately, it seems to be the indian, not the arrow, because my photos haven´t magically improved with his camera  ;-)
– Leica M2, usually loaded with black and white film. This camera is really growing on me, sometimes I take it with no meter and practice to judge the light. I highly recommend this exercise, it may pay off if the M6 runs dry of batteries.
As for the lenses :
– Voigtländer 21mm f/4 with external finder, quite good lens for the price.
– Leica 35mm f/2 Summicron ASPH. My favourite prime lens.
– Leica 50mm f/2 Summicron
– Leica 90mm f/2.8 Elmarit-M
Other stuff :
– Filters for black and white film
– Sekonic L-308 meter
– Tabletripod
– "I love film" case, usually full of Fuji Acros 100, Kodak TMax400, Ektar 100 and Portra 400. I´m convincing my friends to get together some JCH film cases!
I develop my B&W film at home, and I´m starting also to develop color as it´s getting difficult and expensive to have it professionally developed here in Spain.
So that´s it, hope you enjoyed my bag!
Best regards
Joaquín Sierra
P.S. : Although I don´t post much of my work, you can have a look at my flickr : http://www.flickr.com/photos/joaquinsierra/
Thanks for sharing your bag and the very special M6. I love the history behind cameras, and I often wonder what some of them have taken. With this one you actually know. Very cool.
Check out the links and make sure you come and comment.
Keep them coming folks, we need more submissions, so get your bag on Japancamerahunter.com. Send me a hi resolution image of the bag (please make sure it is horizontal) and its contents, with some details about yourself and what you shoot. Oh and don't forget your contact details (twitter, flickr, tumbler et al). Send the bag shots here.
Cheers
Japancamerahunter