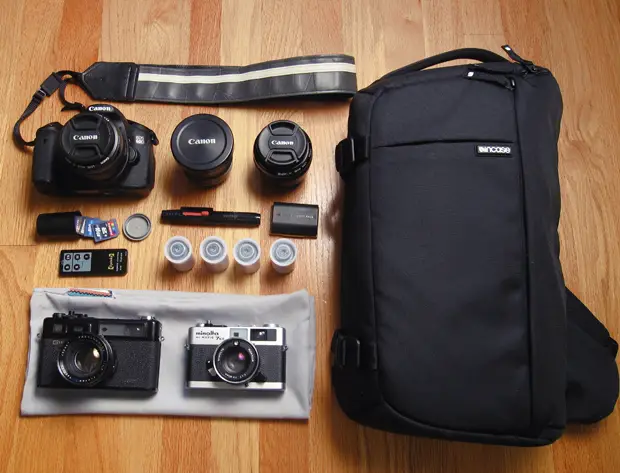 In your bag 268, Alex Tran
Todays bag is a nice simple set up, film and digital working in harmony, whoever said it couldn't happen. Come and have a look at Alex's bag.

Hey everyone, my name is Alex Tran and I'm an engineering student in the Greater Boston Area. I've started really getting into photography 2 years ago when I bought my first DSLR from a close friend. First, I was very interested in photographing toys/figures (or as I like to call phoTOYgraphy). I made a series of my Sackboy and Danbo figures posed in different real life situations. Later on I focused more in night photography, taking long exposures of the cityscape in Boston. More recently, I've started doing portraits and started a series called 'Floating Fridays' where I post an airborne-themed photo every week.
My bag today contains a mixture of digital and film. The Incase DSLR sling bag carries it all well and comfortably with quick and easy access. On top I have my Canon 60D with 3 primes lenses: 50mm f/1.4, 15mm f/2.8, and 28mm f/1.8. I mostly shoot with primes because they have great sharpness and depth-of-field. Also in my bag are some digital accessories: extra batteries, remote and a film container with SD cards (how ironic)
I've only recently ventured into the world of film, and I'm loving every bit of it! I have a Minolta Hi-Matic 7SII rangefinder which I've restored myself. I love the build quality and compactness of this camera, and I can discreetly bring it around with me. Even more recently I obtained a worn Yashica Electro 35 GT. Almost everything seems to be functioning well (even the dreaded 'Pad of Death' is okay). I hope to give this a good clean and I'll run a roll through it soon.
If you like what you see, follow me on my tumblr/photoblog: http://atranphoto.com/
Here also is my flickr: http://www.flickr.com/photos/atranman/
Thanks Bellamy, keep up the great work on your hunting and website!
– Alex
Thanks for sharing your bag with us Alex, it is nice to see someone happily using the old fixed lens rangefinders. The Electro is lovely.
Check out Alex's links and make sure you come and comment.
Keep them coming folks, we need more submissions, so get your bag on Japancamerahunter.com. Send me a hi resolution image of the bag (please make sure it is horizontal) and its contents, with some details about yourself and what you shoot. Oh and don't forget your contact details (twitter, flickr, tumbler et al). Send the bag shots here.
Cheers
Japancamerahunter