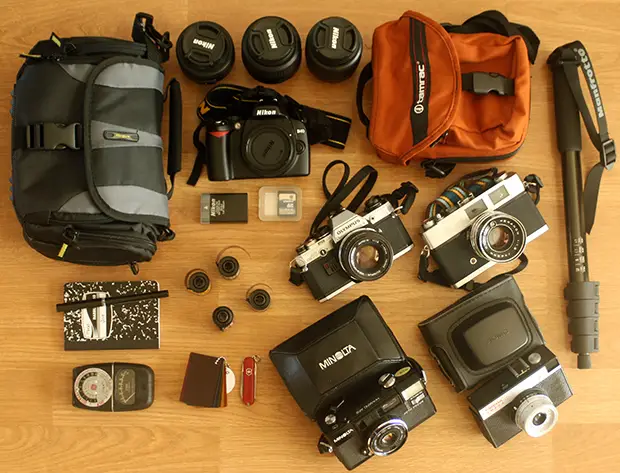 In your bag 712, Jose Ayala
Phew, a long day, but JCH gets there in the end. And this is exactly the sort of bag I love. A mix of film and digital, budget cameras and someone new to photography who is stepping into the world of film. Great stuff, check it out.

My name is Jose Ayala and I´m a 48-year old aficionado from Mexico. I started in photography two years ago, with a pair of second hand dslr cameras mainly for family and vacation purposes. A couple months ago, while reading some books to learn the basics, I decided to give a try in film photography (great decision). It didn´t take me too long to get to japancamerahunter.com and other good websites and embrace a real passion for this. My interests in photography are B&W, still objects and composition. As for my gear, I must confess that I don´t like large bags; instead I feel comfortable carrying the less stuff possible. I like small bags and own several (can't explain my wife why) and sometimes I just carry a camera in its own pouch. So, in the picture I'm showing what I really use:
Nikon D40 dslr, still for family and vacation purposes; with 35 mm prime, 55-200 mm zoom and 18-55 mm kit lenses.
Spare battery, SD card and a shoulder Targus bag.
Konica Auto S2 Rangefinder and Olympus OM-10 slr with 50 mm prime lens; for B&W and learning to shoot in manual. I carry them, one at a time, in a Tamrac shoulder bag.
Minolta Hi-Matic AF2 Rangefinder and Lomo Smena 8M for my lomo projects; I normally carry them in their own pouches.
As for the film, since I don´t have experience to select a specific one, I get a bag of assorted films to try (this has the same effect on me as a bag of assorted candies for a kid).
Other useful stuff as a small notebook and pen, pocket knife, color filters, a vintage GE exposure meter and a very helpful Manfrotto compact monopod.
So, that´s all for a budget beginner´s bag (or bags). Thank you Bellamy for all the valuable information that you provide here and the opportunity to show my things.
Here´s where I share my photos:
www.flickr.com/photos/josayala
cdsjoe.tumblr.com
www.lomography.com/homes/jos16
Best Regards,
Yo compro rollo, no megapixeles!
Many thanks for sharing your bag with us Jose. I love the fact that you are getting into film now and that JCH helped you to do so. Keep on shooting and enjoying.
Check out the links and make sure you come and comment.
Keep them coming folks, we need more submissions, so get your bag on Japancamerahunter.com. Send me a hi resolution image of the bag (please make sure it is horizontal) and its contents, with some details about yourself and what you shoot. Oh and don't forget your contact details (twitter, flickr, tumbler et al). Send the bag shots here. Please understand that there is a long wait now as there is a backlog of submissions. Not all make the cut, so make sure yours is funny/interesting/quirky. And please make sure the shot is of good quality, as the ones that are not do not go up.
Cheers
Japancamerahunter