In your bag 711, Fernando Moreno
OK, it is time for a truly epic bag shot. And this is it. Because it is not just one, but three bags. Fernando shares with us his fantastic gear. This is how you do it.

My name is Fernando Moreno and I am from Madrid, Spain. I always enjoy having a look at the great "in your bag" series, and to see what fellow photographers around the world use and carry in their bags.
Then I thought, why not show mine? Well, then it will have to be more than one image, since I have got different systems, so I took 3 shots.
I hope you find them interesting to show. (As you see, I like black cameras, therefore the low-key shots)
1. The Hassy bag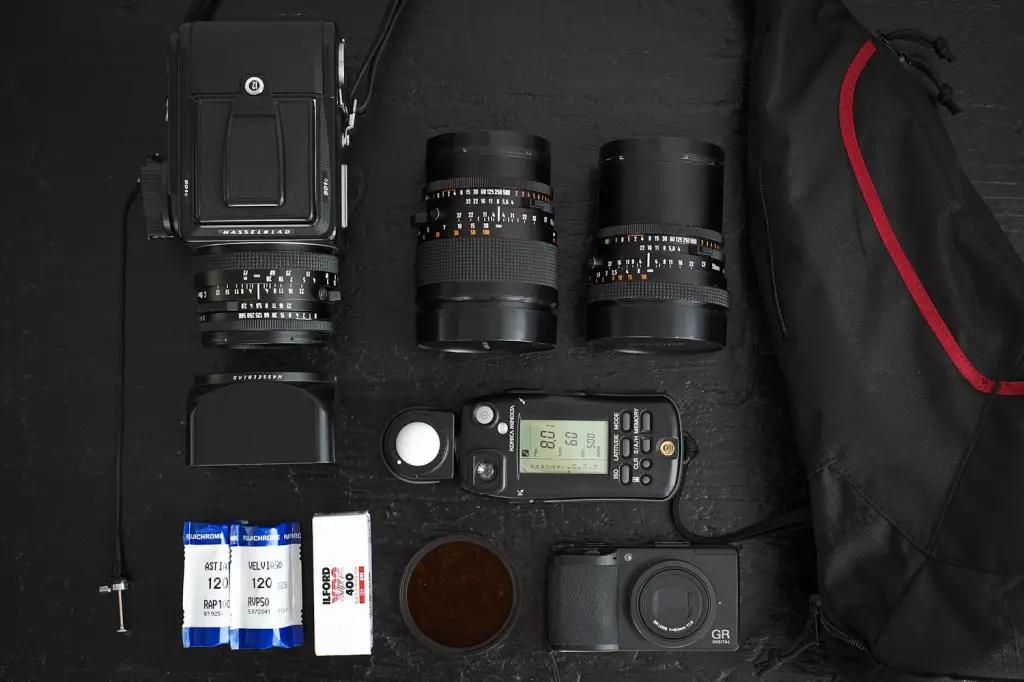 You can put a lot of stuff in this LowePro Passport Sling II, actually more than you would expect. I carry my 501C with Planar 80, plus the Distagon 50f4 and Sonnar 150f4. Then my trusty Minolta Flashmeter VI, some film (I seem to like XP2 a lot lately, rated at 200 ISO), and a Ricoh GRD III as the digital companion (great to shoot in square BW format to get a kind of preview of how the scene renders), Orange filter B60, and a cable release.
I think there is still place in the bag for the second A12 back I am planning to get soon.
2. The Rollei bag
My Rollei gear goes in this worn-out Domke F3X. A Rolleiflex 2.8F from 1968, and her little sister a Rollei 35S with the wonderful Sonnar 40. Then a yellow and an orange filter, plus a Rolleinar close-up lens.
(As a bonus, an unitended self-portrait on the chrome lens cover)
3. The Contax G aluminium case.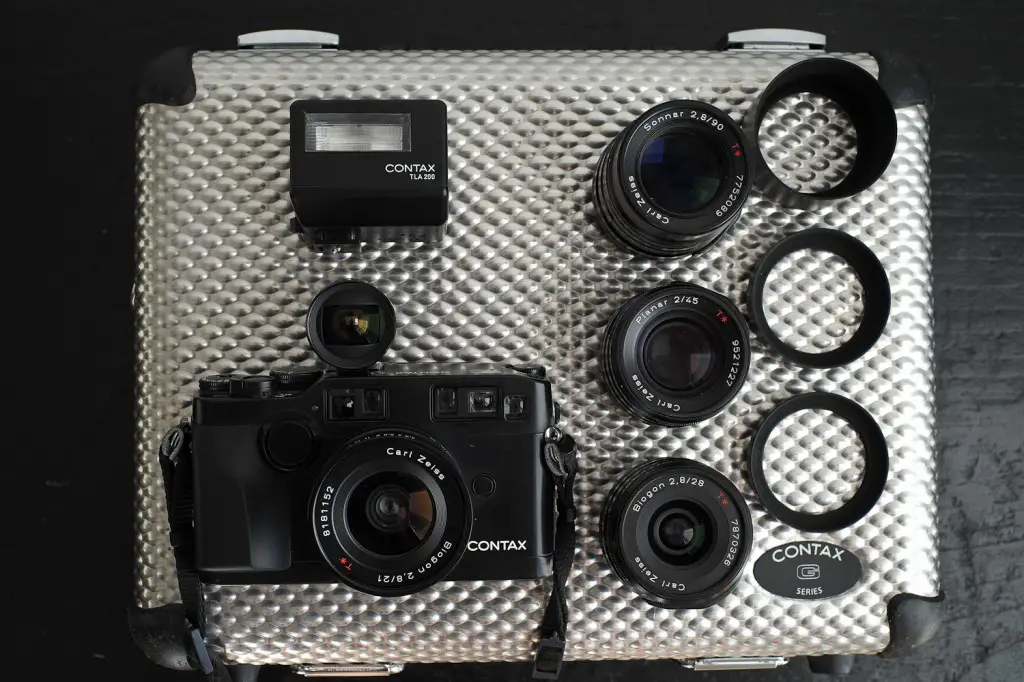 Well, I have to admit I would not carry my G2 stuff in the metal case, unless I had to transport it safely by car or by plane. I usually put it in a LowePro Photorunner , but the shot looks better with the proper case, doesn't it?
Here you see my black G2 with the great Biogon 21 and finder on it, and to the side the Sonnar 90, Planar 45 and Biogon 28, plus the TLA200 flash. There are not many things you can´t shoot with this kit!
I enjoy  the whole photo process and I specially appreciate the art and craft of this wonderful machines, their haptics and tactility (something  Ming Thein wrote about recently) are important to me.
I am not a pro, just shoot for the pleasure of creating good images and document my life, and share it with family and friends. This means I have not a lot of time for shooting. I shoot in travels but also look for interesting places in my home town, architectural details, curious spots or people.
I like so set up my home studio with an Elinchrom E250 flash and modifiers. I also develop and print my BW photos at home, sometimes in wet lab, others after scanning with Epson V700.
You can see some of my pictures at:
http://www.flickr.com/photos/ondarraitz/
or if you are only looking for the camera porn, go directly to:
http://www.flickr.com/photos/ondarraitz/sets/72157603310697174/
Best regards
Fernando
Thanks for sharing your awesome gear with us Fernando. This is really how you do a bag shot. Fantastic stuff. Wonderful cameras and a great attitude to shooting them. Keep it up.
Check out the links and make sure you come and comment.
Keep them coming folks, we need more submissions, so get your bag on Japancamerahunter.com. Send me a hi resolution image of the bag (please make sure it is horizontal) and its contents, with some details about yourself and what you shoot. Oh and don't forget your contact details (twitter, flickr, tumbler et al). Send the bag shots here. Please understand that there is a long wait now as there is a backlog of submissions. Not all make the cut, so make sure yours is funny/interesting/quirky. And please make sure the shot is of good quality, as the ones that are not do not go up.
Cheers
Japancamerahunter