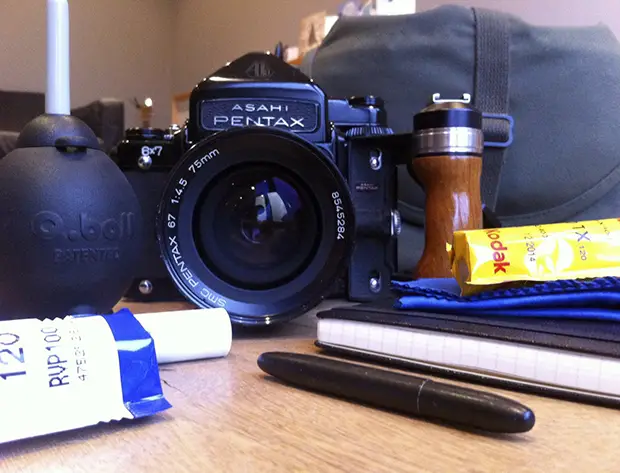 In your bag 764, Paul Schofield
Paul is back. He has been on the site before with not only his bags, but some sagely photo advice. Well now Paul has another setup for us. Come and have a look.
It's been about a year since I went back to film so I thought I'd celebrate with another bag shot. I've always fancied a medium format camera but finding the time to use the cameras I've got is hard enough. Buying another one would just be ridiculous.
So I went out and bought a Pentax 6×7 (thanks, Ffordes!). Well, you only live once.
I've realised over the last year that film photography has a nostalgic edge for me that it didn't have before. When I was at school, I had a Saturday job working for a commercial photographer. He used to do aerial shots using Kodachrome and a Pentax 6×7 and I still remember how fantastic the transparencies looked on the light table.
That's probably why I kept coming back to the Pentax. The layout also has automatic appeal for an SLR user.
I've only had the camera long enough to put two or three rolls through it and the drawbacks are already obvious. It's big and heavy with an enormous mirror that makes a terrific sound and sends shock waves down your arm when you release the shutter. When I let loose with it the other day all the birds flew out of a nearby bush.
It can be hand-held but camera shake can be a problem below 1/250. The accessory handle makes the handling a bit easier and has the added benefit of being made of wood. I like a bit of wood on a camera.
Despite the challenges, the Pentax is a beautifully made camera with lots of charisma – it just asks to be picked up and used. The challenges are what make film so much fun.
This is what I'm leaving the house with at moment (the bag shot was taken with my iPhone):
Domke F3 bag – I've always hated carrying a bag around but I love the quality and layout of this one. If I need it to, it will comfortably take the Pentax, a Nikon F3 body with winder and two Nikkor lenses.
Pentax 6×7 with Mirror Lock-Up and TTL pentaprism finder
Pentax SMC 75mm f4.5 lens
Fuji Velvia 100, Provia 400 & Pro 400H, Kodak Tri-X
Giottos Q-Ball blower
Zeiss lens brush and lens cloth
Moleskin notebook
Fisher Space Pen
glenorchy69.tumblr.com (35mm only at the moment)
Paul
Thanks for sharing your bag with us Paul, and your thoughts too. Always worth a read.
Check out the link and make sure you come and comment.
Paul has been on the site before, check out these links.
https://www.japancamerahunter.com/2014/01/extreme-armchair-photography-robert-capa/
https://www.japancamerahunter.com/2013/11/photography-zines-books-10/
https://www.japancamerahunter.com/2013/09/how-to-shoot-film-without-getting-a-divorce/
Keep them coming folks, we need more submissions, so get your bag on Japancamerahunter.com. Send me a hi resolution image of the bag (please make sure it is horizontal) and its contents, with some details about yourself and what you shoot. Oh and don't forget your contact details (twitter, flickr, tumbler et al). Send the bag shots here. Please understand that there is a long wait now as there is a backlog of submissions. Not all make the cut, so make sure yours is funny/interesting/quirky. And please make sure the shot is of good quality, as the ones that are not do not go up.
Cheers
Japancamerahunter