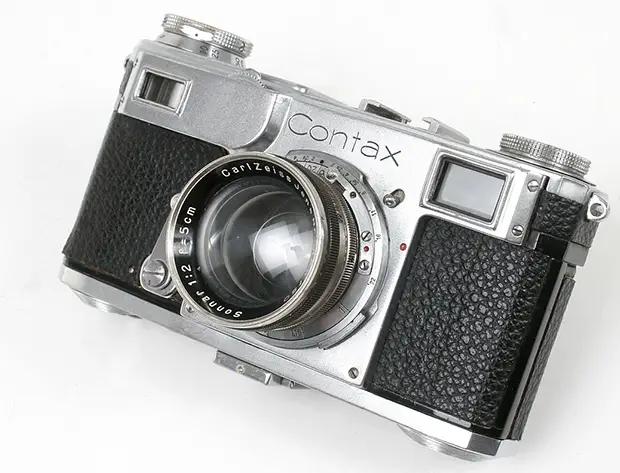 Extreme Armchair Photography – Robert Capa by Paul Schofield
And interesting little piece for you all. Paul takes us on a historic journey, to find out about one of the first true war reportage photographers and how he did his business. Read on.

Robert Capa, D-Day and Disaster in the Darkroom
Time and place: 6th June 1944, Omaha Beach, Normandy
In the bag: Two Contax II bodies with uncoated Carl Zeiss Jena Sonnar 5cm f/2 lenses, Burberry raincoat and Dunhill silver pocket flask.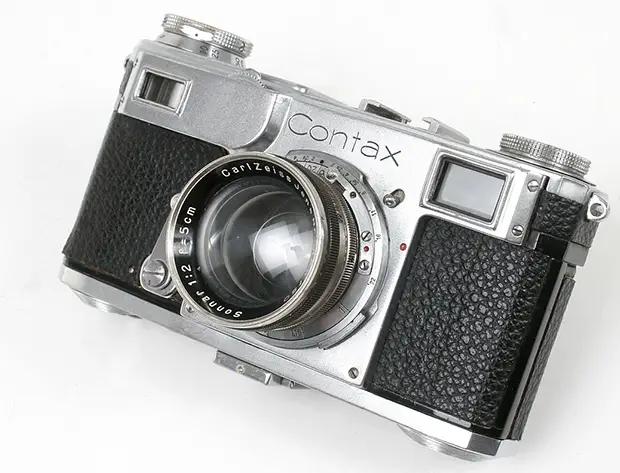 Before co-founding Magnum Photos in 1947 with Henri Cartier-Bresson and George Rodger, Robert Capa had already cemented his reputation as the charismatic, hard drinking, chain-smoking American war photographer. When he returned from the Spanish Civil War he was a celebrity and Picture Post called him "The Greatest War-Photographer in the World." The picture that made him was entitled Loyalist Militiaman at the Moment of Death, Cerro Muriano, September 5, 1936 but he produced his most celebrated work on the Normandy beaches in 1944.
When Capa was learning his craft in the 1930's, the arrival of Leica and Contax rangefinders were transforming photojournalism, allowing photographers to travel light and move fast. The quality of the lenses together with duotone printing and high acutance Rodinal developer made it possible to shoot the new 24 x 36 mm format hand-held and produce sharp, high quality images for publication.
Capa was one of the first to transfer this new approach to war reportage. While in China in July 1938, he used a roll of Kodachrome to capture the aftermath of an air raid on Hankou. Kodak's new colour transparency process had appeared barely a year before and this was the first time it had been used for war reporting. Early Kodachrome emulsions had a sensitivity of about 10 ASA but Capa was still able to shoot handheld in bright conditions with a Contax II and Carl Zeiss Jena Sonnar 5cm f/2, a state of the art fast lens of its time.
In recent years, Capa's reputation has been tarnished by suggestions that he faked his famous Moment of Death shot. Whatever the truth, he was an innovator who made a career out of putting himself at the centre of the action in a way that no other photojournalist had done before. When Capa famously said, "if your pictures aren't good enough, you're not close enough" he knew what he was talking about. On D-Day, he ended up in the water with the first wave of the American 1st Division at Omaha Beach, shooting four rolls of film under a hail of German machine gun fire.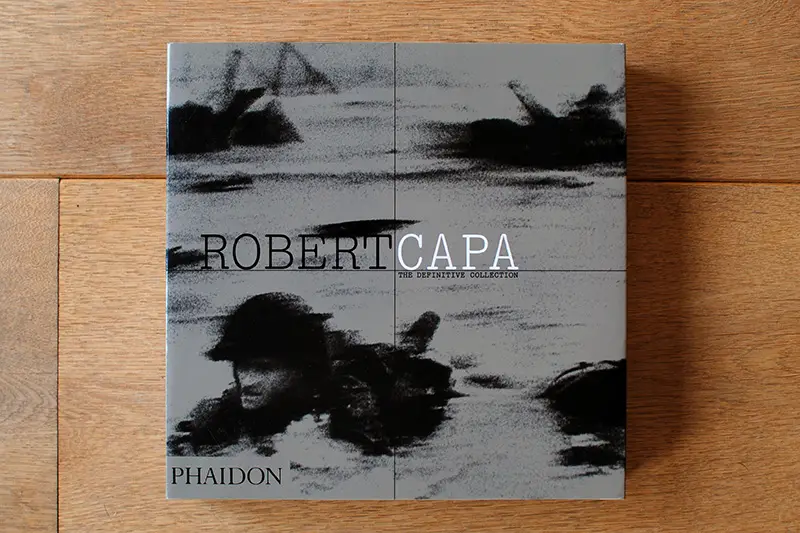 Robert Capa – The Definitive Collection (Richard Whelan, 2001)
Capa wrote a vivid account of this experience in his biography Slightly out of Focus. "The boatswain lowered the steel-covered barge front, and there, between the grotesque designs of steel obstacles sticking out of the water, was a thin line of land covered with smoke…My beautiful France looked sordid and uninviting and a German machine gun, spitting bullets around the barge, fully spoiled my return…The water was cold and the beach was still more than a hundred yards away. The bullets tore holes in the water around me and I made for the nearest steel obstacle…and I felt safe enough to take pictures of the other guys hiding just like I was."
Capa headed for a disabled American tank taking pictures as he went. He remembered feeling "a new kind of fear shaking my body from toe to hair, and twisting my face." With great difficulty he reloaded his camera with trembling hands. All the while he repeated a sentence that he had learnt in Spain: "Es una cosa muy seria" ("This is a very serious business").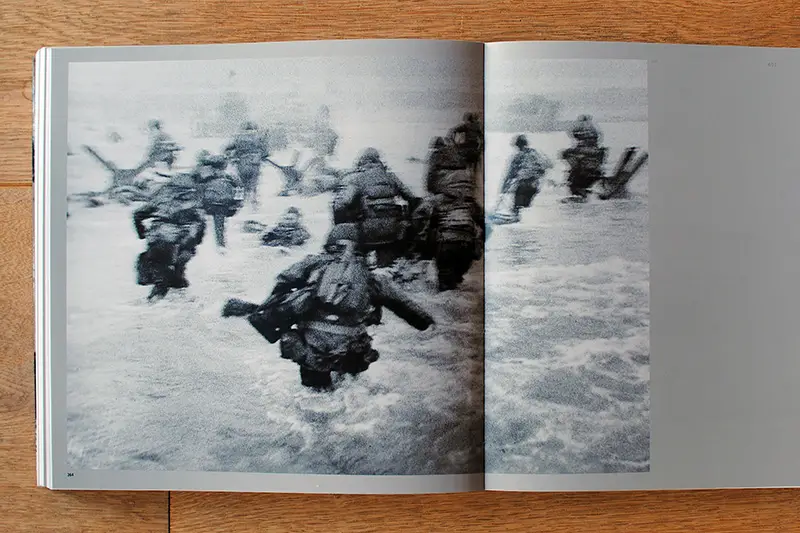 Capa eventually turned away from the beach and headed for an incoming landing craft. "I just ran towards the boat. I knew that I was running away. I tried to turn but couldn't face the beach and told myself, 'I am just going to dry my hands on that boat'."
When he reached England, the film was couriered to LIFE magazine's London bureau.  In the rush to get the pictures out, a fifteen-year-old lab assistant called Dennis Banks set the dryer too high and melted the negatives in three complete rolls and over half of a fourth. Capa had risked his life for eleven frames of film.
Capa was not the only photographer present that day (there were four spots for photographers in the first wave) but he was the only one to deliver a photographic record of the first moments of D-Day. His grainy, blurred shots have become classics that perfectly convey the chaos and confusion of what took place. John Morris, LIFE picture editor, said of the pictures, "their grainy imperfection contributed to making them among the most dramatic battlefield photos ever taken."
One striking thing about the pictures is that Capa is not only in the thick of the action but he is often in front looking back. This is particularly noticeable in several shots of army engineers clinging to steel anti-tank obstacles. Capa is positioned between them and the enemy beach.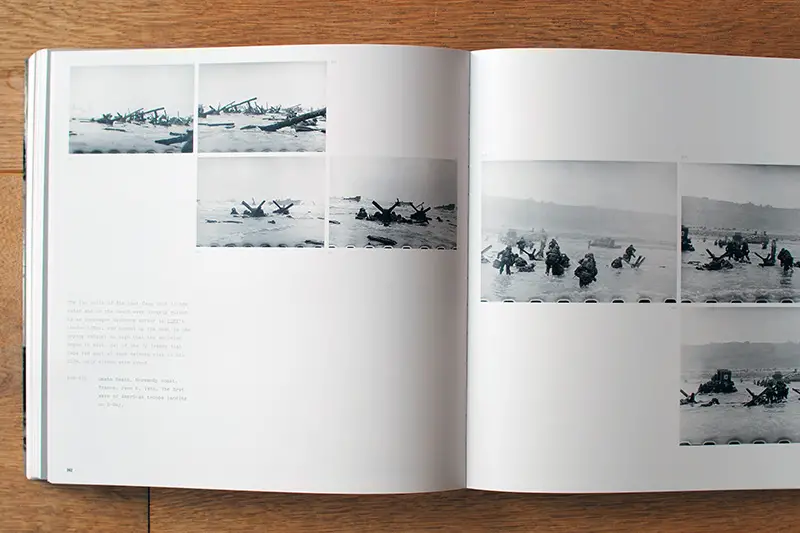 Capa always insisted that the blurriness of the images had nothing to do with his hands shaking, although nobody would have blamed him if it had. On that grey, overcast morning at first light, he would probably have been shooting wide open with film that by todays standards had a sensitivity of ISO 50 at the most.
By the end of the war Capa had seen more action than some front line soldiers and for a while he retired completely from covering war, producing a large and mostly unknown body of colour work. He later accepted an assignment from LIFE to cover the war in French Indochina and was killed by a landmine in 1954.
He said:
"It's not enough to have talent, you also have to be Hungarian."
"Like the people you shoot and let them know it."
They said:
"He left behind a thermos of cognac, a few good suits … and his pictures, among them some of the greatest recorded moments of modern history." John Morris
Paul Schofield
glenorchy69.tumblr.com