In your bag No: 538 – N.K.S. Chow
2 min read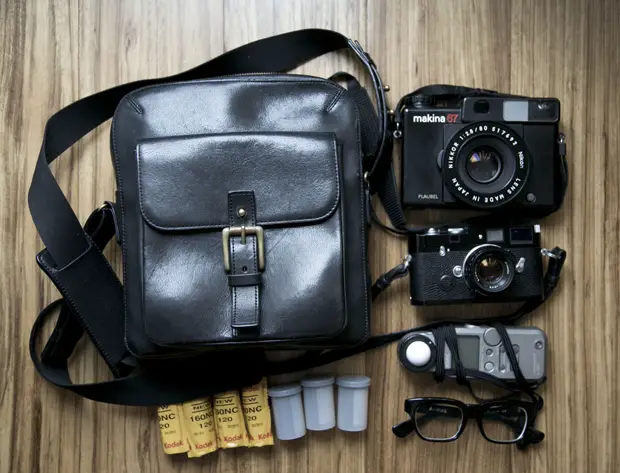 In your bag No: 538, N.K.S. Chow
Todays bag sounds like something a superhero (or supervillan as the case may be) would carry. N.K.S. Chow is also carrying one of the cameras that I want more than any other, the stunning Paubel Makina 67. Man, what a camera, everything about is is remarkable. I love this stealthy bag and I hope you enjoy it too.

This is N.K.S. Chow from Hong Kong and here is a picture of my photobag, which does not look like a photobag at all. This allows me to take it on my business trips and pretty much everywhere I go, and when I meet with clients, all suited up, they won't know that I have something else entirely on my mind.
What you see here is the very tip of the iceberg and i tend to leave my other 35mm and MF cameras at home, usually after packing, unpacking and repacking again my bag many times over. I have a weakness for light and unfussy camera bags which means that I usually walk out of the door with my Leica a la carte, mounted with a 35 pre-aspherical summilux – one of the smallest lenses ever made by Leica, with an incredibly dreamy character -, as well as my Plaubel Makina, possibly the most compact MF camera ever.
The Leica is usually loaded with Tri-X while I favour Portra NC 160 for the Makina. These cameras accompany me when I prowl the backstreets of Jordan, Yau Ma Tei and Mongkok and on my many business trips to Japan, Taiwan and Europe. I don't have a website, but my self-published books can be found at Komiyama-shoten in Tokyo's Kanda district, as well as at AO Bookstore in Chaiwan, Hong Kong.
Best wishes,
N.K.S. Chow
Thanks for sharing your bag with us N.K.S. I only wish that you had a site so that we could see some more of your work. If you want to send me a photobook I can feature it and share it with others.
Please come and comment and enjoy the bag.
Keep them coming folks, we need more submissions, so get your bag on Japancamerahunter.com. Send me a hi resolution image of the bag (please make sure it is horizontal) and its contents, with some details about yourself and what you shoot. Oh and don't forget your contact details (twitter, flickr, tumbler et al). Send the bag shots here.
Cheers
Japancamerahunter