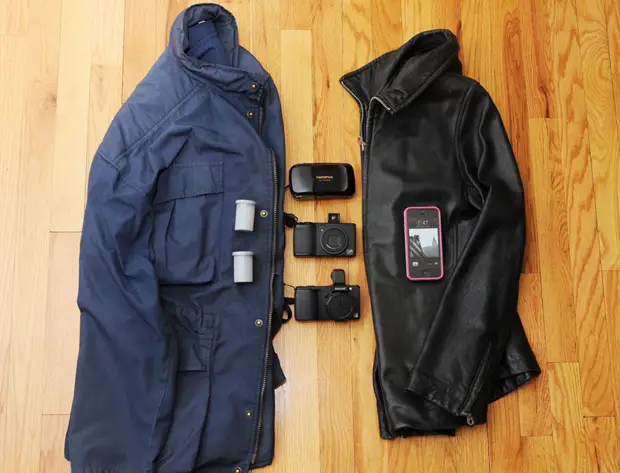 In your bag 500 – Doublewhirler
Well, we made it. Number 500! I didn't really think it would go this far when I started with the first bag shot, as a bit of fun to fill the time. Now I have a load of bag shots backlogged and we have seen some amazing bags on the site. Number 500 has been a difficult choice for me. Do I get someone famous or something like that? Do stick to my rules and put the next person in the line on? Perhaps a traditional bag? I went through all of the shots I have now and I sat for a long time trying to figure out what I wanted it to be. It was a very tough decision, but I finally came to one which I feel reflects the evolution of the bag series and the personality of the shooters. I also felt that it was important for people to know that it doesn't matter if your bag is film, digital or wet plate, anything is welcome.
In your bag 500 is a husband and wife team who shoot with film and digital. Because that is what it is all about really, shooting with whatever makes you happy.
I hope that you enjoy this one and all the previous ones. Please keep them coming, I am going to keep on doing this until there are no more left to do. And please come and comment. What was your favourite bag?

We are Doublewhirler—a husband and wife living in Manhattan. Like many of your readers, we have a stable of cameras. Recently, however, one of us acquired an iPhone 5 and this has inspired a challenge: the phone camera vs the traditional camera. And by traditional, we mean film as well as digital.
We are constantly taking photographs—in the neighborhood, around the city, or on our travels. Invariably we are walking and we have to carry our gear with us. This means that despite our camera arsenal, most of our photos are taken with whatever fits in a small pocket or the iPhone.
Our day-to-day shooting equipment has coalesced to a few pieces of gear: Ricoh GX 200, Ricoh GRD4, Olympus Mju and iPhone 5. Both the Ricohs have viewfinders—composing in sunlight is impossible without viewfinders. Our film of choice is Kodak Tri-X. The Olympus Mju, which is more than 12 years old, is the go-to camera for film shooting. It is small, auto-focus is a joy (aging eyes), and the 35 mm lens delivers the goods.
We have other equipment used with much less frequency: the Nikon D300, Nikon FM2, and Nikon FE2. The lens are all Nikon: 24mm, 35mm, 50mm, 135mm, 180mm and (for the D300) 18–70mm. When we do use bags, we use Domke F8 and J803. The J803 also doubles as a work day briefcase which carries one of the three small cameras, plus a pocket tripod.
Our work (photography plus articles on a range of themes) is at http://doublewhirler.wordpress.com
Please have a look at our iPhone photography on our Instagram feed http://instagram.com/doublewhirler
and let us know what you think about our iPhone vs traditional photography. Cheers!
Thanks guys for sharing your, bag….well, jackets. It is great to see a couple enjoying their passion together.
Check out the links and make sure you come and comment.
Keep them coming folks, we need more submissions, so get your bag on Japancamerahunter.com. Send me a hi resolution image of the bag (please make sure it is horizontal) and its contents, with some details about yourself and what you shoot. Oh and don't forget your contact details (twitter, flickr, tumbler et al). Send the bag shots here.
Cheers
Japancamerahunter