In your bag: The Top 10
Seeing as we have just had the five hundredth bag shot, I thought it might be nice to list the top ten most popular bag shots that have been on the site. And you might be surprised as to the results. I have decided to list them from 10 to 1, so as to keep the suspense (and because that is how they did it on top of the pops).

I cannot believe there have been 500 bag shots featured on the site (neither can my web guy, as he weeps at the enormity of a site backup), I never really anticipated it being this popular. It has been great for me too, it gives me my morning routine and I feel like I have done an important part of my day when I post a new bag. I feel a responsibility to make sure there is one every day, come rain or shine, which is very enjoyable.
So, some people have asked me what the top post are, so without further ado, the top ten, counting down from 10.
No: 10
In your bag 387, Stefano Mattia

Stefano's bag shot was great, not only for the cameras, but also for the T-shirt.
No: 9
In your bag 463, Mijonju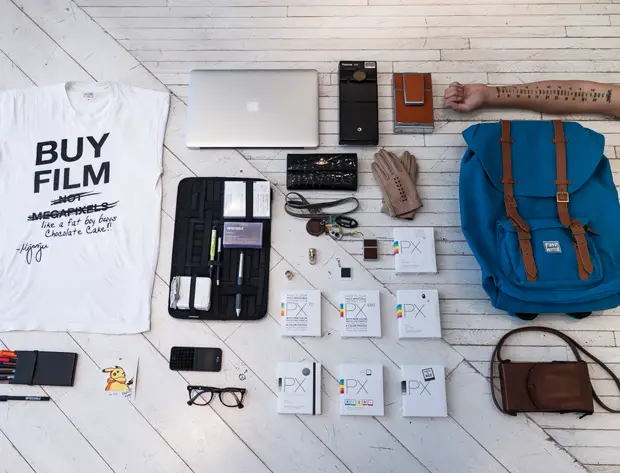 This is the second of Mijonju's bags, and it is of no surprise that it is in the top ten, Mijonju is a pretty popular guy. A great bag shot.
No: 8
In your bag number 9, Mijonju
Wait, what? Mijonju has two bags in the top ten? Yup, he certainly does. Watch the Mijonju show and you will find out why.
No: 7
In your bag 278, Joerg Langer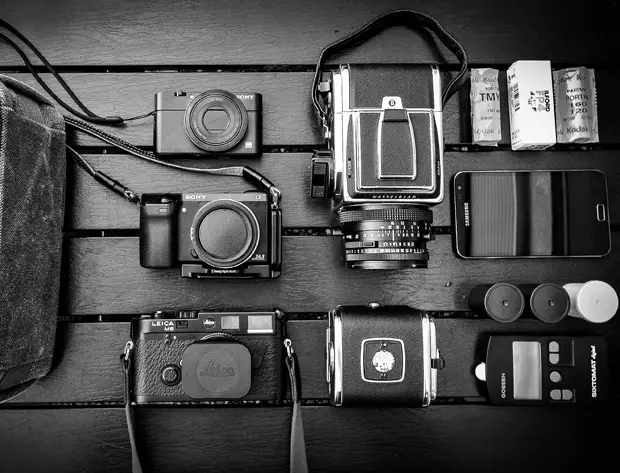 I think this one is popular because of the beautiful presentation, and the delightful mix of gear and processes.
No: 6
In your bag 421, Damien Vignol

Damien shared with up not only his bag, but his love of delicious peanut based snacks. One of my favourites.
No: 5
In your bag 390, Derek Clark

Derek shared with us just about the most Fuji-centric bag I have ever seen. See, digital is more than welcome.
No: 4
In your bag number 95, Trevor Saylor
Trevor's bag shot was cool, not only for the beat up M6, but for the fact that he helpfully numbered it for us.
No: 3
In your bag number 60, Eric Kim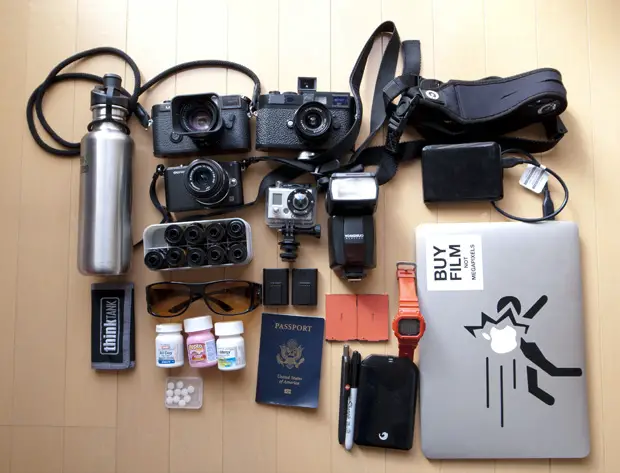 Waasssssuuuuppppp streeeeetoggggggs? Yes, the famed Mr. Eric Kim comes in at….Number 3! I would have thought he would be number one, but I was wrong. I am certain that this bag has changed a lot since this bag shot.
No:2
In your bag 267, Adrian Ong

This one came as a surprise to me, but the numbers don't lie. This was a seriously popular bag. Simple and effective.
But, drumroll please as I announce the number one bag shot in terms of page views….
It was exactly 100 bags ago that we got to peek inside the bag of a professional photographer, net celeb and nice bloke…
No: 1
In your bag 400, Ming Thein

Perhaps it was the cameras? Perhaps it was the presentation? Or perhaps the fact that Ming has a hugely popular website aided his flight to the top. But at the top he is. Well done Ming, you got the top spot!
Congratulations to you all, and many thanks for sharing your bags with us all.
Keep them coming folks, we need more submissions, so get your bag on Japancamerahunter.com. Send me a hi resolution image of the bag (please make sure it is horizontal) and its contents, with some details about yourself and what you shoot. Oh and don't forget your contact details (twitter, flickr, tumbler et al). Send the bag shots here.
Cheers
Japancamerahunter