In your bag No: 1659 – Syrene Bartolome
Syrene is back with an updated bag and appears to have gotten bitten by that #120NOT120MM bug.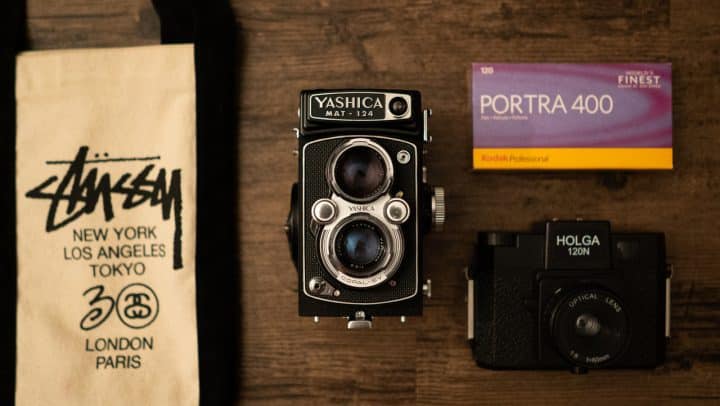 Hello again! After shooting 35mm for a while and trying various film stocks (I still need to try your street pan 400!), I was itching to switch it up. I was encouraged by another analog buddy of mine, who's portraiture work I admire, to try medium format. He simply said to me, "Once I went medium format, I never went back." And thus began my medium format exploration!
I initially purchased this Holga via B&H to start dabbling in medium format. I also have it just incase I'm feeling artsy and want it for its one of a kind images it produces. 
I've always been fascinated by TLR cameras for their look. So when I saw this Yashica for sale at a nearby antique store I knew I had to grab it. Plus the purchase led to seeing other really cool antiques and meeting people that are into them as well. Besides taking great pictures, this camera has been a conversation starter every time I take it out for a shoot!
This is what I have had in my bag recently for local portrait shoots in Southern California:

Kodak Portra 400

Thanks so much as always, Michael and Japan Camera Hunter!
Syrene Bartolome
—————————
Thanks for sending us your bag shot Syrene. What a beauty, reminds me of how i regret selling mine for peanuts years ago :(
Keep them coming folks, we need more submissions, so get your bag on Japancamerahunter.com
Send me a high resolution image of the bag. Optimum size is 1500px across. Please ensure there is a bag in the shot, unless you don't use one. The more you can write about yourself the better, make it appealing and tell us a story. Snapshots of your gear with a camera phone and no words will not be featured.
Oh and don't forget your contact details (twitter, flickr, tumbler et al). Send the bag shots here. Please understand that there is a long wait now as there is a backlog of submissions. Not all make the cut, so make sure yours is funny/interesting/quirky. And please make sure the shot is of good quality, as the ones that are not do not go up.
Cheers
Japancamerahunter