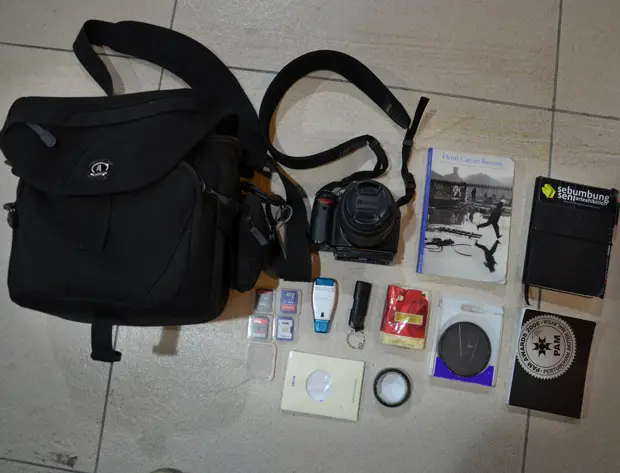 In your bag number 57, Kelvin Ah Kian
It is another day, so that means it is time for another bag for you all. This time we have a bag coming from Malaysia and from a really young guy. Over to you Kelvin…

Greetings from Malaysia, my name is Kelvin Ah Kian and I am currently 20 years old and also a third year Architecture Student.
I have been interested in Photography since the age of 15 and only to take it seriously for the past 3 years. I have been taking a lot of picture ranging from landscape to street photography and I have been a fan of Japanese Photographer ever since the first time I know about Daido Moriyama last year. I have used a film SLR (a Olympus OM-10 and Nikon FM3a) before for some of my trip but never have the chance to own them so currently I am using a digital SLR.
So this is the content of my camera bag, as you can see, I only have one camera with me the whole time with some small book for me to kill some time when I was waiting for a train to arrive.
Bag : Currently I am using a Tamrac Explorer 400 which I got after getting my picture published in one of my local photography magazine. I have used a couple of bag before from a bagpack to a crumpler shoulder bag but this one is better because of its size and weather protection.
Camera : A Nikon D60 with 18-55mm Nikkor lens with the Brand and logo covered with some black wiring tape, I don't have any other camera except for a plastic Recesky camera (not shown on the picture)
Books : I am a fan of small size Photography and Architecture book which I could easily fit inside my camera bag for some light reading. The camera bag is big enough to fit my camera and some book so sometimes my bag is full of books instead of photography equipment. Shown on the picture is a book about Henri Cartier Bresson and PAM Award 2006.
Sketchbook : I am an Architecture student so I own an A4 size and A6 size sketchbook, the one that I usually bring when I am out shooting is the A6 sized sketchbook but usually filled with notes.
Memory Card : I got like 5 of them but most of them are full.
CPL Filter : A Hoya Brand CPL Filter, I got it for free but the filter thread is bigger than the lens that I am using. :P
Pendrive and SD Card Reader : You never knew when people start asking for their picture to be uploaded.
Lens Cleaning Cloth and tissue : You need you and your camera clean all the time.
Black Wiring Tape : I just happen to bring it along with me at that time.
Not shown on the picure – My Old Nokia Handphone, Wallet, a big heavy tripod and a pocket knife.
My works could be seen at one of the following;
Keep them coming folks, we need more submissions, so get your bag on Japancamerahunter.com. Send me a hi resolution image of the bag (please make sure it is horizontal) and its contents, with some details about yourself and what you shoot. Oh and don't forget your contact details (twitter, flickr, tumbler et al). Send the bag shots here Send the bag shots here.
Cheers
Japancamerahunter