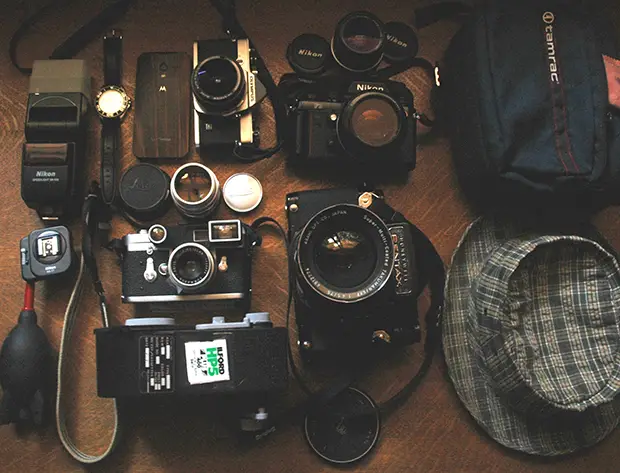 In your bag 971, Corey Diego Cantu
Corey loves his hats. As do I. And at only 15 he already has the film bug. Check it out.

Hey Everybody,
Im Corey/Diego Cantu, I'm a 15 year old who lives in the SF Bay Area. I mostly shoot coffee events and coffee related stuff. I have been shooting film since I was 3. I got my first pro-ish camera when i was 11, it was a Pentax K1000.
I have 2 cool stories on how I bought 2 of my cameras. I bought my Leica while I was on a hunt for a car, I was looking at VW Bug that an nice old couple was selling and then I asked if they had any cameras they said that they had a Leica, to make a long story short I bought the Leica instead of the Bug and for a pretty good price too. I bought my little OM-1from a friend of my who wanted me to sell her camera, she showed it to me and it was a little OM-1 with a 16mm Fisheye, it was such a good deal I had to buy it.
I am a total fan of GRAIN/HIGH ISO, it makes your photos look so much more cool and rugged looking.
My Bag:
-Leica M3 (Single Stroke), for day street photography and coffee shops during day
-Leitz Wetzlar 50mm Summilux (1.4), for isolating the subject
-Leitz Wetzlar 35mm Summaron(2.8), for having more than just the subject
-Nikon F3(Non-HP), for night event photography or sketchy places
-Nikon 55mm 1.2 (Ai), for really dark places where high ISO just isn't enough
-Nikon 24mm 2.8 (Ai), if I want wide but not fish-eye
-Nikon SB-600/diffuser, for that cool flash look and AS-17 adapter, because the F3 has a non standard flash mount
-Olympus OM-1, for night events and fisheye
-Olympus Auto-Zuiko 16mm 3.5, for getting nearly everything in the picture
-Pentax 6×7, portraits and HQ Medium format-ness
-Pentax 75mm (4.5) its kinda like a 40mm on a 35mm camera its my only lens for this camera
-Small Tamrac 1980s bag for cleaning stuff(Rocket blower, lens cloth, cleaning solution) and lenses/flash
-Film Loader with Ilford HP-5 film I load the film cartridges before I leave my car, I usually push them to 1600… this stays in my car, not my bag
Out of Bag Items:

-Hats, my secret to the perfect picture…JK hats are just plain awesome
-Seiko SQ 100, easier than taking my phone out of my pocket to check time
-Wooden back(yes, actual wood) Moto X for my Instagram
THANKS MR.HUNT
Corey Diego Cantu
Instagram: http://instagram.com/coreydiegocantu
Thanks for sharing your bag with us, Corey. Wow, 3! That must be a record.
Check out the links and make sure you come and comment.
Keep them coming folks, we need more submissions, so get your bag on Japancamerahunter.com. Send me a hi resolution image of the bag (please make sure it is horizontal) and its contents, with some details about yourself and what you shoot. Oh and don't forget your contact details (twitter, flickr, tumbler et al). Send the bag shots here. Please understand that there is a long wait now as there is a backlog of submissions. Not all make the cut, so make sure yours is funny/interesting/quirky. And please make sure the shot is of good quality, as the ones that are not do not go up.
Cheers
Japancamerahunter