JESSE'S BOOK REVIEW – Nikkor Annual 1969/1970
It is tough to imagine a former world where one's images could only be seen via publication, contest, club, or exhibition. Imagine all the work you have and having to hold on to it for yourself only. Well albeit, the occasional home viewing slide show amongst friends and family. For one thing, and perhaps for the best, it does filter out people who are doing photography for anything but love…because why do it if only a select view of people could see it?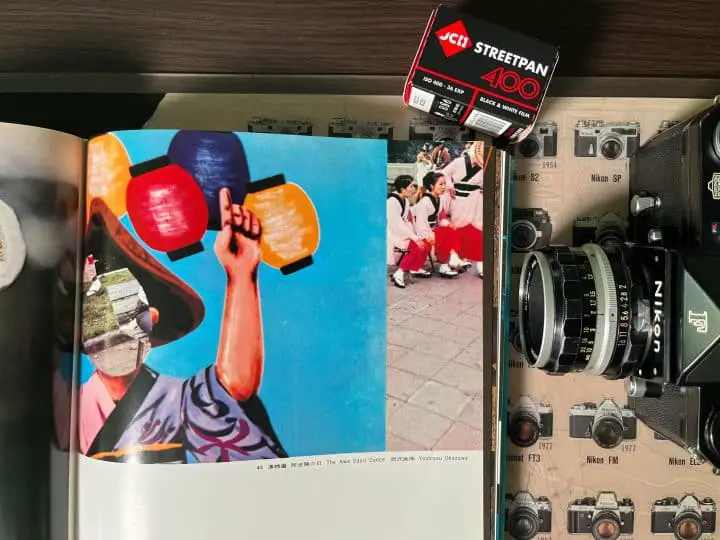 Nikkor Annual
Enter the forgone necessity of Nikkor Annual. An annual publication featuring professionals and Nikkor photo contest winner alike all across Japan, who of course shoot Nikon, that gives them a chance to show their work.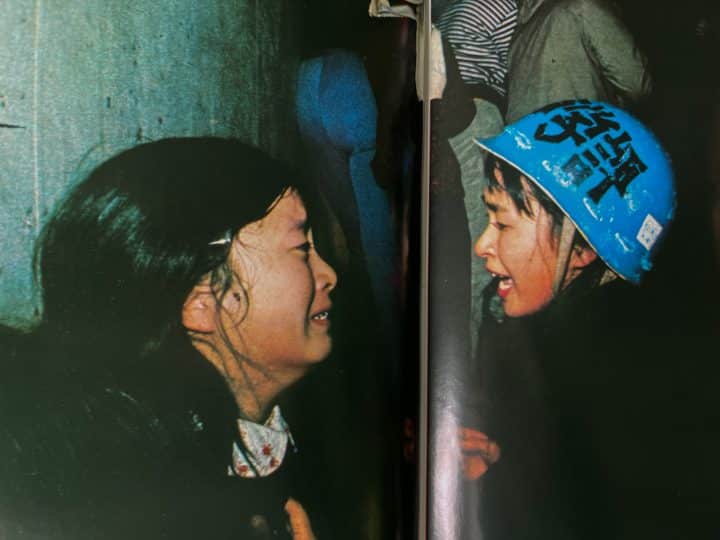 Ken Domon & the Nikkor Club
The annual books came out of the Nikkor Club established in 1952 out of the common love Nikons. The initial chairman was Ken Domon and saw artists as disparate as Isamu Noguchi to Henri Cartier-Bresson take part. I have tried in vain to ascertain when the inaugural book was, although I am guessing 1963/64 since I can't get any hits for anything earlier. For the same reason 2006-2007 seems to be the last coinciding with (but not necessarily correlating to) Flickr's move from 'beta' to 'gamma' and the ease of online sharing in general.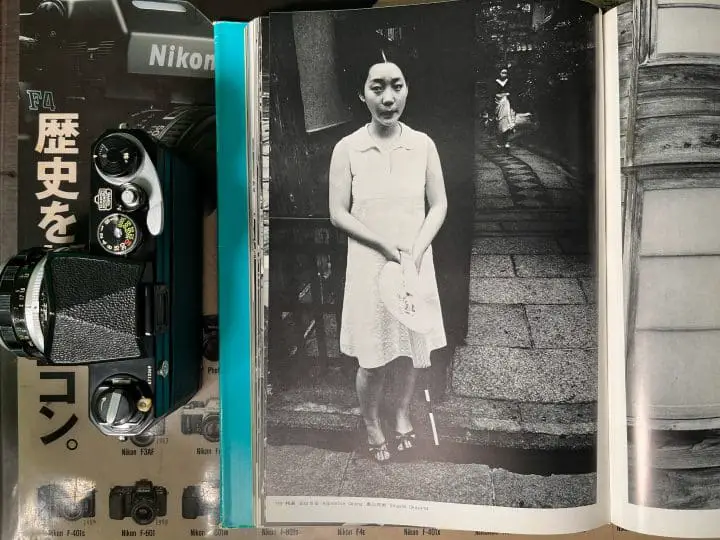 If one were to collect these, the mid late 70s seemed to be the prime years, but all are fairly reasonably priced just glancing at a Google search. Bellamy just happened to be given this one and assuming it was a gear book shelved it. Admittedly when he first then gave it to me I thought the same and was wondering 'why is he was handing it to me?' (I am not much of a gear person) but immediately saw its merit after turning a few pages…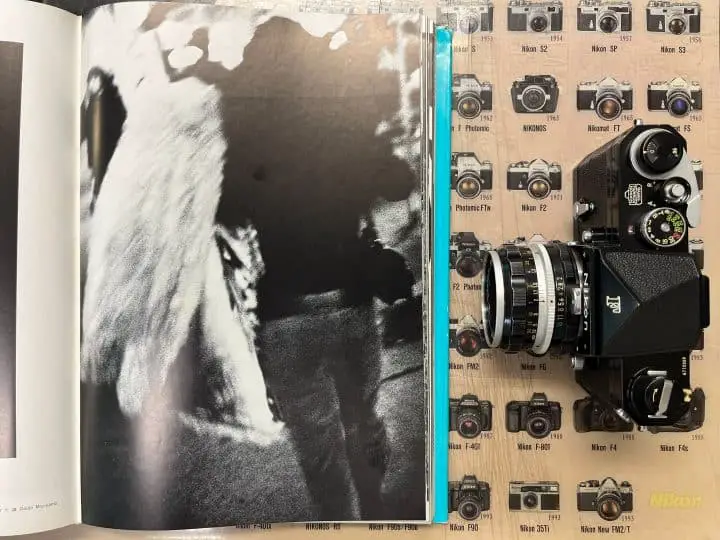 A who's who of Japanese photography
The "1969/70" edition here, features color photography from Eikoh Hosoe & Ken Domon, and monochrome from Daido Moriyama, Shomei Tomatsu, & Kikuji Kawada. It contains 280 photos in all and has a convenient glossary of what the photographer used, settings, and location in the back of the book.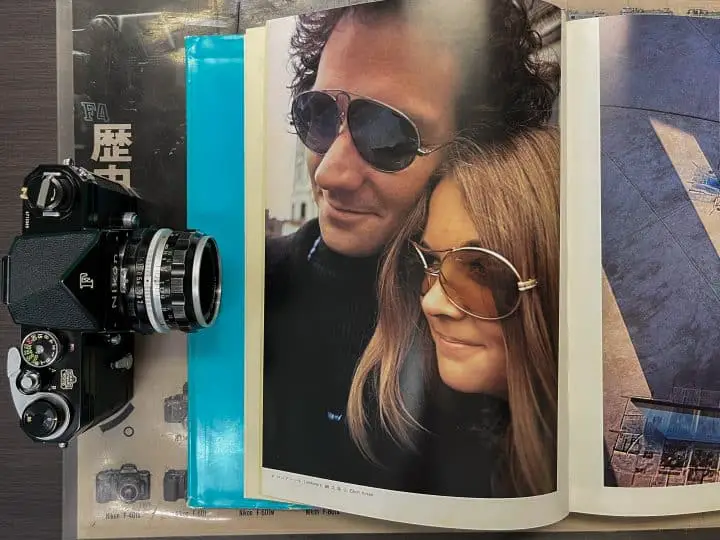 *an actual Eikoh Hosoe photo
Uneven Editing
The problem then arrives with these type of books in the uneven quality of photography. Inevitably when pairing amateur contest winners with professionals this is the result. Sometimes just lucky as in the case of a foreign photographer in the book named Eugene W. Traendly with his underwhelming "Insect on Screen" before a Kikuji Kawada image a few pages earlier. But despite the talent disparity, the editing comes together really nicely as you can see the juxtaposition below saves Eugene's image.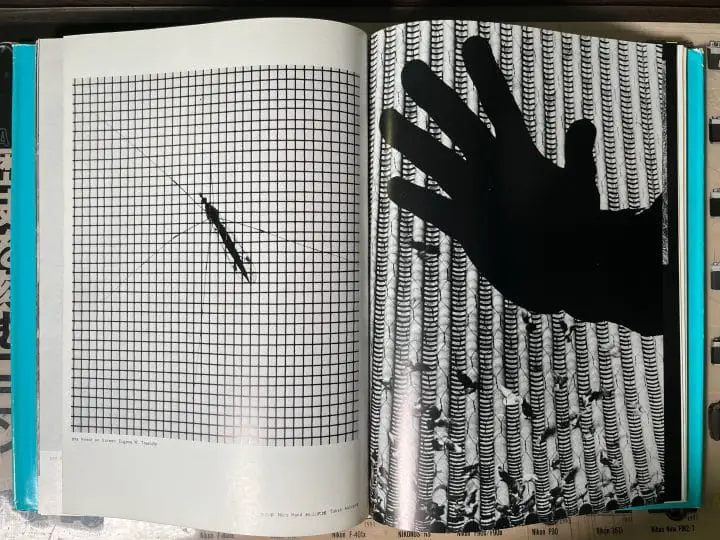 Color vs. Monochrome
The book is divided into an early color section that finishes 1/3 of the way through with monochrome images. It is subtly edited with some stronger themes such as nudes, insects, protest, etc…but remains balanced. With where color film was at the time, the black and white section certainly comes off stronger. Perhaps a testament to the importance of Shore and Eggleston in the 70s early 80s and the attitude toward color film in general.
Style Evolution
For really what is a marketing project for Nikon, the quality and value of these books can't be denied. They really are a good mix of work with enough high quality content to justify a purchase. Equally as fun is looking at the stylistic evolution of the content over the years. Went to Book-Off the other night, and found the oldest and newest and something in between and just sat with them. It serves as a zeitgeist of consumer and artistic tastes over the decades.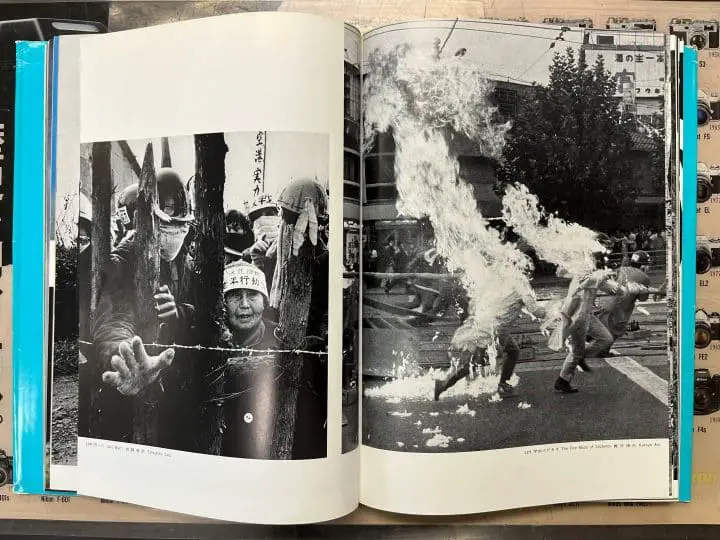 Conclusion
Again these books are fairly easy to obtain. I couldn't tell you which year is the most collectable, but instead it becomes more a case of if you see one for under $15… it is worth a purchase. Especially if you are a fan of Japanese photography or a Nikon in general. In all a pleasant surprise and nice to see some of the above photographers scattered throughout the photo book.
––––––––––––––––––––––––––––––––––––
Want to read my other book reviews?
Click here to go to the archives.
-JF