Jesse's Book Review – The Sniper Paused So He Could Wipe His Brow by Sean Lotman
We got in Sean Lotman's latest book, "The Sniper Paused So He Could Wipe His Brow." An appropriate title for what could be considered a moment of respite over 15 years of shooting that is much more than a simple chronological retrospective. Instead what is offered is a rather original layout, allowing the viewer of the photo book to essentially edit their photo viewing experience through the book. Allowing for sniper like viewer's precision that makes for one of the more unique photo book experiences I have come across in decades!
Photos
First the photos, of which are all in his trademark psychedelic color spanning what could be assumed over four continents! There are the Japan photos, but also distinctly US photos that I don't recall seeing too much of in his past offerings.
Rounding out and making up the majority really are from India and Nepal giving an all encompassing  sort of "Family of Man" sentiment yet made extremely disorienting. None of the photos are really your perfect compositional classic street style shots, but quite like Japanese photo books in general, they are atmospheric to the point you get an overall impression more than a remembrance of an individual works.
It is through companionship that they work building off each other expanding in the mind of the viewer…

Structure
This expansion is then complimented again by this new layout he implements for the book. I am going to try to explain, although one can glance at the photos to see what I mean. The photos are divided into three sections: the first and the last are similar in their structures featuring split square slightly gloss images on the front and back. This is where the personalized selection comes in as you can alternate in anyway how the images come to you, so really no two viewing experiences can ever be like in a way chess games can never be the same.
The middle section is made up of full bleed matte square images that work quite well with the book's narrow vertical size, which must be a nightmare to find shelf space for in small bookstores…one thing is certain it definitely stands out! The middle section carries on his penchant for writing, mixing images with words. They are short sentences of poetry that loosely correlate to each image, for example an image of some silhouetted figures at a beach sunset reads, "when world's end did come the light was lovely, briefly viewed through our smartphones"…and so it goes.


What a fun book! For someone releasing essentially a book a year at this point, this was a welcomed departure due to its unique structuring that more than being a gimmick serves to express the nature of his work well. With photo books "sky's the limit" as it is merely a format, and so I appreciate the experimental aspect here as his printing techniques have always exhibited that much.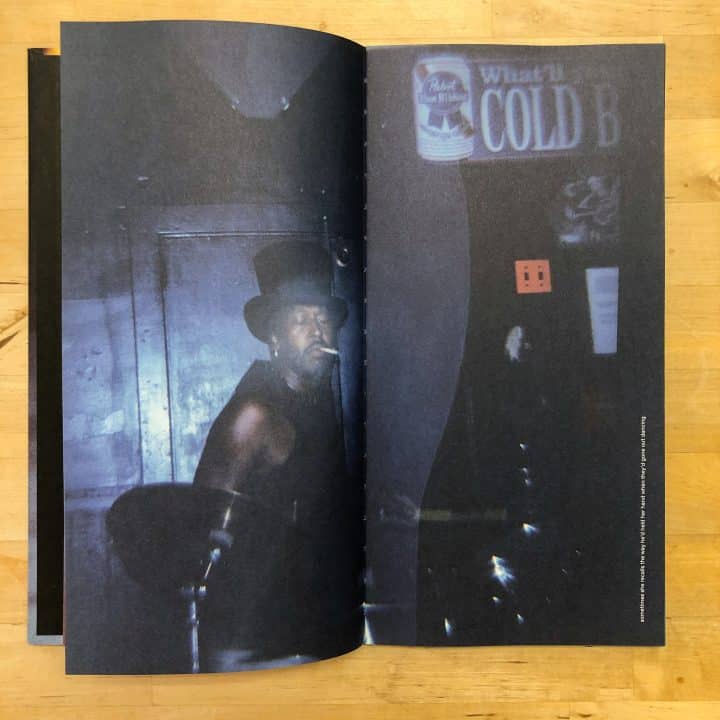 The book is limited to 450 copies! It comes in two editions: a red cover and a yellow cover available through Ibasho. Technically 96 pages, the vertical dimension is approximately 150 x 300 mm. With all of this, the book teeters on the expensive side, but a wholly original experience that gets better with each sitting…a literal infinite re-read value.

Want to read my other book reviews? Then click here to go to the archives.
JF