Jesse's Book Review – MODORU OKINAWA BY KEIZO KITAJIMA    
Third and final book I found on previous visual interviewee Mario Fail's shelf. Figure after Iwaki Fumio lone first book "San-Kaku", I would go to Kitajima who has released well over 30 in the past decades. I attempted to review a lesser known Yokohoma motorcycle culture photo book (well zine really) by him after meeting him and seeing his show in Shinjuku and just never completed it. So here we are with Modoru Okinawa…modoru meaning "return to." Literally.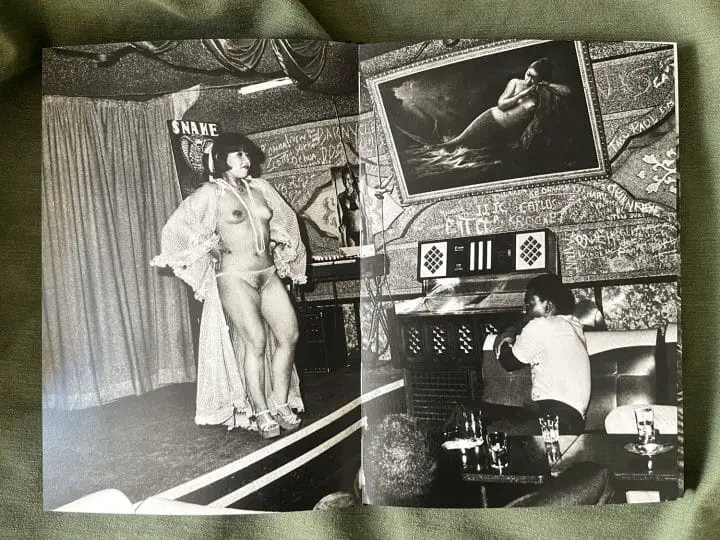 Modoru is the word, although from the book it is not clear whether it was himself returning to Okinawa or him returning to his photographs of Okinawa. The book has an English afterward, but simply just photos preceding. Thinking about it, it probably is how photo books should be in simply showing without telling…I really prefer afterwards than intros so we can at least get that chance to form our opinion. Suppose one could always just skip and revisit but I prefer what a layout like this forces. Either way for the purpose of this review here is some background information.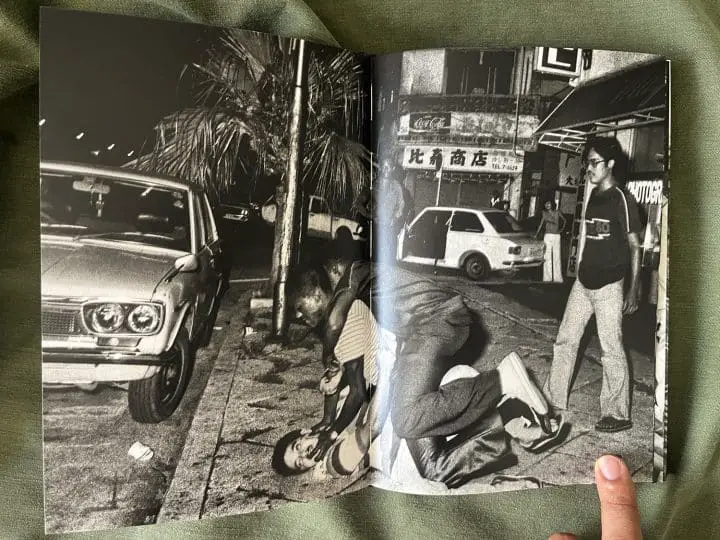 The photos were taken during the 70s in Okinawa in an area around Kadena Air Base which would of been during and after the Vietnam War. This was the base where the bombers were stationed that carpet bombed North Vietnam and their neighbors. The majority of the photos are taken right after the US defeat but you wouldn't know it from the joyous sex filled photos with mostly African-American soldiers who are just happy to be alive. This also off the top is one of the few photo books to document this relationship of black GIs and Japanese women. Even in cinema a director like Imamura Shohei who spent a good part of his career making films about women around the US bases, never dealt with black GIs. I can only recall Koreyoshi Kurahara's 1964 "Black Sun" which was notable for the original film score by jazz drummer Max Roach.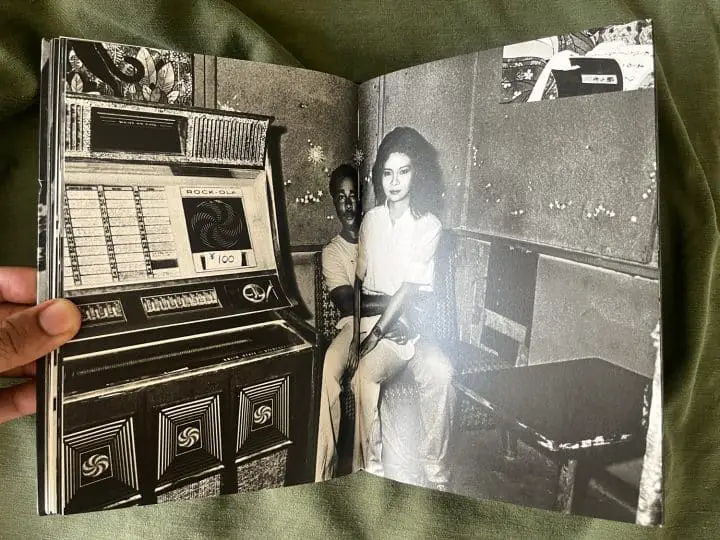 With this context, let's go into the photos! Of which, the latter half of the publisher's statement sums them up quite effectively, "…he was mainly going to express the relation between photography and reality." With the individual images this isn't a commentary per say, but objective observation. His gritty high contrast often off centered lends itself well to the subjects.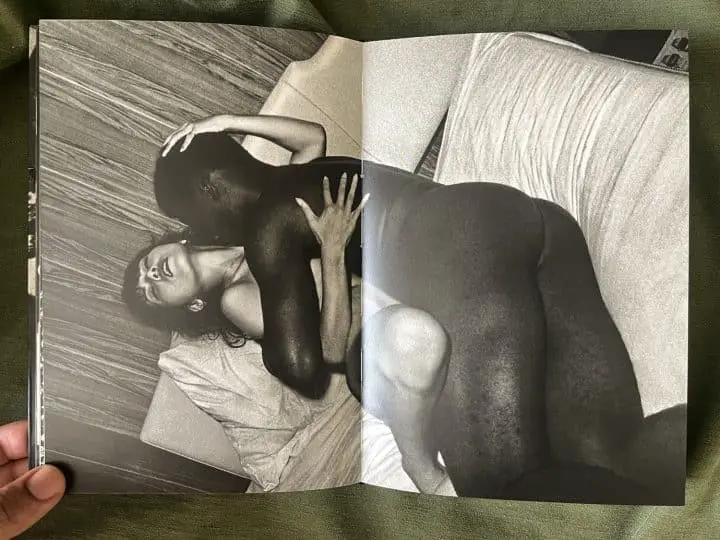 There is something startling in the contrast of black and white of the nude bodies, violence, and subtle in between shots of school girls walking home in this area filled with American imagery. The 7-Up & Cocoa-Cola signs, Yogi the Bear iconography, and juke boxes oddly compliments the rainbow of ethnicities serving to make the atmosphere even more startling…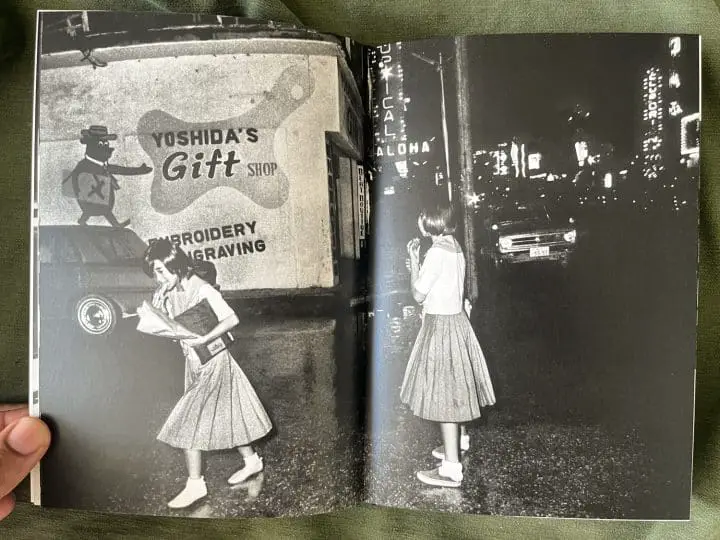 Yet there remains a beautiful cross cultural influence that really began after the war as jazz came to Japan. That is essentially the point of the aforementioned film, "Black Sun" following the teen obsessed with jazz who out of this befriends the horrifically one-dimensional AWOL black GI in the film. The borrowed fashion really comes through as the book's editing suggests with the below photo.
Limited to 1000 copies, the book is still around for about 50 USD. Pretty good value for the 136 pages it includes.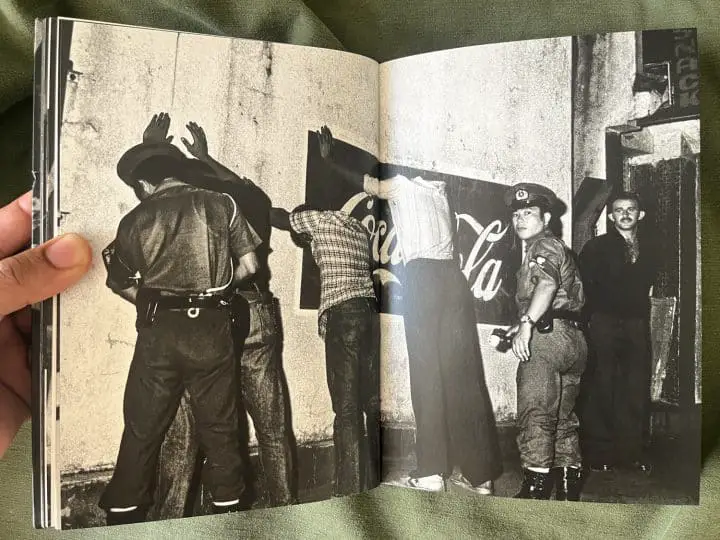 ––––––––––––––––––––––––––––––––––––
For other book reviews click here.
-JF