Jesse's Book Review – Whistle by Haruto Hoshi
Jesse reflects on street photography extraordinaire Haruto Hoshi's last book Whistle, a wild ride of captivatingly raw and occasionally uncomfortable images showing life in Japan's megacities. Don't nobody go nowhere.
Arriving off the heels of Seiji Kurata, enter Haruto Hoshi. His 2007 release, Luminance of Streets was an instant classic made of black and white images mostly shot in the streets of Yokohama. In it he muses on his childhood where he would aimlessly wonder at night with no real goal in mind. Upon discovering photography he retained this juvenile curiosity for the people of the night.
Since the 2007 book, Hoshi has switched to color and expanded his locations to Osaka and near by Shinjuku in Tokyo, the former's stomping grounds. And here we are with the highly anticipated, Whistle, an international publication by Little Big Man.
Like the former, the work consists of yakuza, bosozoku, rightists, hostesses, transvestites, and so on. All of which constitute nothing new at all, but again like the former, the work is detailed filled with photography that suggests stories. The color adds a modern touch separating him from his previous work and others who have done this style of photography in general, continuing in wide angle, high flash work. This also is the first instance where he has photos that contain no people offering a bit of variety again contrasting his previous work.
In all there are just over 100 color film photos presented in a spiral bound hardcover. Both matte and semi-gloss paper is utilized to offer a textural contrast as offsetting as the visual.
And going back to it, that is what is immediately different about this work compared to his last….the color. And it isn't done for color's sake, as color plays a large roll in each composition where his preoccupations with his outcasts are now surrounded in primary colors. The flash heightens this effect cheapening the images that before could not had of been done in black and white. This is immediately felt beyond the book's dual covers mixing bright yellow typography with puke green against the artificial red hair dye of one of his subjects.
The very second set of photos features two women framed by the doorway of their bars, the women on the left is framed by a high yellow with bright blue awnings while the women on the right is framed by red curtain frills while the entire right side of the photo's composition is bright red. This theme continues throughout justifying the photographers aesthetic shift over the years, while bringing more to the subjects he shoots.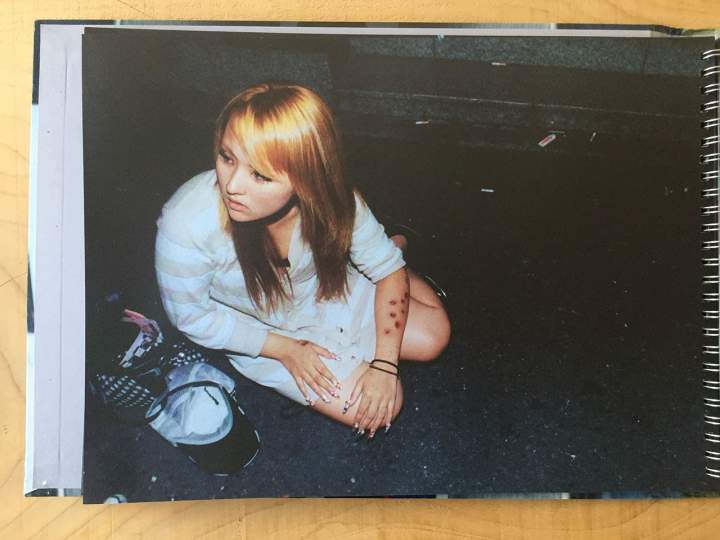 However it entirely about the stories that his photos suggest, or really the back stories and situations his photos conjure. Another women with dyed red hair looks out of frame, we can surmise engaged in conversation. She is sitting on a back street surrounded by visible cigarette butts in the background.
And what draws our eye is her somewhat fresh flesh wounds that dots her arm. They are caused by cigarette burns as the butts in the background visual suggest, however whether they are self inflicted or done to her by someone else, perhaps the person she is conversation with out of frame… potentially her pimp we don't know. Each photo is packed with so much detailed visual information that it is possible to spend a minute on each page creating these sorts of explanations.
A bit more subtle, one of my favorite images is of a woman ascending a staircase back into her hostess bar. Perhaps one of the more quiet images in the book, the reds are nice enough and the use of the mirror to create adjacent reflections of the woman add to it. Coming at the end of the book I like what it symbolizes. One of the better Japanese films on the plight of a hostess was in a 1960 by Mikio Naruse titled, When a Woman Ascends the Stairs. The shot of actress Hideko Takamine hesitatingly looking back before what essentially is the same style shot of what the title suggests is metaphoric of women in Japanese society.
For all these outcasts Hoshi shoots at its conclusion you realize how little anything has changed…the only difference is that here the shot is in color and no longer do these women of pleasure wear a kimono.
In all this is just really good street photography. I am not quite sure this book is even out yet, my business partners attained an advance at the Tokyo Art Book Fair. There is, however, a month or so delay in the time I write these to when they get put on the site. As of now, according to the publisher's Instagram the book is available for pre-order. You can check the website here: littlebigmanbooks.com
Jesse Freeman is a friend, photographer and movie buff. He has a great knowledge of photography books and classic cinema. He can also be relied upon for decent music recommendations.
You can more of his work and passions at the following places:
https://www.instagram.com/nothinginparticular/
http://www.flickr.com/photos/imnothinginparticular/
http://imnothinginparticular.tumblr.com/
Want to read Jesse's other great reviews? Then click here to go to the archives.
JCH