Jesse's Book Review -Mexican Notebooks by Henri Cartier-Bresson
Jesse's back and he takes on HCB's latest tome. Of course you can expect a touching and intimate look at everyday life in Mexico through the eyes of a legend.
Guess the obvious review would have been The Decisive Moment. Hardly anything more one can say about it that hasn't already been said. The Matisse cover, the iconic images…the height of classic street photography. I offer Mexican Notebooks here for something a bit different.
In the early 1930s, Henri Cartier-Bresson traveled and lived there still under the influence of the surrealists. Myself being a huge fan of surrealism always liked this lesser seen earlier work of Cartier-Bresson. Believe it was sometime later, he dropped the surrealist label on the urging of Robert Capa who said it would hurt him in the future getting photo work.
Yet, a lot of the tenants of surrealism would always remain in his work: the partial framing, spontaneous juxtaposition of the foreground and background creating unexpected correlations, and his ability to find perfect compositions in the everyday that are so perfect…that they feel surreal. But also his affiliation with surrealism expressed itself in his love of freedom, incongruity, irreverence, and sheer playfulness. I'd suggest this period as the genesis.
The book itself, a tad to my dismay, is composed of two separate visits to the country, 1934 the period I thought it solely covered and 1964 once he was quite established. Roughly divided between these two periods, it features 53 photographs in addition to a beautifully written introduction by famed Mexican writer Carlos Fuentes.
Aside from the surrealism, I also liked this period from Cartier-Bresson because at the time his roommate was my favorite poet in Langston Hughes. Hughes later published a journal titled, I Wonder as I Wander that talked of the time the two spent together him exploring with pen and paper, and Cartier-Bresson with his Leica.
Reverting back to surrealism, the interplay between early Cartier-Bresson and 30 years later with the established Magnum Cartier-Bresson becomes the fun trade off of the book. The book's cover image evokes montage with its division of the shirtless man and shoes in shelves as a perfect example of 1930s HCB.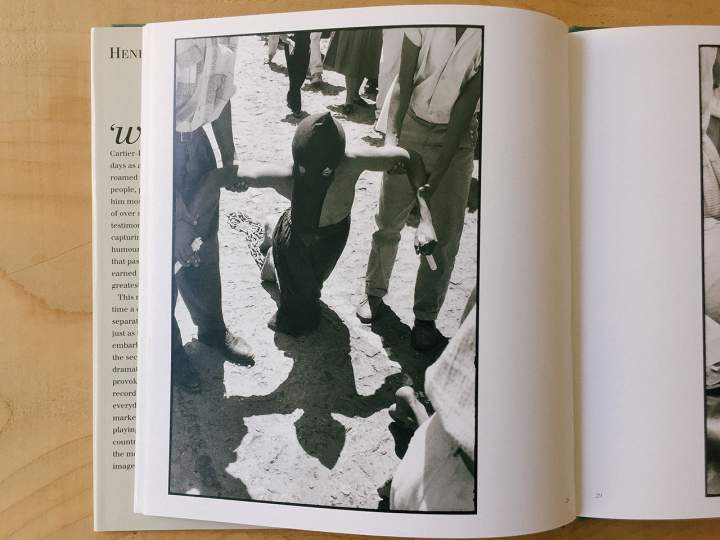 The position of the man's arms is similarly to the way ancient Egyptians placed the arms of their dead as they entered the afterlife, while another image on page 26 (above) with its use of drapery is a motif he would repeat throughout his career reminding us of Man Ray's famous 1924 photograph, L'Enigme d'Isidore Ducasse. But in general, HCB saw the camera as the ideal instrument for capturing objective chance as Andre Breton (founder of surrealism) defined it to be. His photographs seized in the instant, relate to the idea of the "fixed explosive", a category under "convulsive beauty" defined again by Breton as conveying the disturbing strangeness of static movement.
Moving on from surrealism and as with Mexican culture, his photos carry preoccupation with death. Ever omnipresent, for Mexicans death isn't something one advances toward in life, but instead returns to it since death is viewed not as the end but the beginning.
This certainly is a theme with the aforementioned surrealist photos, yet more straightforward there is a photo of a prisoner about to be put to death grasping two candles, an ajar crucifix in an empty wasteland, and the photo of the man contently looking back at the camera next to a stack of caskets are all evocative of this theme in addition to a conspicuously bullet ridden wall from firing squads in another background. In at least nine photographs there are various subjects photographed in their sleep, imitating death itself. And then there are the children throughout, edited in at the end of the book completing the cycle.
A lot of the 1964 photos are some of his better known works. A few of which do appear in The Decisive Moment and others in virtually any of the greatest hits books you can come by that then becomes the double edged sword. His photos have almost become too familiar. Trained as a painter they are perfectly, if not obsessively composed accounting for the classicist sentiment that gets applied to his work that no longer seems relevant in our filtered Instagram world.
I'd like to coin it the "Atget effect", where in Cartier-Bresson's time, it was discussed that Eugene Atget's photos of Paris should only be considered for its historical significance rather than artistic merit. Not arguing that Cartier-Bresson is no longer artistically viably, but more suggesting the water downed tastes of the public in terms of appreciation in only demanding something more immediate in direct comparison to what is now.
Mexican Notebooks is widely available for in and around 25 USD.
Jesse Freeman is a friend, photographer and movie buff. He has a great knowledge of photography books and classic cinema. He can also be relied upon for decent music recommendations.
You can more of his work and passions at the following places:
https://www.instagram.com/nothinginparticular/
http://www.flickr.com/photos/imnothinginparticular/
http://imnothinginparticular.tumblr.com/
Want to read Jesse's other great reviews? Then click here to go to the archives.
JCH