Camera Geekery: Leica R8
Ah the Leica R8, it can be considered the M5 of the R series for its controversial aesthetic decisions and polarized much of the Red Dot's loyal base. Red Dot folk aren't exactly renown for embracing drastic shifts. The Leica R8 represented a major break in R-series camera design and was met with so much consternation, much like the Leica M5, that it was dubbed the not so flattering moniker "The Hunchback of Solms". But my mother taught me to not judge a book by its cover. So how does Leica's first independent SLR effort since the Leicaflex compare to the stalwarts of the day from the land of the rising sun? Only one way to find out.
Leica R8 Background History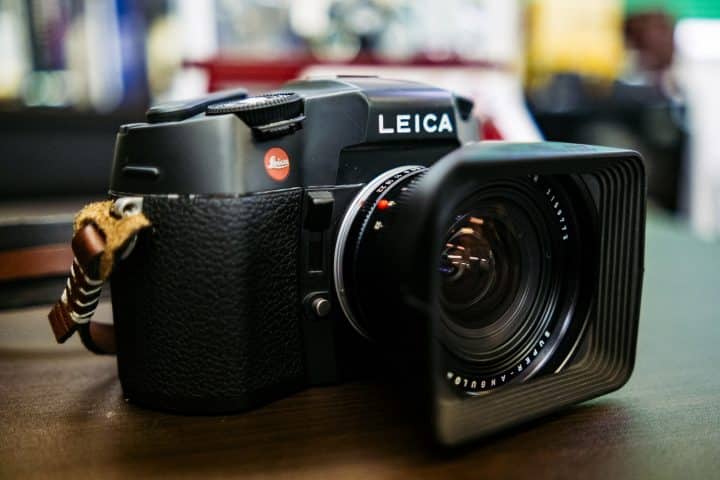 The Leica R8 was officially launched at Photokina in 1996 and it looked significantly different from the Minolta-collaborated R3 through R7. The R8 was the first R-series camera that was entirely developed and styled by Leica and had no association with Minolta. It was highly anticipated and intended to herald a new era for Leica Reflex Cameras. The R8 was available in either Silver chrome or Black chrome finishes until it was replaced by the Leica R9 in 2002. According to the wiki at L-Camera-Forum.com, there were 36551 R8s produced.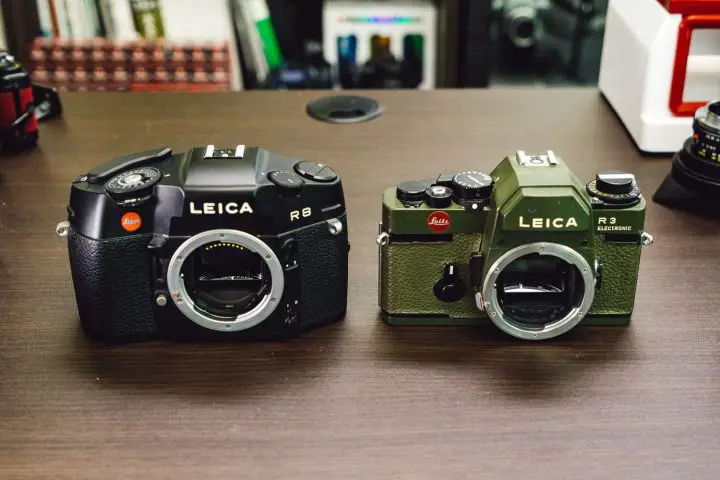 Compared with its predecessor the Leica R7, the R8 has a few noteworthy upgrades. The mirror lock-up can be activated without any optional accessories, and the self-timer offers two options for exposure delay: 2s and 12s. Also, the R8 has an automated film loading mechanism so you don't have to fiddle around with attaching the end of the film strip to a film transport spindle.
However, one significant non-upgrade is the lack of autofocus, a staple of the other flagship SLRs of its time such as the Nikon F5 and Canon EOS 1n.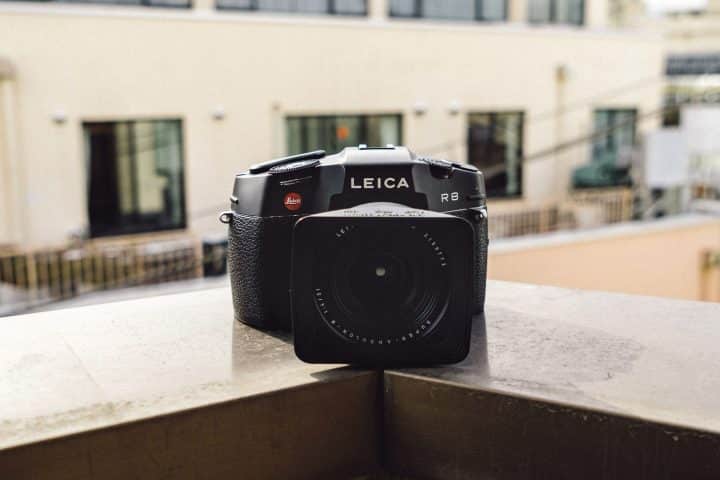 Early versions of the R8 were apparently rampant with electronics issues, in particular faulty micro-switches and poor contacts that resulted in the camera locking up when used with the optional motor-drive. In addition, some of the first R8 cameras were reported to leave scratch marks on your film, which Leica addressed in later production runs. Leica replaced the backdoors of affected cameras and repaired these issues under its five-year warranty. Cameras with a serial number of 247xxxx or newer appear free of the aforementioned problems, as is the sample that I am testing.
ROM-lenses (1996-09)
The R8 featured electronics that could take advantage of lens-specific information to correct for lens vignetting (in connection with the Leica Digita-Modul-R), to adjust the zoom reflector on flash guns according to lens focal length, or to correctly display aperture information if accessories like tele-extenders, were attached to the lens. This lens-specific information was stored in a Read-Only Memory (ROM) chip that was added in the form of a strip of electrical contacts between the mount and the rear element of R-lenses. The ROM chip came with all newly sold lenses at the time, but could also be retrofitted by Leica technicians to older lenses. ROM-lenses have the R-cam and can also be mounted on R3-R7 cameras, where they support all the functions that these cameras offer.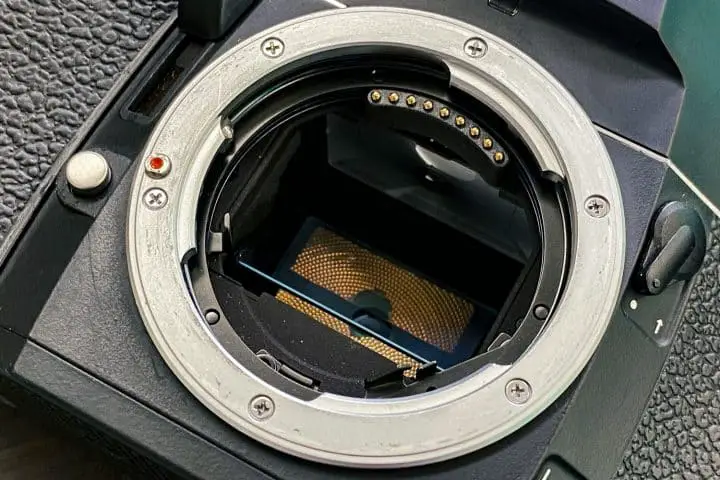 We unfortunately don't have any access to a ROM lens at the moment to test out the full features.  Most lenses with an R-bayonet can be used on any R-system camera body, but not all camera functions might be supported, as five different types of R-system lenses exist.
This aperture information transmission between lens and body is achieved through a cam that is linked to the movement of the aperture control ring. Here you can see an example of a twin and triple cam. Apotelyt has a great article detailing which lens are what here.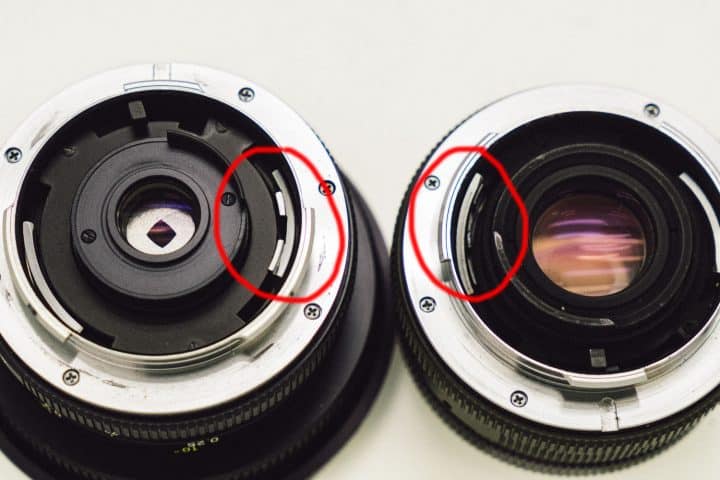 Leica R8 Tech Specs
Lens mount: Leica R bayonet with additional electrical contacts ("ROM contacts")
Shutter: Copal vertically running metal-leaf unit
Speeds: 32-1/8000, stepless in automatic modes, or to 16 seconds in half-stop steps in manual mode, as well as Bulb. The flash X-sync speed is 1/250
Shutter release: on the shutter-speed dial, w/cable release socket
The optional Motor-Drive gives additional front and vertical-grip releases
Operating modes: Manual, Aperture priority, Shutter priority, Program, and Flash
Metering methods: Selective (7mm central area), 6-element matrix, center-weighted, and flash TTL center-weighted
Exposure lock: Half-press on shutter release (must be in Selective metering mode)
Exposure compensation: Plus or minus three stops in half-stop increments, using lever on left side of the eyepiece
Film speed range: Automatic DX coding ISO 25 through 5000; manual ISO 6 through 12,800
Metering range: 0.007–125,000 cd/m³ (EV −4 through EV 20)
Flash sync: Hotshoe center contact or external synch socket; first or second curtain sync, as well as strobe (multiple flashes) view
Flash X-sync 1/250 second or slower
TTL flash metering compatibility: Leica dedicated SF 24D flash unit and Metz units with Metz SCA 3501 adapter
Viewfinder coverage: 93%, magnification 0.75× with 50 mm lens
Self timer: 2 sec or 12 sec
Mirror pre-release: Selectable via switch; first shutter release press activates mirror, second activates shutter
Frame counter: In viewfinder and on rear cover LCD
Multiple exposures: Unlimited, with multiple exposure switch on body
Body: Cast zinc top plate, aluminum frame, synthetic base, rubber bottom; Weight 890g
Battery: 6v, 2× CR2 lithium battery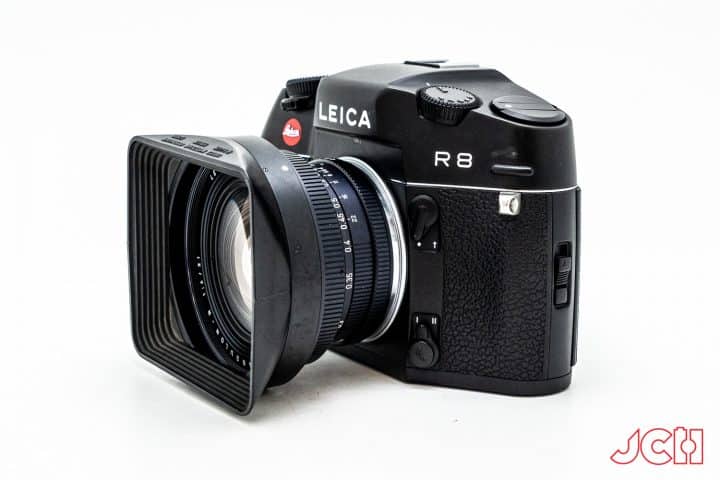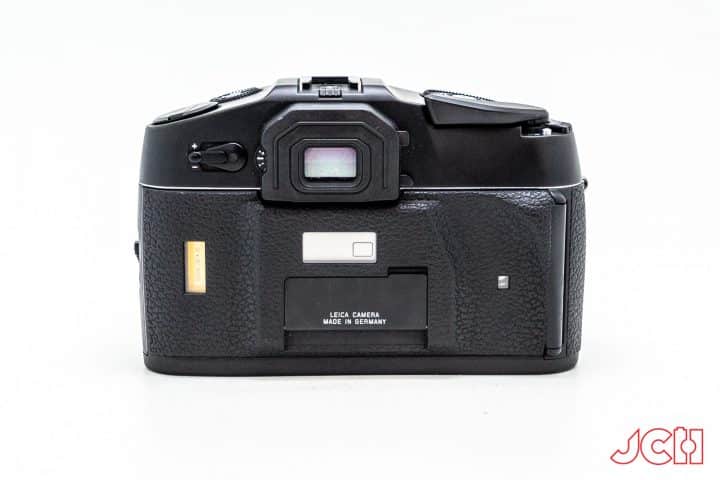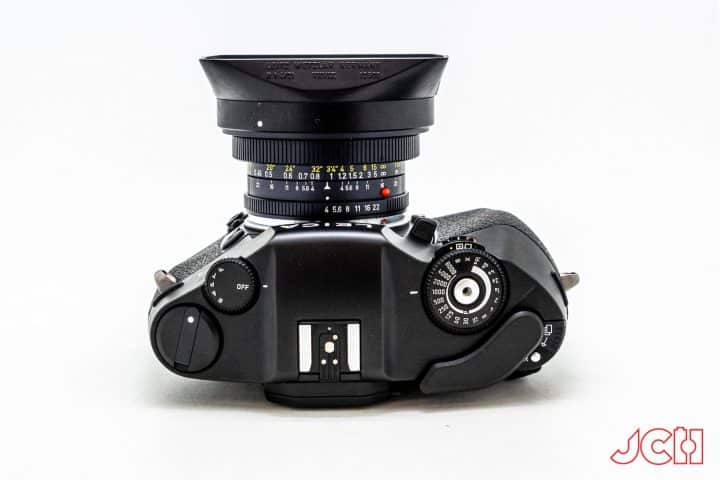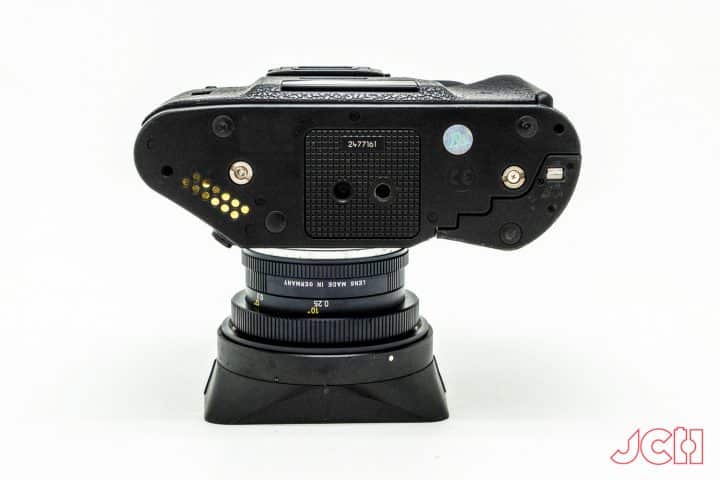 Leica R8 Features and Ergonomics
Shutter release / Metering modes
Love it or hate it, the shutter release button is in the middle of the shutter speed dial. M6TTL and M7 users will feel right at home with the size and rotation of the dial. It is big and rubberized for a nice grip and feels great in use, barely needing a touch to operate. I don't mind the shutter release location, in fact it feels good and increases speed to have your index finger on the shutter release while the middle finger works the shutter speeds.
Underneath that you will find the metering options, which is handy especially when using non-forgiving slide film where perfect exposure is a must. It is in a handy location, allowing you to easily operate it without taking your eye off the viewfinder.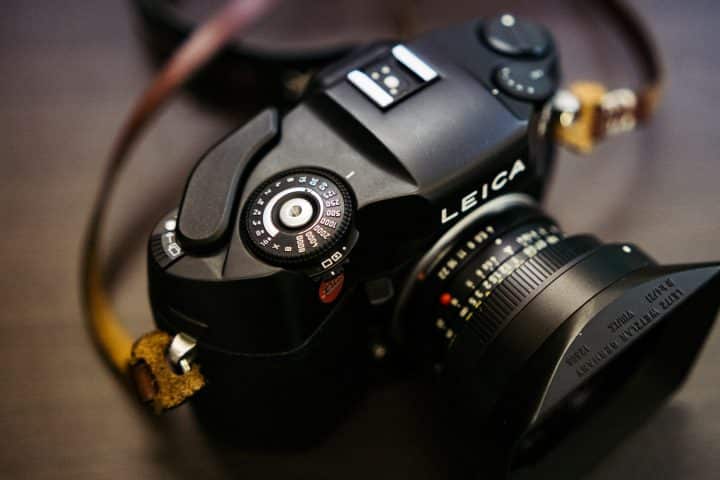 Exposure compensation
One location I am not a fan of is the exposure compensation switch. Yeah, it's moot if you just shoot manually. But if do want to shoot in for example A mode, I find it to be in an awkward position. I admit that perhaps I am just hardwired and used to them being a dial on the top plate. But while looking through the viewfinder, sticking your thumb in there to use the switch gets real close to your left eye and doesn't feel comfortable.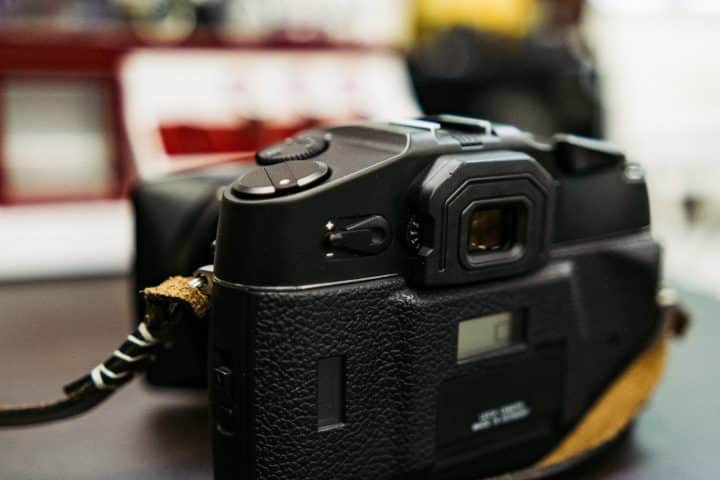 Multiple exposures
Another interesting feature is the multiple exposure switch to the right of the film advance lever. I personally don't do much double exposure, but plenty of photographers do and when done well it can be pretty awesome. An elegant solution for those who have the skills. Take your first exposure, set the multiple exposure switch to the multiple exposure position, re-cock the shutter and take your second exposure. You can keep shooting on top of that same frame indefinitely. Turn the multiple exposure switch back to the single exposure position, now re-cock the shutter and advance the film with the film advance lever to return back to normal.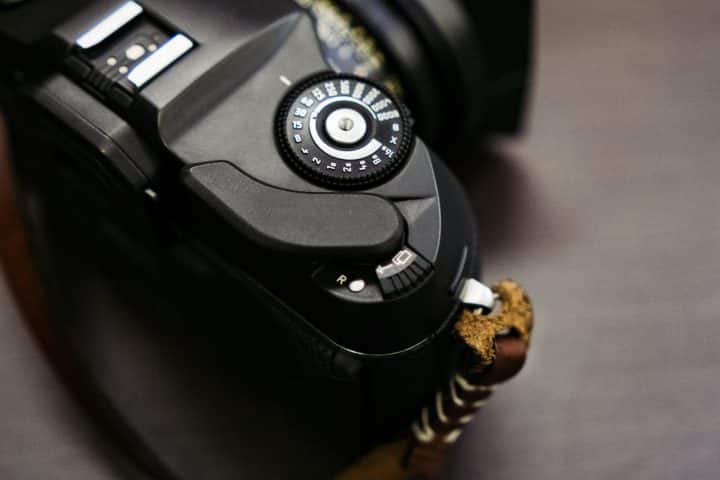 Film loading
While I think smoothly loading into a film spindle is a fine skill honed by countless practicing, I do also appreciate a well-made, reliable easy load system. The only problem is that you don't get those once-in-a-while awesome first of the roll pictures.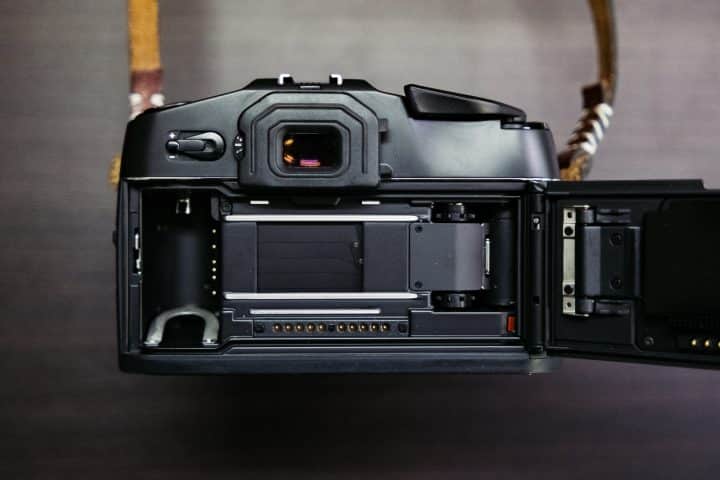 Back panel
On the back side under the LCD screen that shows the amount of exposures made and the battery level, there lies a little panel that flips out and that is where you will find the film ISO setting and and self-timer modes. I think it's a nice touch to keep these minor features easily accessible yet tucked away enough to not get in the way or be an eye sore.
If you manually select an ISO value different from the DX code of the film cassette, it will show "±" inside a small triangle warning you that you are over or underexposing the film. Handy!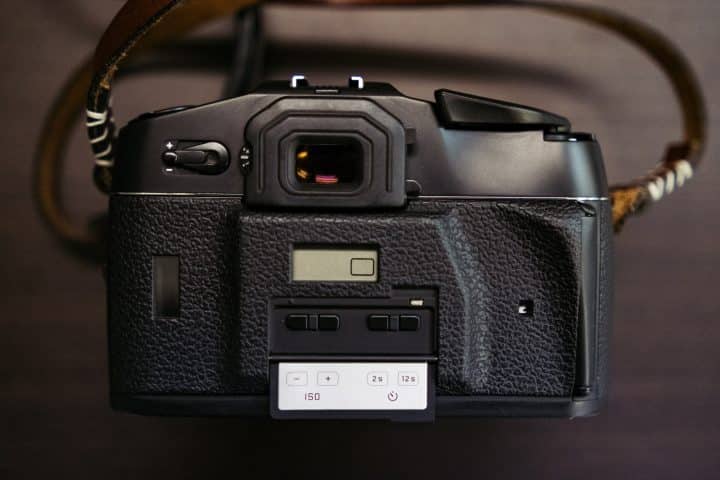 Viewfinder
As you would expect from a Leica, the viewfinder is absolutely gorgeous. Clear, contrasty and sharp, the vital information you need is minimally yet legibly displayed on the bottom. Here is a look at the R8 finder versus the M6. The Leica R8 finder is a tad cooler with more blues and greens kind of giving it Fujifilm vibes.
Body size
The body is chonky with a capital "C". Here you can see the R8 compared to Nikon's also manual focus only F3. The body is supposedly girthy to accommodate tele lenses, but I don't know why you would be hand holding a big tele lenses anyways, on top of that also needing to manual focus.
I can imagine Jimmi Hendrix appreciating the big grip but for us with smaller mitts it could shave off a couple millimeters to be ideal. That being said, the location of vital functions such as the shutter speed dial, release and depth of field preview is perfect. It is intuitive and efficient to have your index finger on the shutter release, middle finger rotating the shutter speed dial, and ring finger activating the depth of field preview.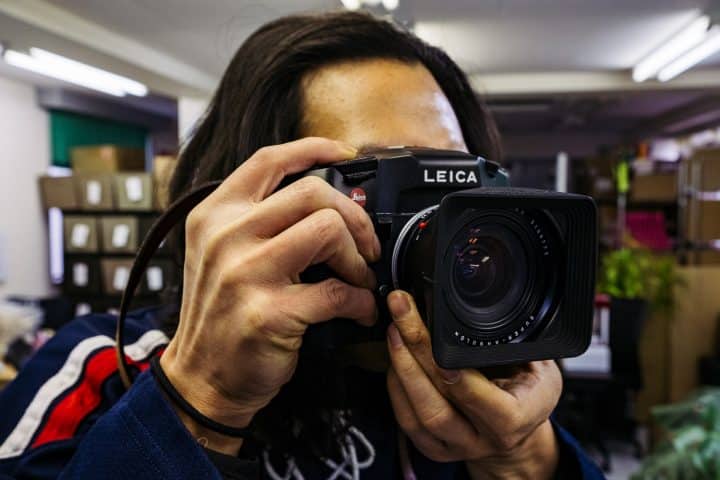 Leica R8 Sample Images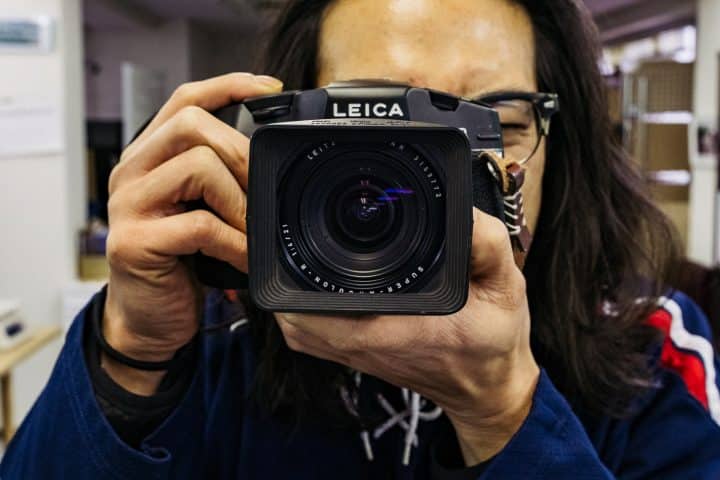 The following images were taken with the 21mm Super-Angulon-R and 50mm Summicron-R on Kodak Gold 200, self-developed with Cinestill CS41 and scanned on a Plustek Opticfilm 8200i.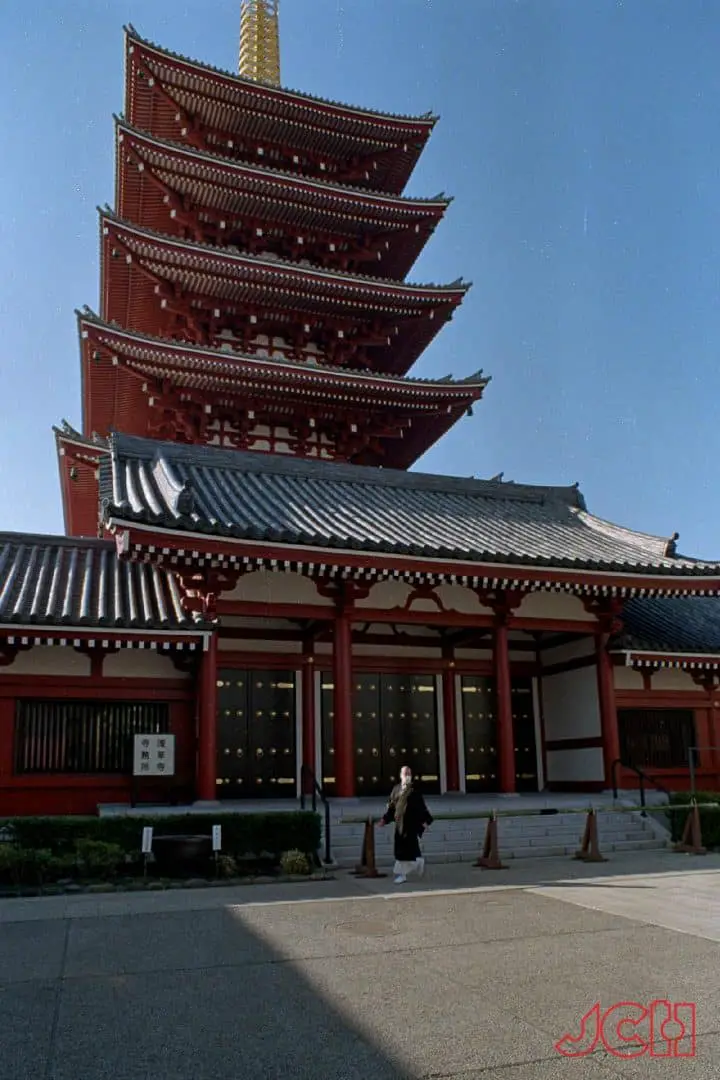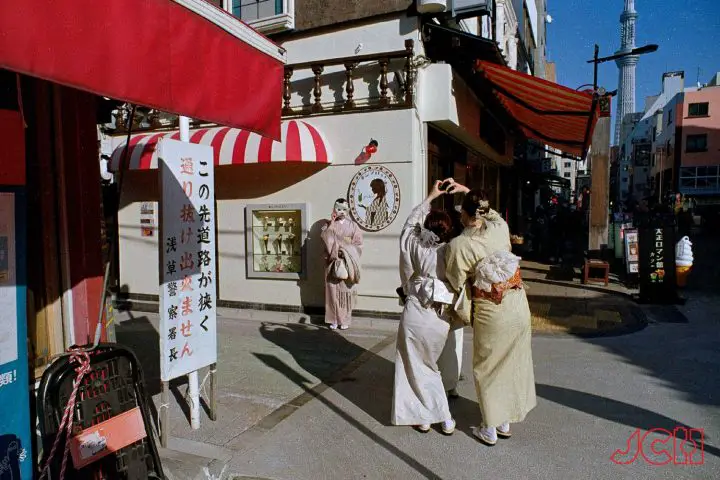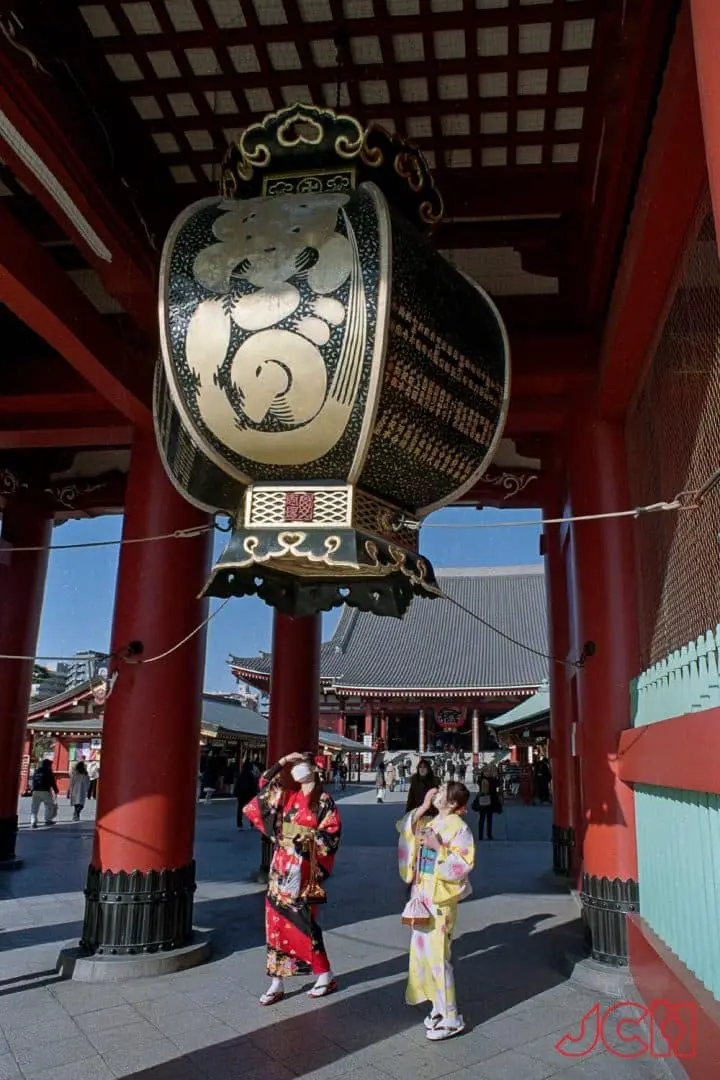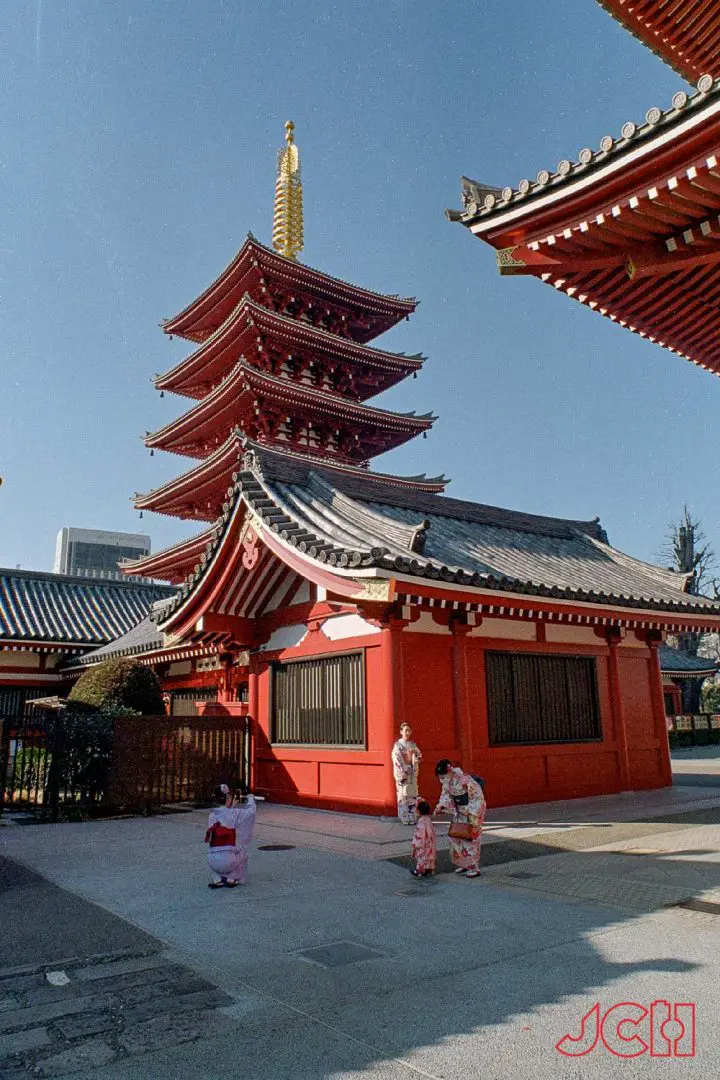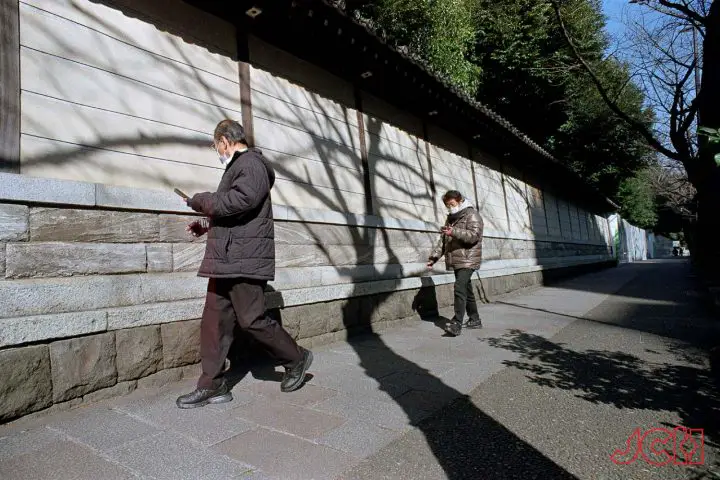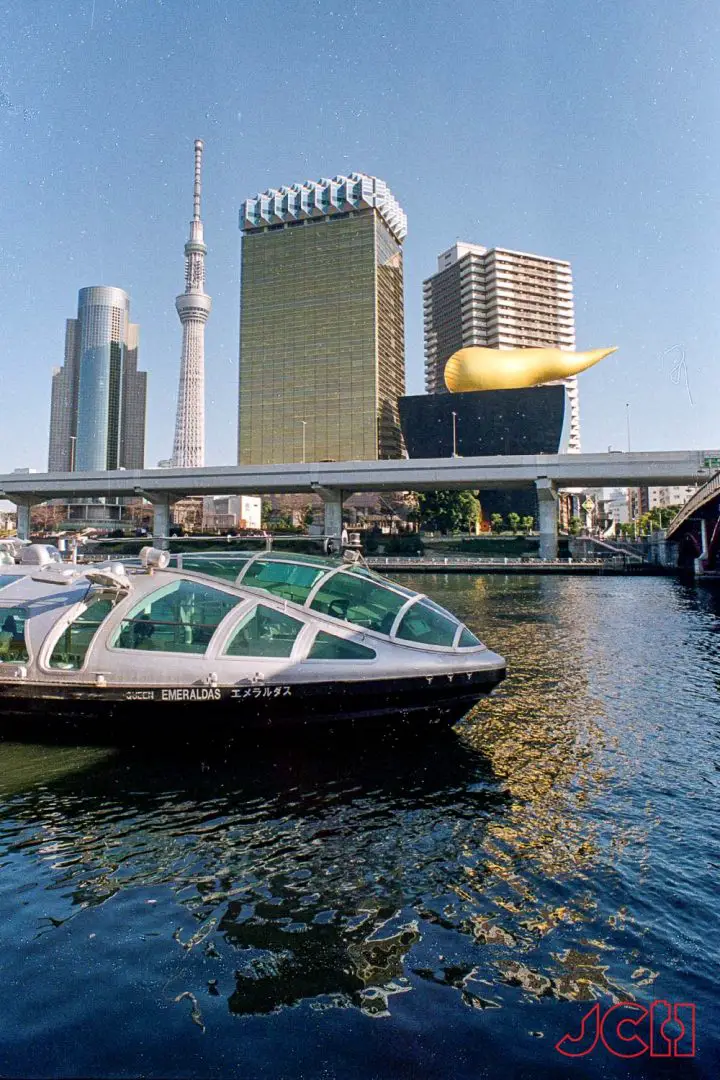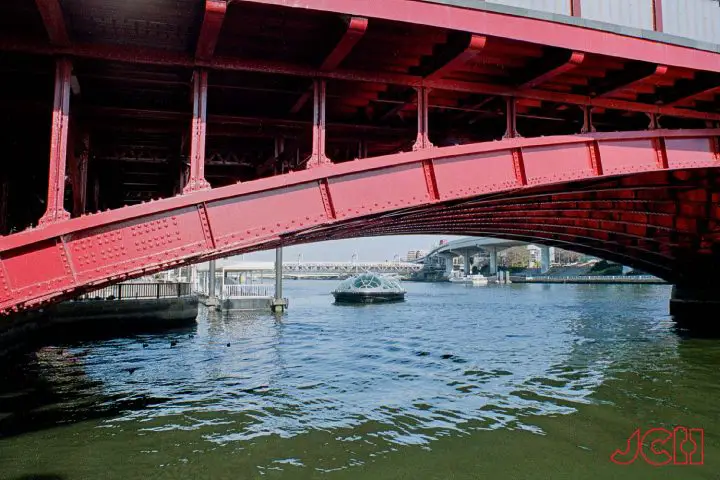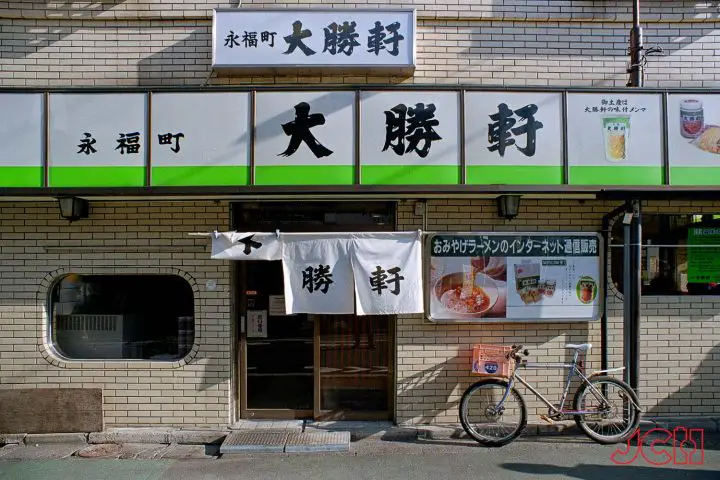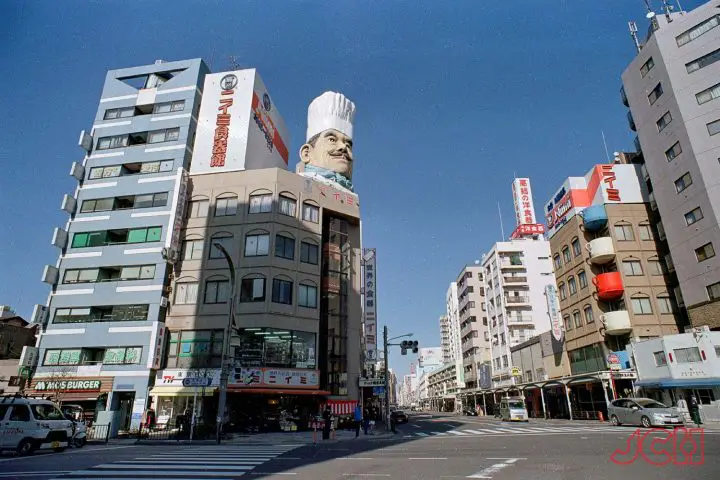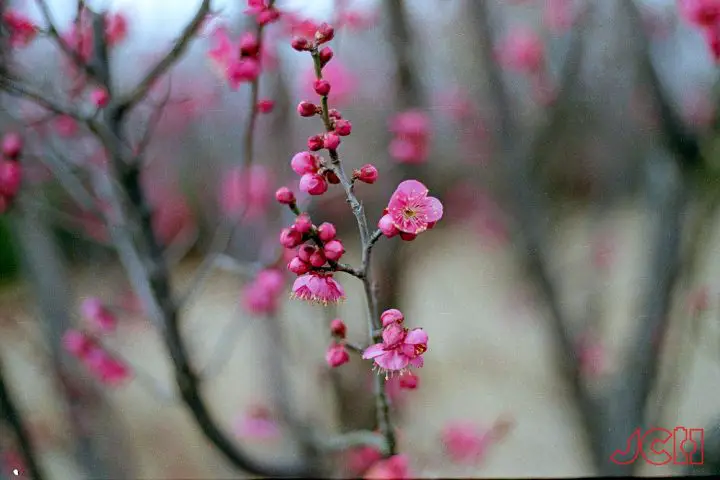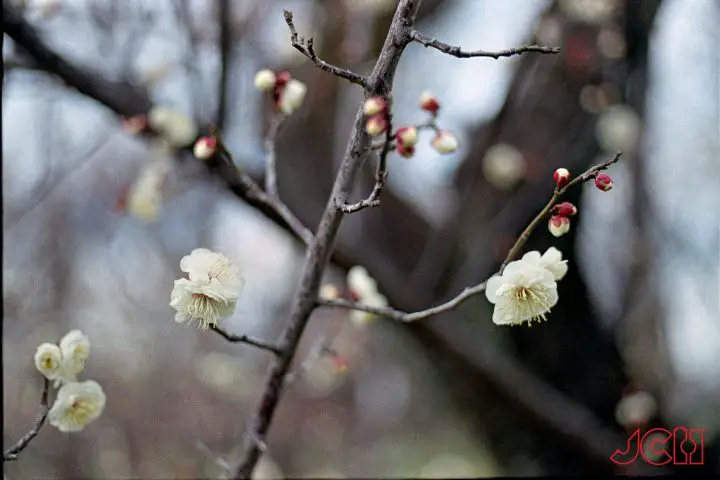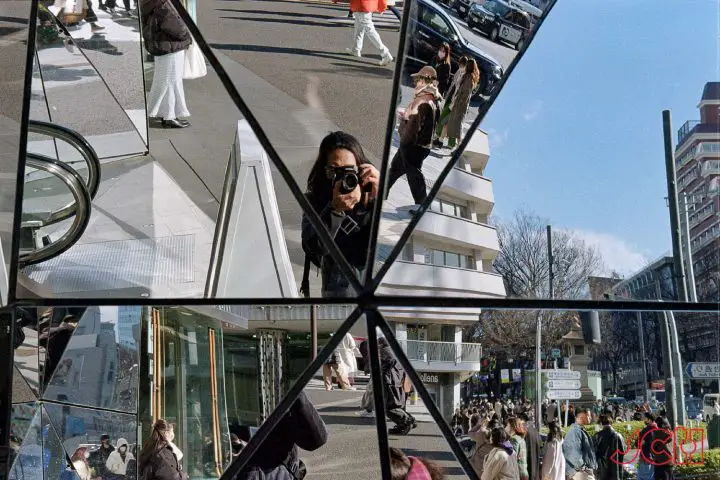 Conclusion
The Leica R8 was the Red Dot's valiant attempt to shed the notion that they had become a has-been resting on their laurels. They wanted to prove they can still successfully innovate and they really swung for the fences. The "Hunchback of Solms" is a rather harsh nickname to me as I think it looks cool, but then again I also liked the M5. While the chunkiness and density of the body does indeed feel great and sturdy in the hands, I would prefer it to be smaller, especially for an exclusively manual focus/film advance camera. For that size I just feel like it should have AF or some kind of motorization. The fancy metering modes are cool I guess, especially if you use slide film and flash.
An apparent glaring miss would be the lack of AE lock. However it does exist, albeit only when in spot metering mode; half pressing the shutter locks the exposure so you can recompose.
Aside from the exposure compensation, everything is perfectly located and does what it does elegantly and intuitively. I really do love the design of the shutter speed dial; it is a much more satisfying and luxurious feeling compared to the thin finger dials of say the Nikon F5. And of course the star of the series is the lenses. There's a reason why cine guys have caught on and inflated the prices in recent years.
Final Thoughts
The fact that many photographers and DPs I know who have R lenses don't use them on R bodies is a telling sign. The lenses are incredible, yet the accompanying bodies seems to fall just short of winning over the majority. While I thoroughly enjoyed using the Leica R8, the gripes I have with size to features ratio leave something to be desired. If I still have to manually focus and advance my film, I don't see why I need a body of this size. The R8's top speed of 1/8000th is an upgrade over the 1/4000th of say the Nikon Fm3a if you like shooting hummingbirds, but you need batteries and packs on over 300 grams.
I appreciate Leica's final crack at the SLR market and there are things to love about the R8 but yeah overall as a tool, I think it misses the boat for me. The innovative features such as multiple exposures and flash curtain syncs don't really apply to me, I'd much rather swap those for a smaller body that's repairable and exposure compensation that won't take my eye out. I will be selling a kidney to get some Summicron R lenses adapted to my Minolta X700 ;)
MN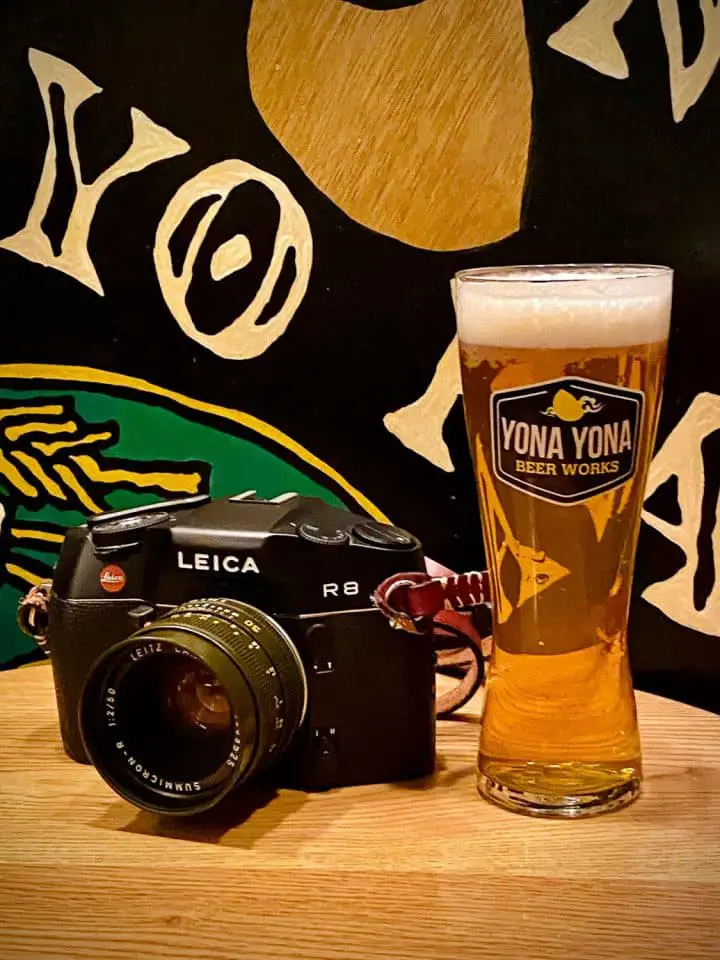 In case you missed it, there is also a video of Bellamy's thoughts on the Leica R8 over on here.