Camera Geekery: Ricoh GR21
Another end of the line masterpiece, the Ricoh GR21 rocked the world in the year 2k1 when it was the first compact camera to have a 21mm wide angle lens. The Ricoh GR21 won the hearts of many street photographers and compact fans as the weapon of choice for Daido Moriyama and earned the Technical Image Press Association's (TIPA) Best Prestige Camera Award in 2001. It has been touted as the ultimate compact for many pundits but its rarity has kept it out of the hands of many drooling fans. Naturally I was stoked to have a go on one, especially wanting to compare it against extensive experience with a Contax T2 and Yashica T4 Super.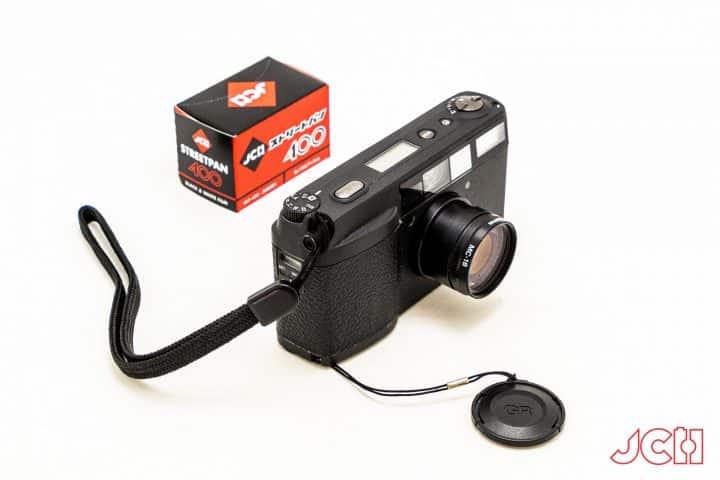 Ricoh GR21 Background History
All of the features that were developed on the previous models of Ricoh GRs were included in this model. From a glance they look identical except the GR21 lens protrudes due to not being fully retractable. Speaking of the lens, it is an aspherical 21mm f3.5 multicoated piece of perfection, so good that they made it a Leica L39/LTM version. We've reviewed the 28mm version before here.
Supposedly only 4000 or so of these cameras ever made it into production, and they are decently hard to find in good working order these days. Like the Contax Aria or the Nikon F6, the Ricoh GR21 is among the great Japanese swan songs for 35mm film models.
Ricoh GR21 Tech Specs
Type: 35 mm autofocus Lens shutter camera
Lens: GR Lens 21 mm F3.5 (9 elements, 6 groups) multi-coating aspherical glass lens elements
Focusing: Passive-type multi-autofocus with focus lock and 3-point indication, automatic auxiliary AF light under low lighting
Shutter: Programmed AE – approx. 2 – 1/500 sec.; Aperture Priority AE – approx. 2 – 1/250 sec. Time Exposure Mode
Exposure Control: Aperture Priority Mode
Viewfinder: Reverse Galilean type with LCD bright frame, in-viewfinder illumination under low light
Field of View Factor: 83%
Viewfinder Magnification: 0.33
Diopter: -1dpt.
Film Speeds: ISO 25 – 3200, compatible with DX code system. Non-DX films are set to ISO 100. Manual ISO setting possible (1/3 EV steps)
Film Loading: Ricoh auto-load pre-wind system. Film pre-winds to the last frame number when the back cover is closed. Mid-roll rewind is possible.
Film Counter: Electronic, counts down the number of exposures left
Built-in Flash: Electronic flash that automatically adjusts light amount to ambient light conditions. Automatic flash for dim light and backlight conditions. Automatic soft flash for a subject at close range.
Flash Modes: Auto, Flash-on, Flash-off, Slow Synchro, Red-eye Reduction
Range of flash: ISO 100 reversal film – 0.3 – 1.6 m (1 – 5.4 ft.); ISO 400 reversal film – 0.3 – 3.3 m (1 – 10.7 ft.); ISO 100 negative film – 0.3 – 2.3 m (1 – 7.5 ft.); ISO 400 negative film – 0.3 – 4.6 m (1 – 15. 1 ft.)
Flash Recycle Time: About 5 sec.
Self-Timer: Built-in 10-seconds digital timer, the operation indicated by LED
Auto Power Off: Approx. 5 mins. after operation
Power Source: 1 x 3V lithium battery (CR2 or equivalent)
Other Features: Cable release socket, Synchro terminal, Date imprinting, 30.5 mm filter attachable
Dimensions (W x H x D): 117 x 64 x 26.5 mm (4.6 x 2.5 x 1 in.) (not including lens barrel); 117 x 64 x 38.5 mm (4.6 x 2.5 x 1.5 in.) (including lens barrel)
Weight: 200g (240g with film and battery)
Optional Accessories: 30.5 mm filters (PL, MC – Y2, MC – 1B, 6x – Cross, MC-ND4). Electrical cable release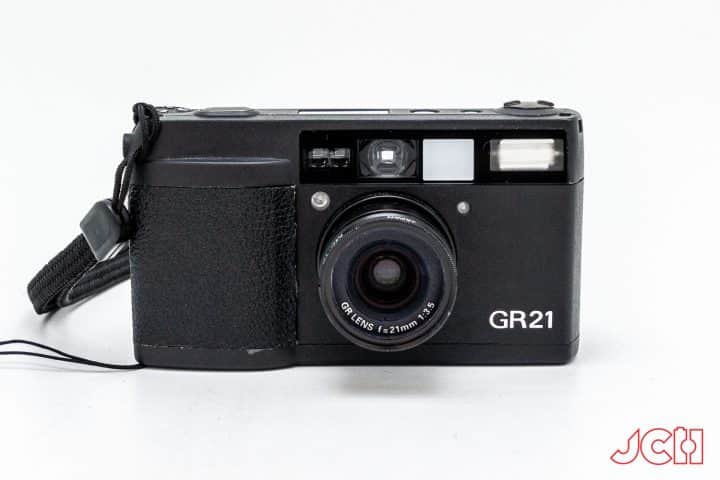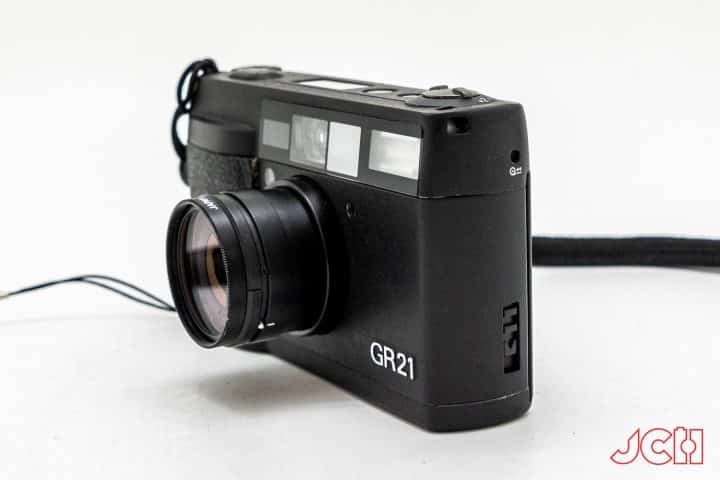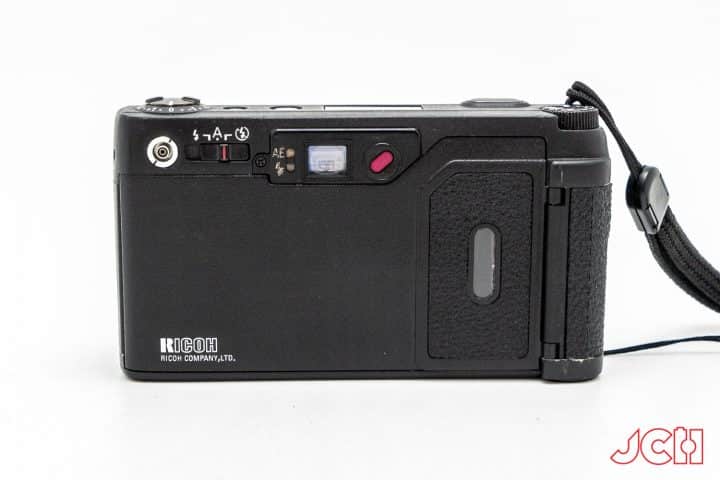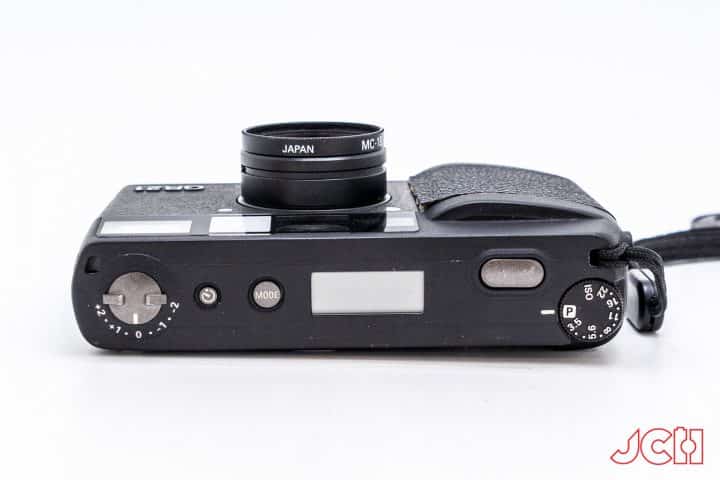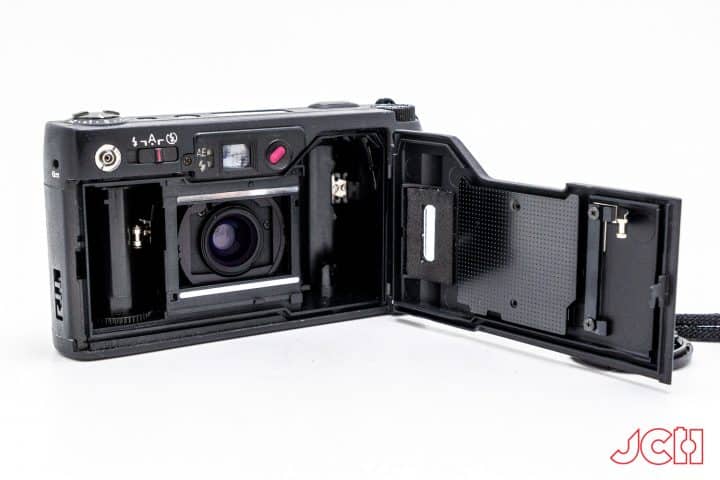 Features and Ergonomics
The Ricoh GR21 is the only 21mm ultra-wide pocketable film camera ever made, so the lens of course is the star feature. But the complementary characteristic is that lens housed in a small and lightweight package. Weighing in at 240g with a roll of film loaded, here's how it compares with other some other svelte beauties on hand.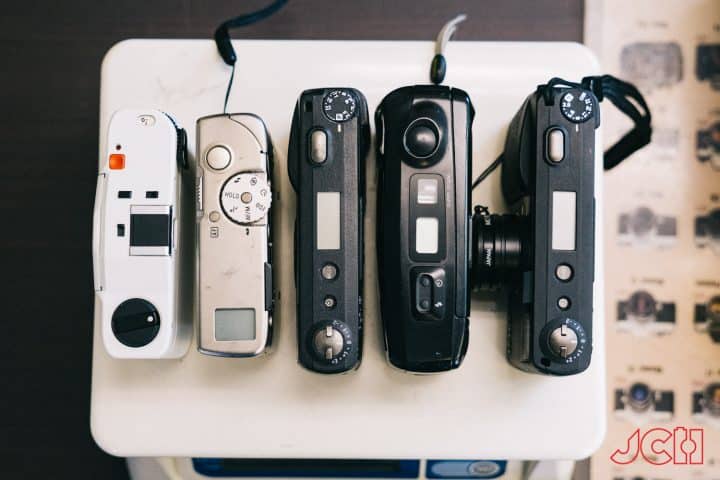 Minox 35AL : 210g
Ricoh G1s : 214g
Minolta TC-1: 225g
Yashica T4 Super: 228g
Ricoh GR21: 240g
Weighing a mere 30g more than a Minox yet is made of aluminum and magnesium alloy and packed with manual features, weight is not an issue for carrying around the Ricoh GR21 all day. The only issue is that the lens cannot fully retract, making it less than ideal as a pocketable camera and provides a source of sensitivity in terms of robustness. Be careful if you're gonna have it in your jacket pocket!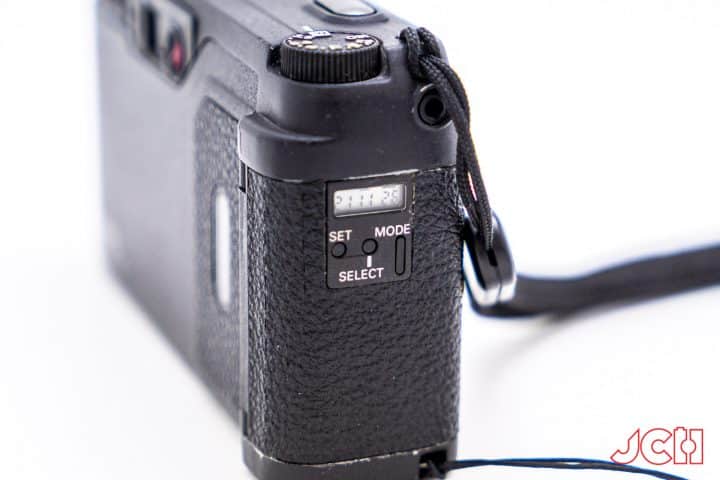 Another relic tech of the past that I actually enjoy is date imprinting. While I wouldn't necessarily want it on an exhibition print, I think it is a handy option to have for snaps and travel documentation. Ricoh managed to sneak the function into a tiny window on the right hand grip of the camera.
Another cool function snuck into a minuscule body that could come in handy is the flash socket (no shoe) and electrical remote release socket. Having the ability to use a handheld off camera strobe is a nice detail aimed at pros, however the exterior flash is not taken into account by the metering system, so watch out for overexposure!
Mid-roll rewind is also possible with the discreet little button tucked away to the left of the flash socket. The Ricoh GR21 also implements an auto-load pre-wind system. When you load a roll, the film pre-winds to the last frame number once the back cover is closed. Bear in the mind the pre-wind system takes some time. It spools at roughly a frame a second, so be prepared to wait a good 40 seconds or so from loading to being able to fire your first shot.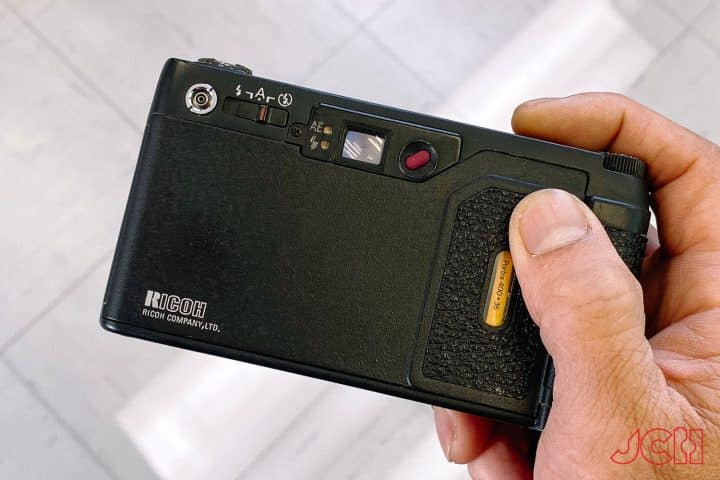 The GR series ergonomics are the stuff of legend and for good reason. It feels great in the hands and all necessary buttons are where they need to be. The leatherette is cleverly wrapped around the entire grip, even providing nice thumb support around the film canister window.
To get into incognito street mode, users suggest to set it on snap, put your aperture to f8 and go burn through some film. With a 21 focal you get a huge depth of field so focusing isn't really an issue. Snap mode locks the focus to 2m, so at f8 anything from 2m to infinity you should be golden.
Ricoh GR21 Sample Images (B&W)
The following were shot on JCH Streetpan 400 at ISO400 and then pushed 1 stop in development with Cinestill Df96. Scans are courtesy of a Plustek Opticfilm 8200i.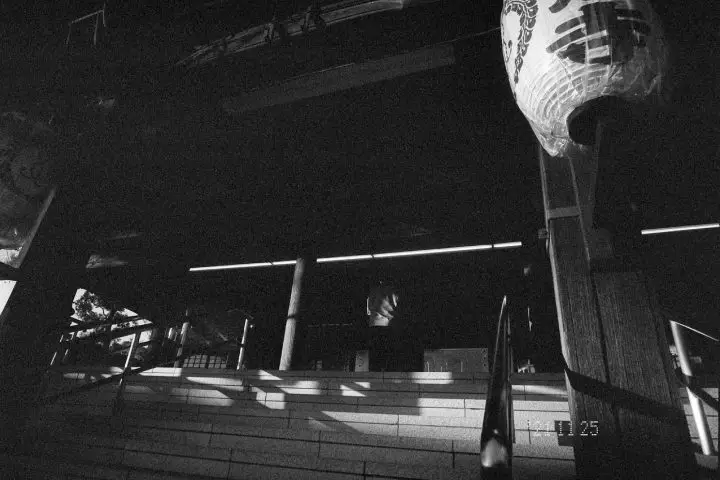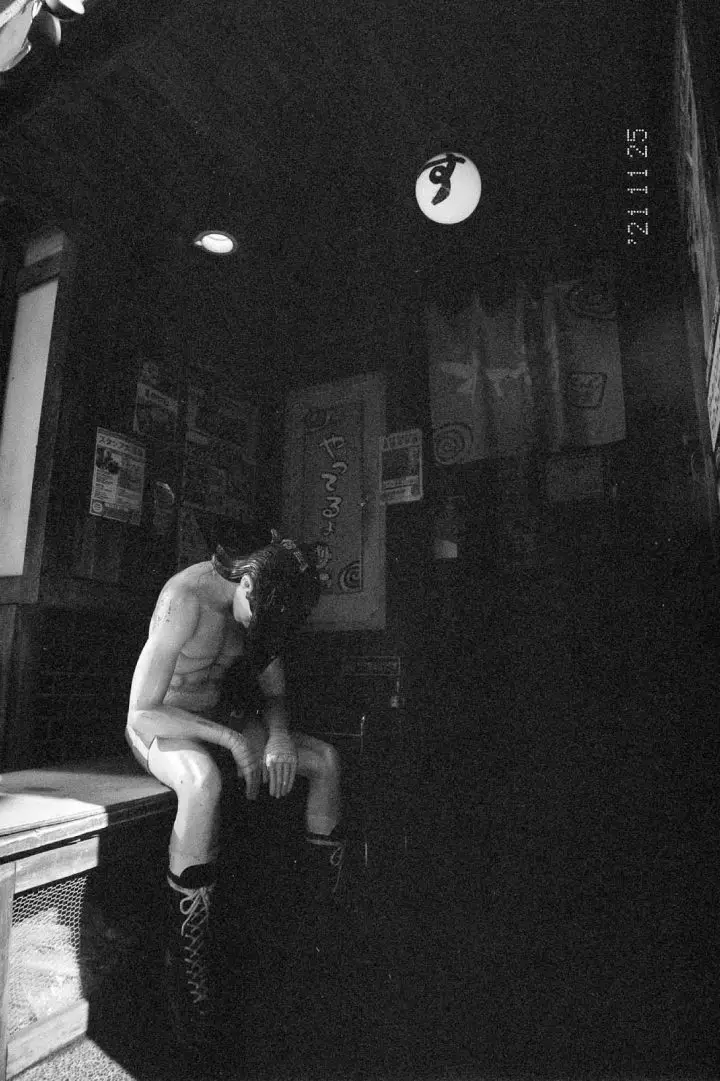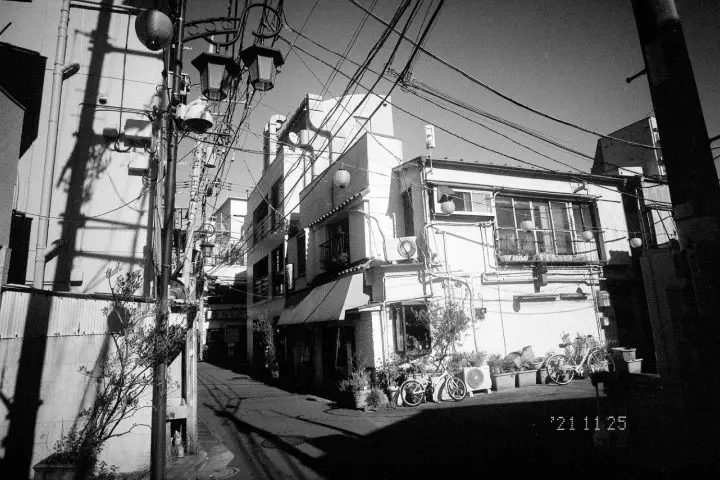 Ricoh GR21 Sample Images (Color)
The following were shot on Kodak Gold 200 at box speed and developed with Cinestill CS41. Scans are also courtesy of a Plustek Opticfilm 8200i. Unfortunately, the Cinestill CS41 might be on its last legs, getting some weird spotting but nevertheless can see what the lens is capable of.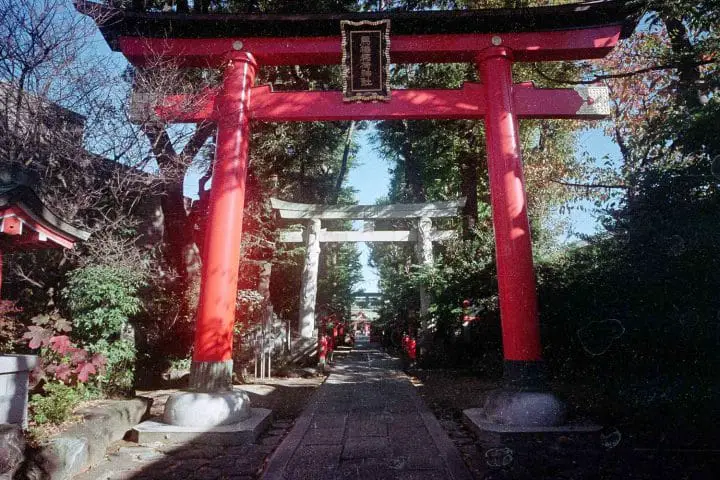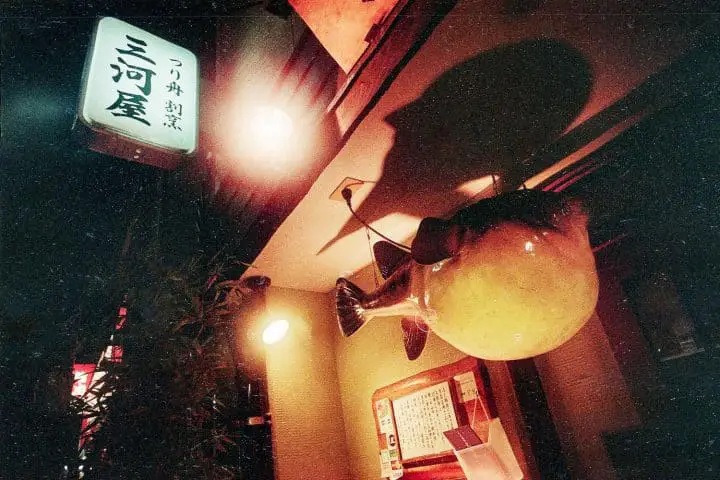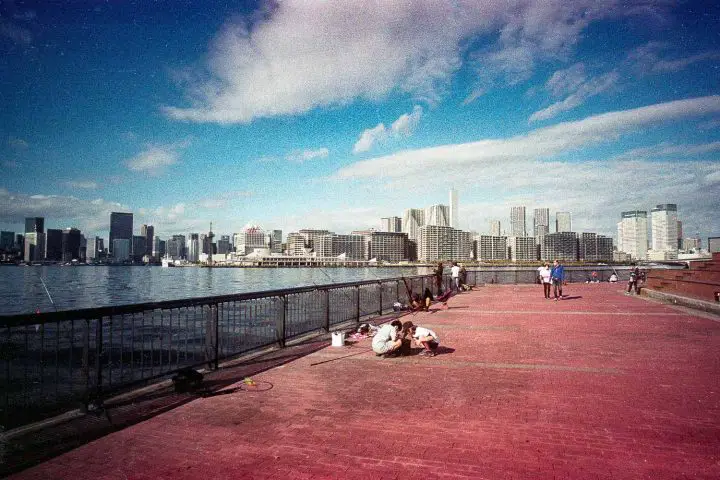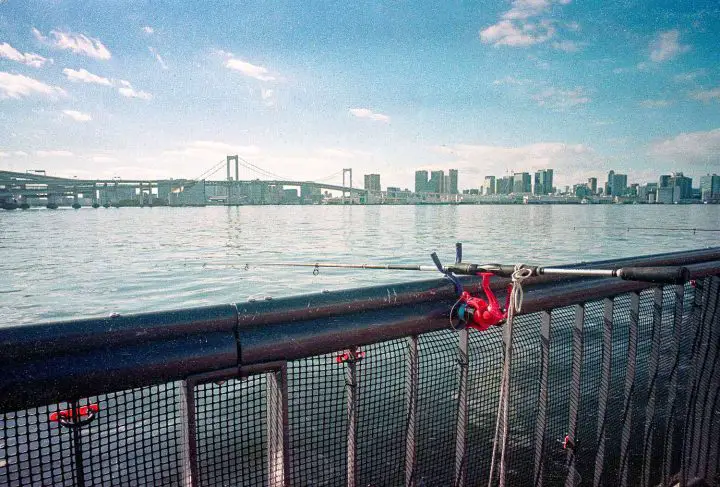 Conclusions
The top LCD is a bit renown for its unreliability. As is the case with the sample I used the numbers can fade in and out especially going from extreme temperatures. You can switch on the camera and leave it on at room temperature and should come back in a few minutes. It is annoying in the field not being able to see how many frames you have left sometimes or what mode the camera is in.
Aside from that, the engineering is outstanding and the Ricoh GR21 is a joy to use. 21mm is too wide of a cup of tea for me but it was still fun to carry around and explore the city. It fits nicely in the back of a cycling jersey so it's perfect for cycling around and taking quick snaps of interesting wide scenes.
The prices are pretty crazy for a p&s, unfortunately that's the age we live in now; premium compacts will pretty much run north of $1000 USD. The lens is incredible for its size and very competent in its color rendering and contrast. It's just too wide for my purposes and IMHO lacks that magic of the Contax T2's Sonnar or the Yashica T4 Super's Tessar. I dunno, maybe I'm just a Zeiss snob.
I am generally not a fan of retracting lenses, especially ones that don't even go all the way. The tiny motors that move these lenses are pretty much unrepairable these days, one of the reasons I sold off my T2. The GR21 lens extends 3cm from the body and when retracted still sticks out 1.7cm. So it isn't a technically pocketable camera the way the GR1s, TC1s and 28Tis are.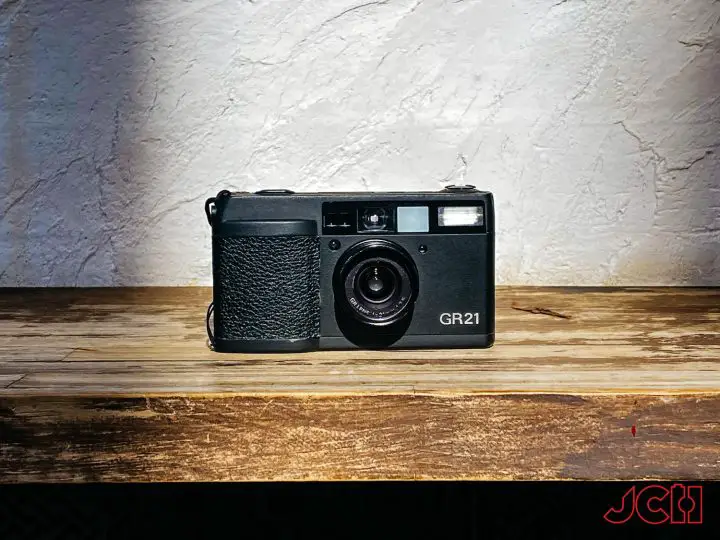 Final Thoughts
If you absolutely need a wide 21mm compact then well, you really don't have another option. Like the MJ documentary, this is it. After finally getting the opportunity to shoot one, I can understand the hoopla around the Ricoh GR21 and wish it fits my needs more. Nevertheless, it really is a marvel of engineering and appropriately has a seat at the table of the Mt. Olympus of compact film cameras.
For me, it wouldn't be my jack-of-all-trades compact but would make an ideal companion to a Leica M in the streets. Instead of changing lenses to something wider when needed, the Ricoh GR21 would be an ideal wide, silent, sneaky "B cam". Indeed, what a luxury. Hope y'all keeping safe out there, let us know your thoughts and experience with the legendary wide boi.
MN