In Your Bag: 1715 – Neal Wellons
My name is Neal Wellons and I am from Georgia, USA.  I bought my first camera, a Sears Tower 35mm rangefinder back in 1960 with money from my newspaper route.  It wasn't long before I was developing B&W.  In 1967, I was gifted an Exakta Vx and in 1969 bought a Miranda Sensorex in Vietnam.  I bought an Olympus OM-1 in 1978 and have used it off and on ever since.  I also bought an Olympus XA-4 during my early film days, lost it and 2 years ago bought another.  There was a digital interlude from about 2000 through 2019 but shooting with the Fuji X-100 series cameras reminded me of and rekindled my interest in film shooting and since 2019, most all of my photography is film.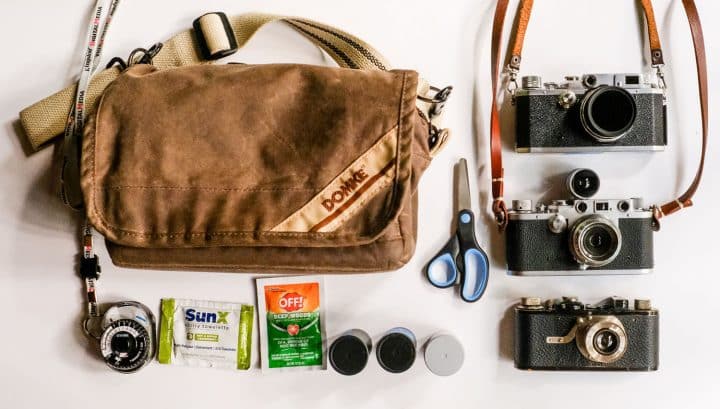 I'm also a camera collector or more accurately, an accumulator and have tried quite a few cameras over the last few years.  I've used two Kodak Retinas, a Nikon S3, and half-frames by Canon (demi) and Olympus (F and FT), with Fuji 690 and 617 medium format cameras for something different.  I have also shot at least one roll with 34 other cameras in the last two years, most 35mm but up to 5X7.   
Early this year after shooting a few rolls with my Zorki 1 (before it broke the third time), I found that the very cool camera was a copy of the Barnack Leica.  I decided to get a more reliable Barnack and soon, I had both a Canon IV and a IVS (copies of the Leica III) and then got a real Leica IIIf.  I finished the accumulation with one of the original production Leicas, the Leica I.  All four were from the same dealer who did a CLA and shutter curtain replacement on each.  I now can't imagine anything else for my regular shooting. 
My go to outfit, fitting snugly in my Domke F-5XB bag is my Canon IVS (Industar 61 55mm f/2.8) equipped with a 720nm infrared filter and loaded with JCH Streetpan 400, the Leica IIIf (Canon 28mm f/3.5) usually loaded with Kodak Ultramax 400, and the Leica I (fixed Elmar 50mm f/3.5) loaded with Ilford FP4+ or HP5+.  I develop and scan all my film using HC-110 for B&W and C-41 for color. My favorite subjects are old buildings, old vehicles, and landscapes.
A final confession.  I am a film addict and after a few days not shooting, I have a compulsion to go out and shoot again. Sometimes results are good; others not so much but I love the act of shooting and developing.  Being a retired old geezer helps give me the time.  
I am on Flickr:  https://www.flickr.com/photos/97423979@N00/
Keep them coming folks, we need more submissions, so get your bag on Japancamerahunter.com
Send me a high resolution image of the bag. Optimum size is 1500px across. Please ensure there is a bag in the shot, unless you don't use one. The more you can write about yourself the better, make it appealing and tell us a story. Snapshots of your gear with a camera phone and no words will not be featured.
Oh and don't forget your contact details (twitter, flickr, tumbler et al). Send the bag shots here. Not all make the cut, so make sure yours is funny/interesting/quirky. And please make sure the shot is of good quality, you are a photographer after all. 
Cheers
JCH