Camera Geekery: Mamiya 6
There's no doubt that anyone who has shot medium format film loves those huge negatives or slides you get back. The neck, shoulders and back? Not so much. Thus a lightweight portable option has always been, still is, and will always be desirable. Enter the Mamiya 6.
Of course there are the Rolleiflex TLR's and their brethren, the legendary Plaubel Makina 67 family or Fuji foldables like the GF670 for relative featheriness but you're stuck with a single lens. If you want smallish size and lightweight and you need to swap focal lengths, your options are limited to the Bronica ETR series or Mamiya 6/7. The Bronica ETR series shoot 6×4.5 cm frames so if you want a bigger negative, Mamiya is the way to go. In this review, we'll be taking a closer look at the Mamiya 6 with the 75mm f/3.5.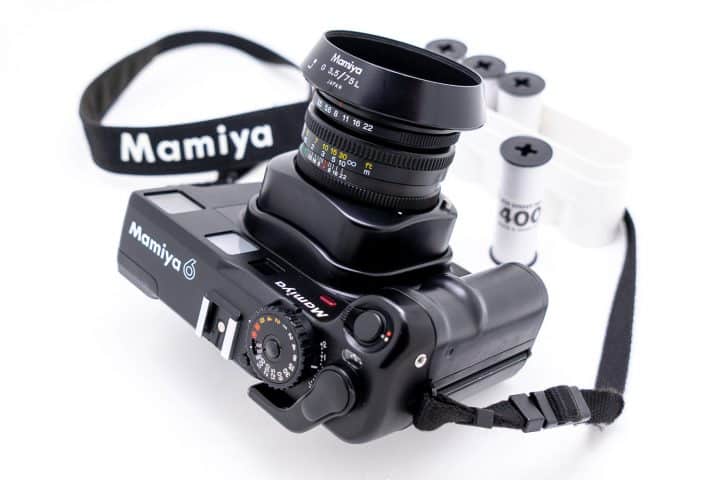 Tech Specs
The Mamiya 6 was introduced in May 1989 and is a 6×6 cm (2¼" square) rangefinder camera taking #120not120mm and 220 film with three interchangeable lenses of 50mm, 75mm and 150mm. The Mamiya 6 is relatively svelte, easy and fast to use and makes sharp images due to the silent and vibration free electronic leaf shutters and rangefinder-design lenses. The camera should not be confused with the similarly named line of Mamiya Six cameras from the 1940's & 50's. Other than the film format and name, it has nothing in common with the original Mamiya Six. It is sometimes called New Mamiya 6 to differentiate it from the original mechanical camera.
Camera name
Mamiya 6
Camera type
Interchangeable lens rangefinder
Format
6×6 120, 220 medium format roll film (12/24 exposures)
Manufacturer
Mamiya Digital Imaging Co., Ltd
Manufacture dates
1940-1960: Mamiya 6
1989-1993: "New" Mamiya 6
1993-1995: Mamiya 6 MF
Lens mount
Mamiya 6
Lenses
Mamiya 6 G 50mm f/4 L
Mamiya 6 G 75mm f/3.5 L
Mamiya 6 G 150mm f/4.5L
Rangefinder
Coupled
60mm base length
34.8mm effective base length
Viewfinder
x0.58 (83%) magnification
Parallax compensation
Automated frame line selection: 50mm, 75mm, 150mm
Shutter speed and exposure display
Safety interlock warning L.E.D.
Shutter
#00 electronic leaf shutter; B, 4 to 1/500 second with electromagnetic release and lock
Electronic Self-timer
Internal "dark slide" for mid-roll lens change
Metering
Aperture priority AE
Silicon Photo Diode receptor in viewfinder
ISO range: 25-1600 ISO
Metering range: EV 3.5 to EV 18
Exposure compensation: +2 to – 2 EV (in 1/2 EV increments)
Flash
X-Sync (synchronized at all speeds)
Hot Shoe and PC-Sync socket
Wind / Rewind
Single 185° wind-on stroke
Counter resets after black is opene
Loading
Swing open back load with locking mechanism
Finish
Black
Power
Two 1.5V batteries (SR44 or LR44)
Weight
900 grams (no lens)
1,150 grams (with 75mm lens)
Dimensions
With 75mm lens retracted:
155 x 109 x 69mm (WxHxD)With 75mm lens retracted:
155 x 109 x 106mm (WxHxD)
Misc.
3 strap mount points allow easy vertical or horizontal carrying

Threaded cable release socket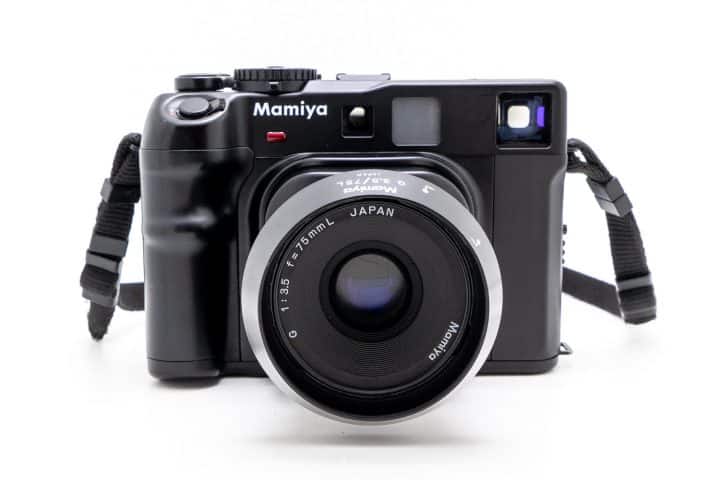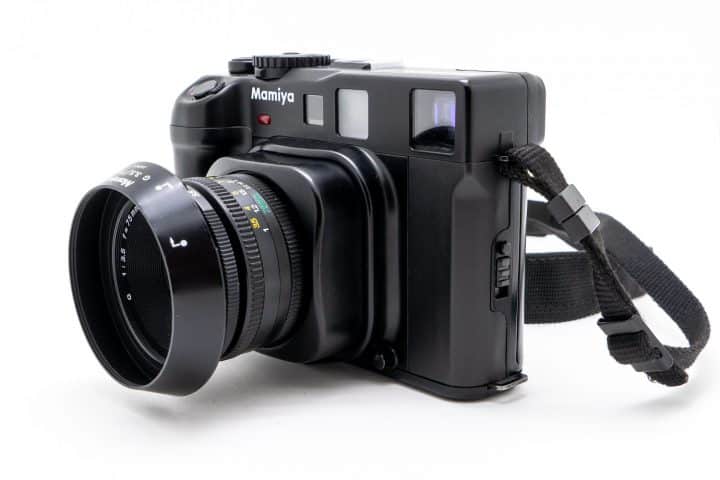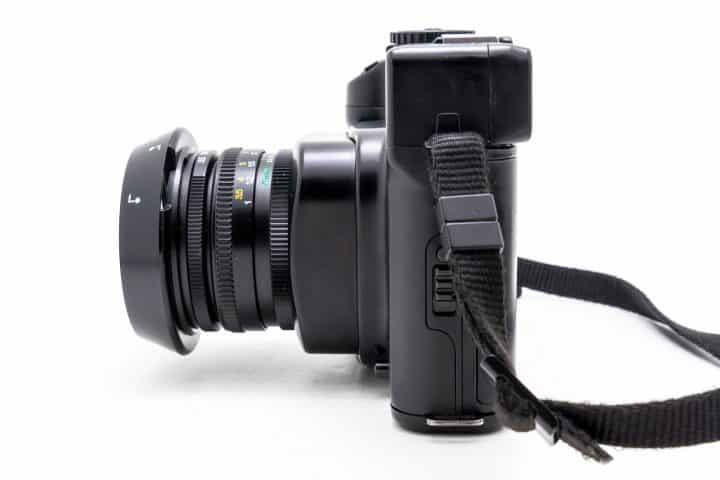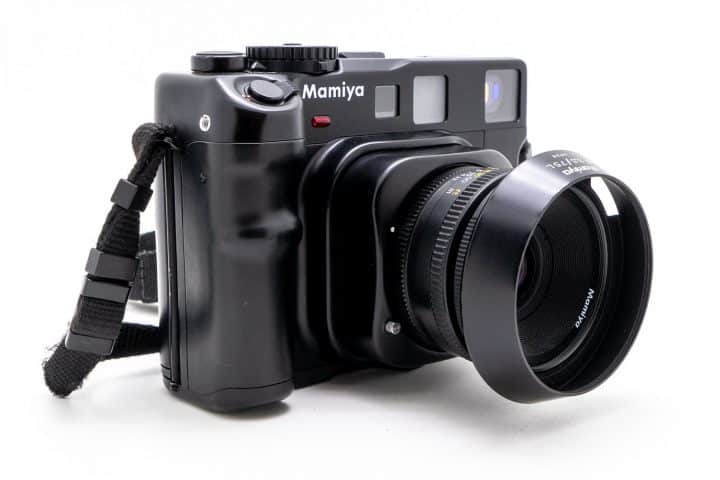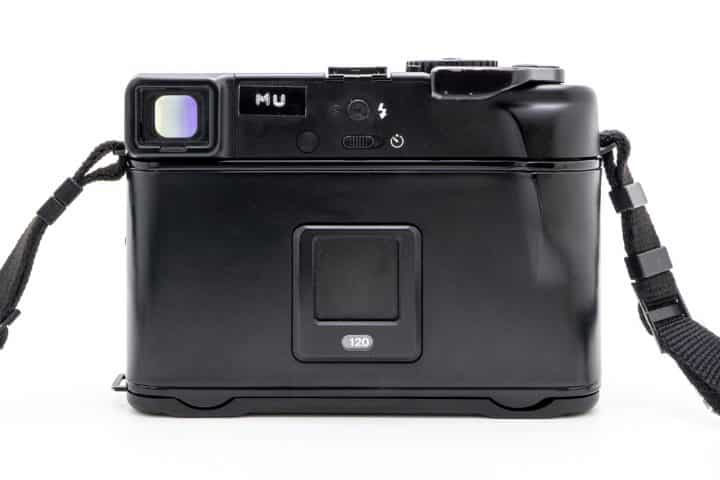 Mamiya 6 G L 75mm F/3.5 Specs
The Mamiya 75mm f/3.5 G L is the standard normal lens exclusively for the Mamiya 6 system of rangefinder medium format cameras.
50mm equivalent in 35mm format
6 elements in 4 groups

1.7″ (43mm) long by 2.5″ (64mm) around and weighs 8.8 oz. (250g).

Fully multicoated
Negligible distortion
Rangefinder coupled focusing
Marked depth of field scale
1m close focus distance
Electronically timed leaf shutter
Flash sync at all speeds: 1/500th to 4 seconds & B (bulb)
58mm filters
Not too heavy or light at about 8.8oz or 250g, it is well balanced fitted on the camera. The build is solid and the focusing and aperture rings are nicely spaced out. I appreciate the clear markings to fit the hood on, saving me some unnecessary fiddling.
Design Features and Ergonomics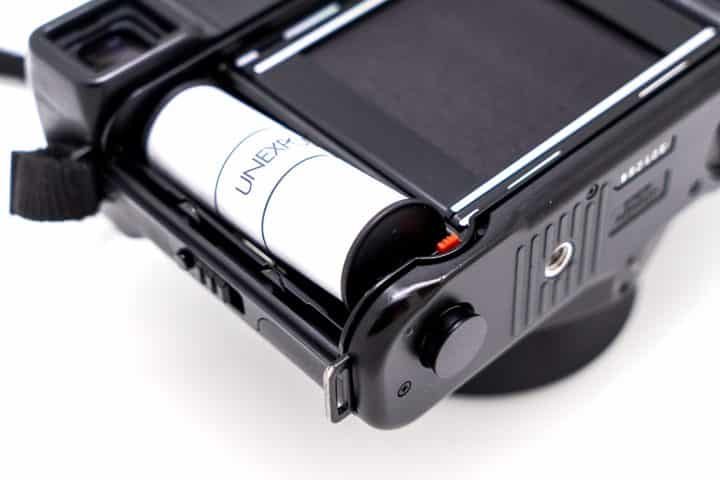 One of the things I don't enjoy about medium format is fiddling with the spools trying to load the film properly, especially under time constraints. These little pegs make it a cinch to snap your favorite #120not120mm rolls into place and remove.
The main dial on the top plate is handsomely designed and combines shutter speeds, AE settings, ISO, and exposure compensation all in one place. The dial is big but i found it difficult to adjust the shutter speed with one finger. It's tight but made of plastic so there's a bit of play when you add force to move the dial with one finger. A Leica M shutter speed dial it is not.
As such I find myself just setting it to the "square" i.e. the AEL (Auto-exposure lock) and the meter is quite accurate. The shutter release on the model i used is SENSITIVE. Many a times i just merely wanted to check the light reading but found myself snapping a frame instead.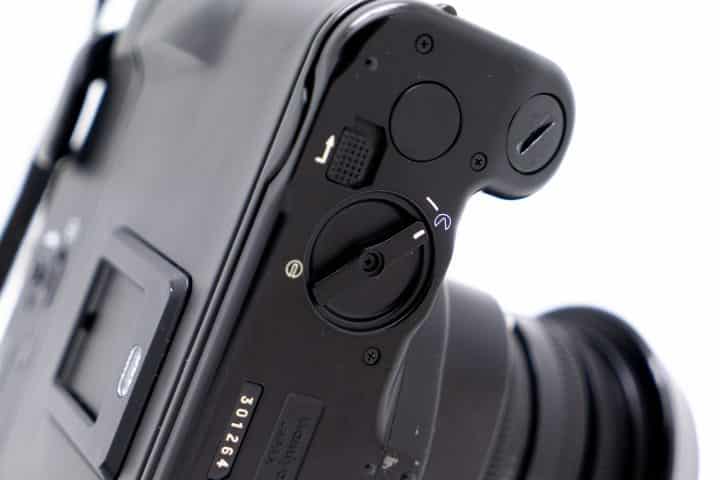 Another interesting feature is the built in dark slide known as the light shield curtain. As the lenses with the Mamiya 6 system are all leaf shutter, you will need to toggle this switch to swap lenses whilst there is film inside.
The viewfinder is beautiful with bright and crisp albeit not overbearing framelines. I also appreciate the 83% magnification which provides no finder blockage due to the protruding lens. The rangefinder patch is a nice size and contrasty and easy to see, making critical focus a cinch.
Another detail that i appreciate is on the back of the camera where the thumb usually rests there is an elevated ridge that serves as a thumb rest. It makes holding the camera much more secure and comfortable.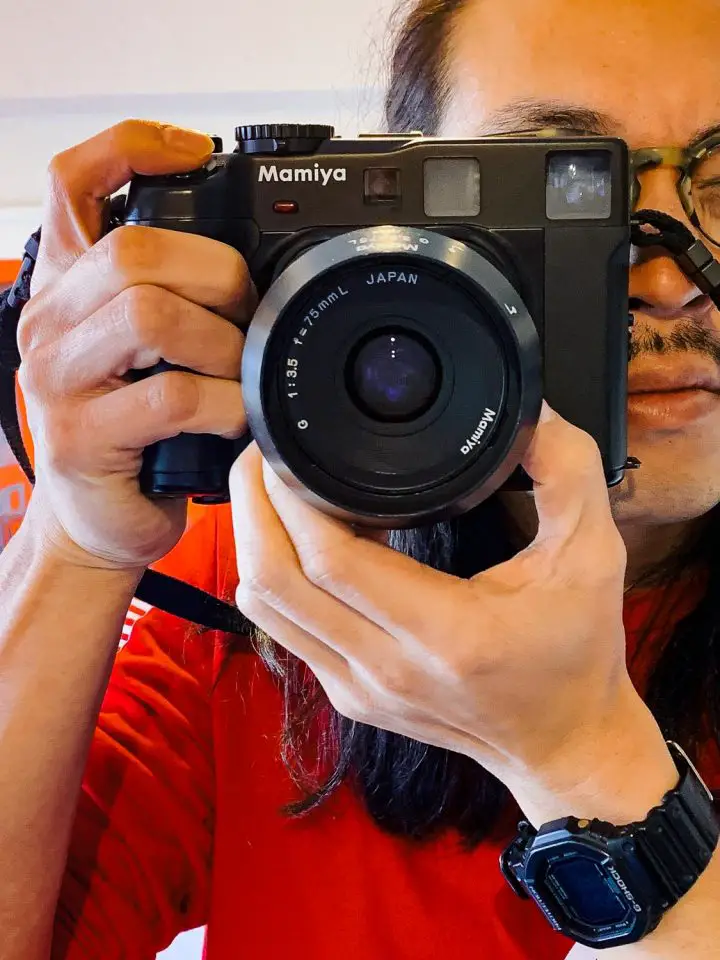 The grip on the front side too is just the right size and holding the camera up to eye level is very well balanced and satisfying.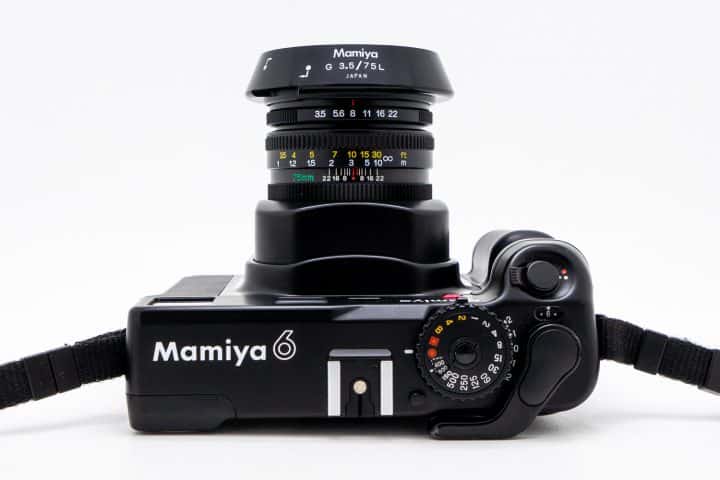 The star of the Mamiya system is of course the collapsible lens. It can collapse all of its lenses about 1.5″ (37mm to be exact) into the body, making it a great travel option. The Mamiya 7 doesn't even have this feature as a cost saving procedure.
Paired with the Mamiya 6 camera this lens is one of the ultimate medium format travel photography and photojournalism options. It's a compact design that barely protrudes beyond the camera's collapsible front face when retracted. Beautifully big negatives and slides do not always require hauling enormous gear.
Mamiya 6 Sample Pics (Fuji Pro 400H)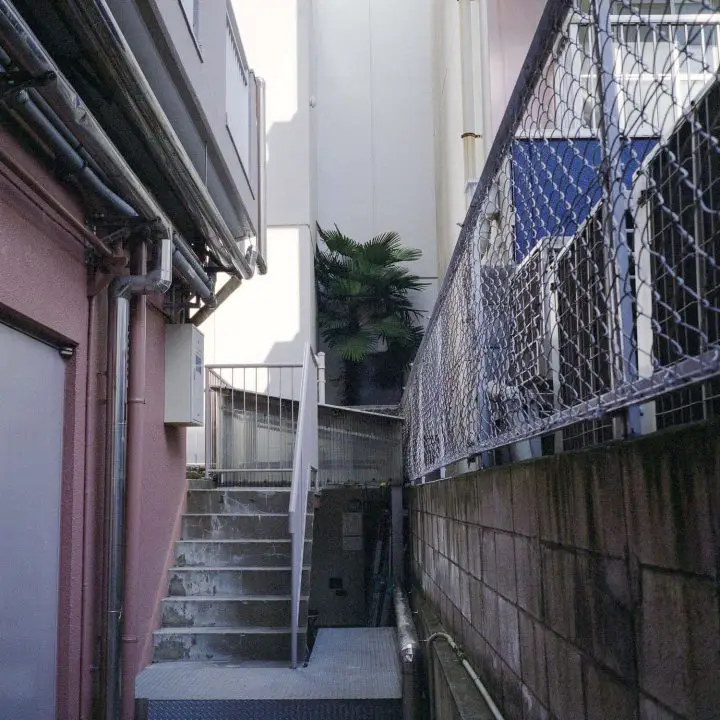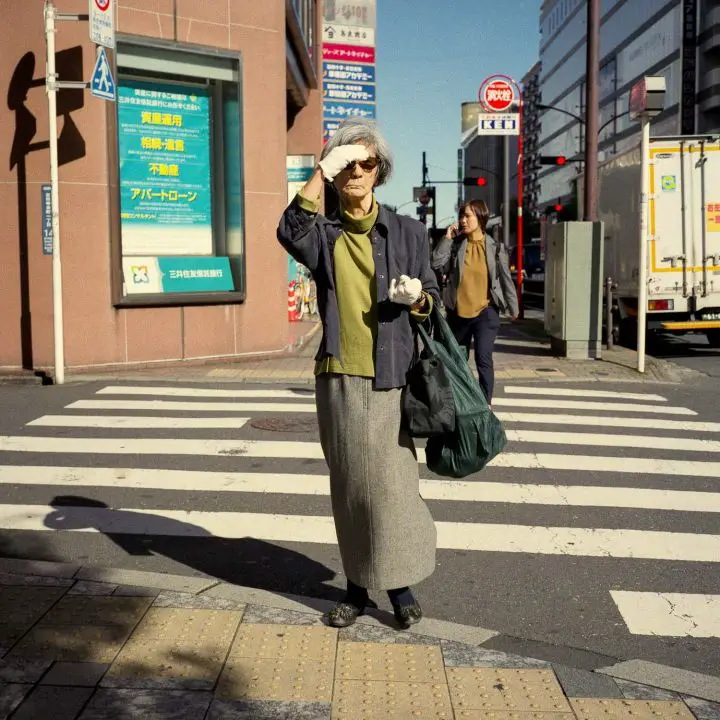 Mamiya 6 Sample Pics (JCH Streetpan)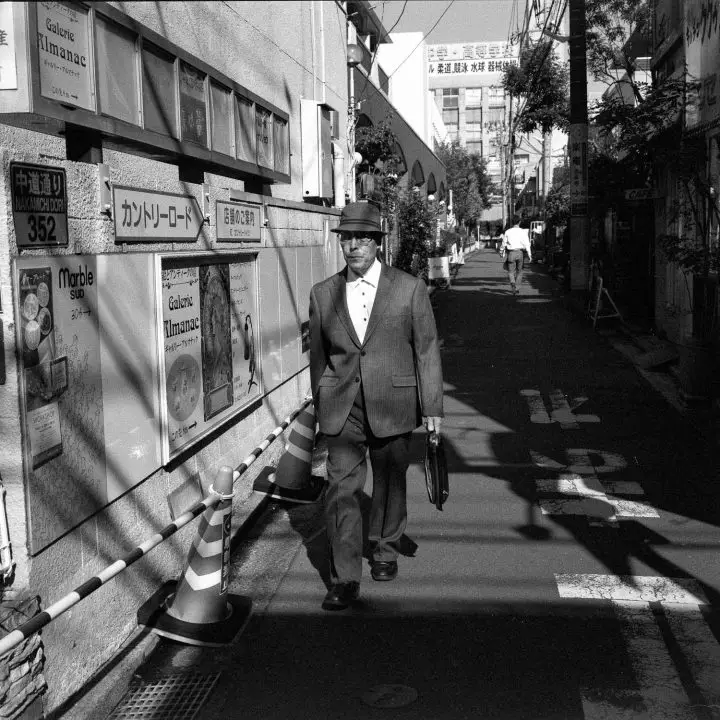 Mamiya 6 vs. Rolleiflex SL66
It's not a perfect apples to apples comparison but for yucks I was curious to compare the Mamiya 6 to my beloved Rolleiflex SL66. While both are 6×6 cameras, there are various details that differentiate them; from type (SLR vs. rangefinder), lens focal length (80mm for the Rollei and 75mm for the Mamiya), shutter (focal plane vs. leaf), and viewfinder (waist level vs. direct). While the size dimensions are similar, the weight difference is not insignificant as the Rolleiflex clocks in at 1.99kg against just 1.19kg for the Mamiya 6.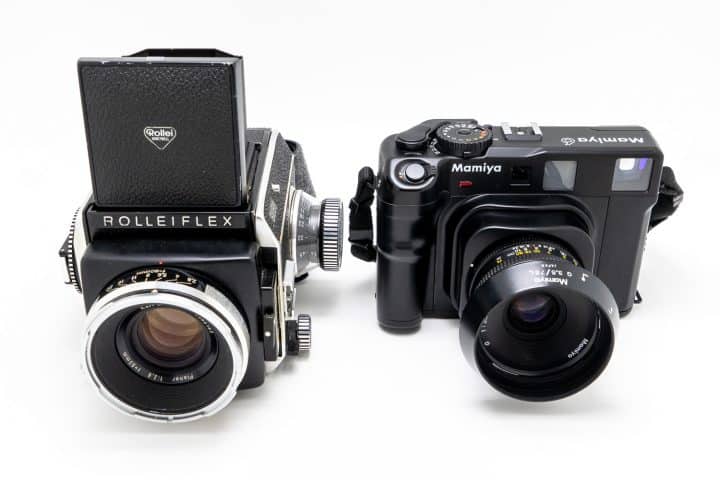 The Mamiya with a modern coated lens is sharper and retains more detail shot wide open at f3.5. You can see the extra detail in the strands of hair. On the flip side though, the lack of clinical sharpness from the Rolleiflex can a bit more flattering for the skin. Bokeh is quite the subjective matter so it's up to you to decide. I find the Zeiss Planar from the Rolleiflex a tad "creamier" but has slightly harsher out-of-focus highlights from these examples.
Stopped down at f16, the disparities are much more subtle. The Mamiya 6 renders lines perhaps just slightly thinner  but it's pretty much a wash.
The advantage of course goes to the Mamiya in terms of reliability and ease of use, being a much more modern camera and repairs are still readily doable. The angle of view from a waist level finder is something to consider as well since it's not everyone's cup of tea.
Conclusion
I really enjoyed shooting with the Mamiya 6, more than i thought i would. It really is a portable medium format camera and has plenty of features yet intuitive and simple in operation. One thing i need to be wary of is the hair trigger shutter button.
Love the leaf shutter lenses, the shutter sound is very faint, making it great for street photography. And because of the leaf shutter, there is no mirror slap which enables you to hand hold the camera down to 1/15 second. If you're a strobist, you can flash sync at all speeds using either the hotshoe or PC sync connector. The downside is the 1/500th max shutter speed :(
I believe this paired with the 75mm and 50mm lenses makes for an ideal 6×6 travel setup. If the slowish lenses and slow max shutter speed aren't deal breakers for your needs, you'd be hard pressed to find a more efficient and reliable 6×6 system to carry around on your adventures.
Looking for one? We often have then available on the site Click Here.
MN